While so many people use sites like Amazon for shopping nowadays, there's just no substitute for shopping in person. Seeing the latest items from today's fashion designers up close and personal is an experience for everyone to enjoy. Touching and trying on garments to ensure a great fit is still the best way to purchase the clothing that's perfect for you. And South Coast Plaza in Costa Mesa is definitely the place to start! Celebrating its 55th year in business this year, South Coast Plaza is hosting a variety of great events and exhibitions, along with welcoming exciting new boutiques.
South Coast Plaza is the largest shopping center on the West Coast, and shoppers from all over the globe agree it continues to be a top international shopping destination. With over 250 boutiques and housing the world's top designers, South Coast Plaza is a mecca of shopping, offering some of the country's first views of couture right off the runways of Fashion Week. Top designers include Gucci, Christian Louboutin, Cartier, Prada, Jimmy Choo and well, just about every major fashion designer in the world! The center offers over 30 international dining destinations, including the world-famous dumpling house, Din Tai Fung.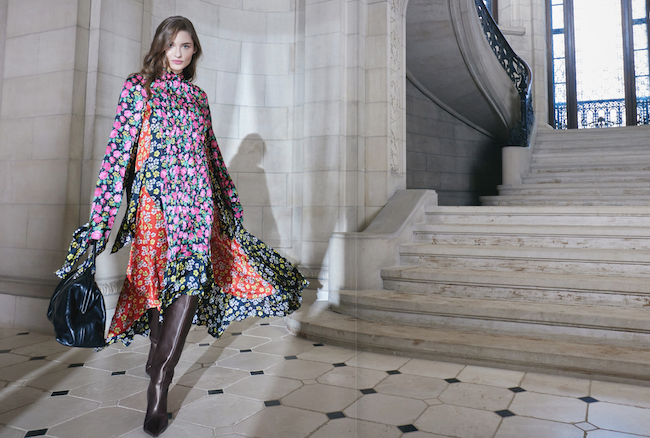 Besides providing seasonal lookbooks (like this Balenciaga pic from their Spring 2022 Lookbook), South Coast Plaza offers many services to guests such as foreign language assistance in more than 40 languages, shuttle services, money exchange, personal shopping services and more to create a more enjoyable experience for shoppers.
South Coast Plaza also boasts these one-of-a-kind attributes:
• Tiffany & Co.'s only OC location.
• One of the only Michelin-star restaurants in Orange County, Knife Pleat.
• Berluti's first West Coast boutique.
• The only Orange County location for Hermès – redesigned in 2022.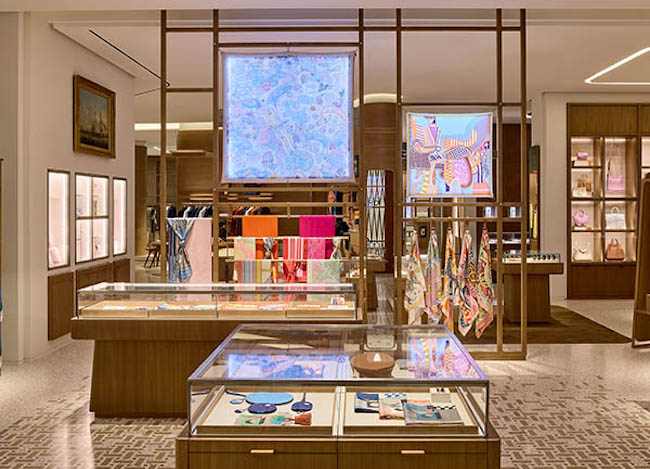 • The largest Sephora, second only to New York City.
• The only U.S. location of Paradise Dynasty, the famed Singaporean xiao long bao hotspot.
• The first-ever North American atelier of Louis Vuitton in South Coast Plaza's Penthouse. It's not only the largest single-level retail floor in the Americas, it's also the only place in the country customers can come to have their luggage and trunks repaired by carefully trained artisans. Plus, it's the exclusive place to have your Vuitton purchase customized and handpainted by a Vuitton-trained artist!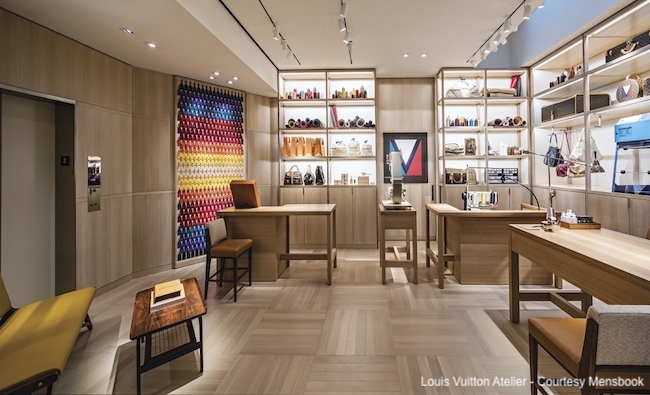 • The Create bar at the Coach boutique includes not just custom monogramming for your Coach product, but also more than 100 custom Coach stamps you can add to create your own personal artistic touch, plus custom rivets or metallic pins as well.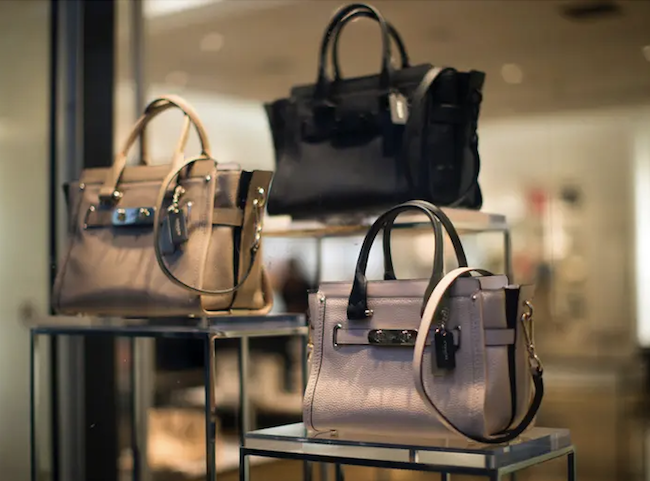 • The exclusive home of Petrossian at Tiffany, new in 2022.
• The only West Coast locations for Moynat, Loewe and Roger Vivier.
• With the recent arrival of Buccellati, Audemars Piguet and Tag Heuer, and the upcoming Tudor, Breitling, Hublot and Roger Dubuis openings, South Coast Plaza will be home to the largest collection of luxury jewelry and timepiece boutiques (35) in North America.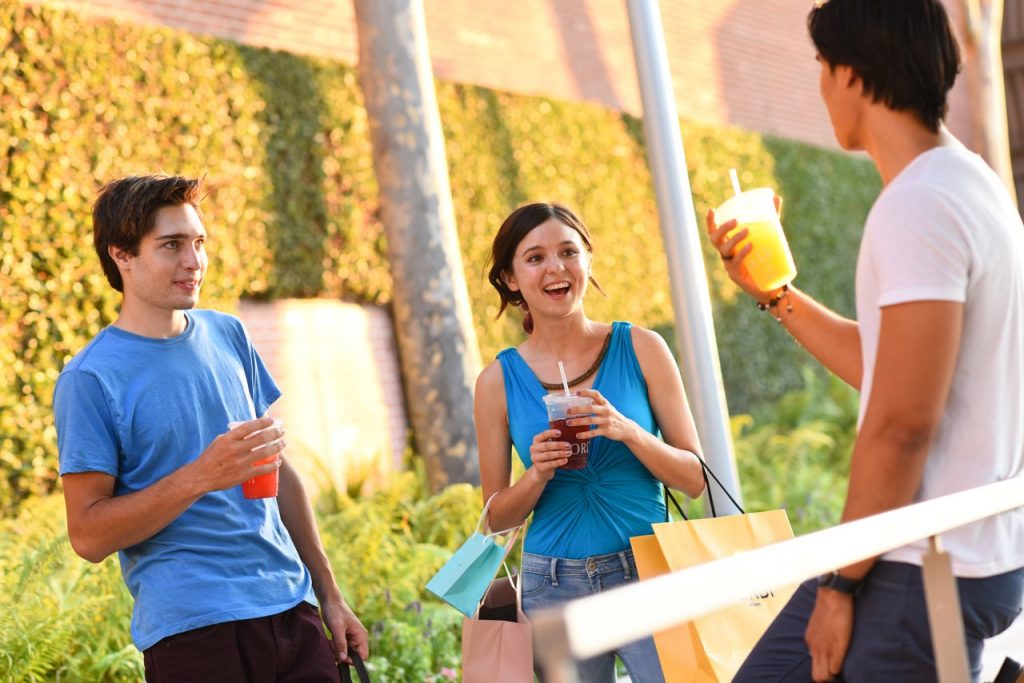 But it's not only designer couture offered at South Coast Plaza. Anchored by top department stores like Nordstrom and Macy's, South Coast Plaza also offers top brands like H&M, Uniqlo, Ganni, Zara, Lacoste and many more. See the South Coast Plaza store directory here.
Collage Culinary Experience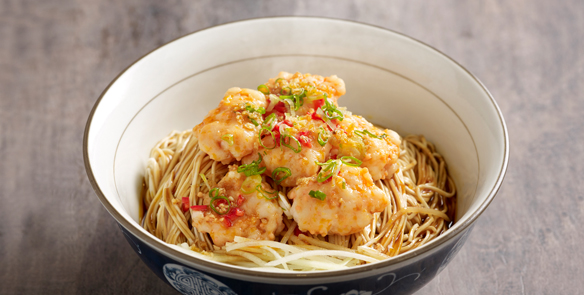 In 2021, South Coast Plaza unveiled a curated dining hall called Collage Culinary Experience. Located exclusively at Bloomingdale's South Coast Plaza on the main floor, Collage Culinary Experience is an elevated, two-story global dining collective that offers the best international and local cuisine in 9 different dining experiences, all within an artfully designed space. Find not only the famed Paradise Dynasty but delightful desserts from Churrino, Le Shrimp Ramen and Mah Jong's by Chef Mike, featuring global cuisine from Executive Chef Michael J. Doctulero.
More Fabulous Dining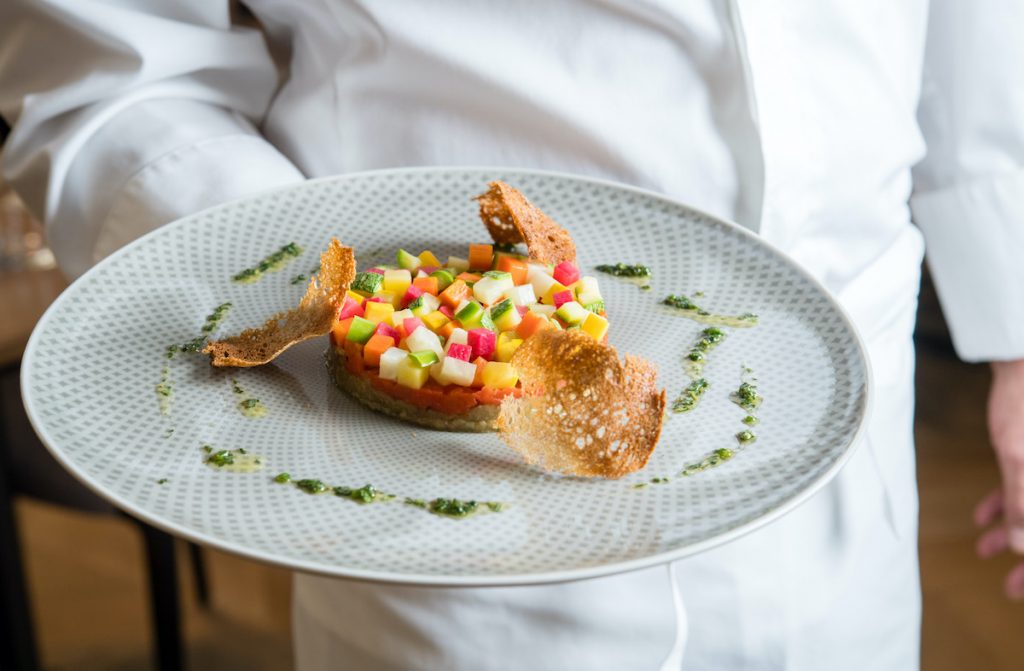 South Coast Plaza offers a variety of dining experiences outside of Collage including Knife Pleat, which received its first Michelin Star in 2021. With this Michelin Star, Costa Mesa now offers the only Michelin-starred restaurants in Orange County (the two others being Hana re sushi at The LAB and Taco Maria at SoCo and the OC Mix).
Not-to-Miss Events
South Coast Plaza doesn't miss the chance to celebrate great events all year round! Visit in the early part of the year to see South Coast Plaza's annual Lunar New Year extravaganza…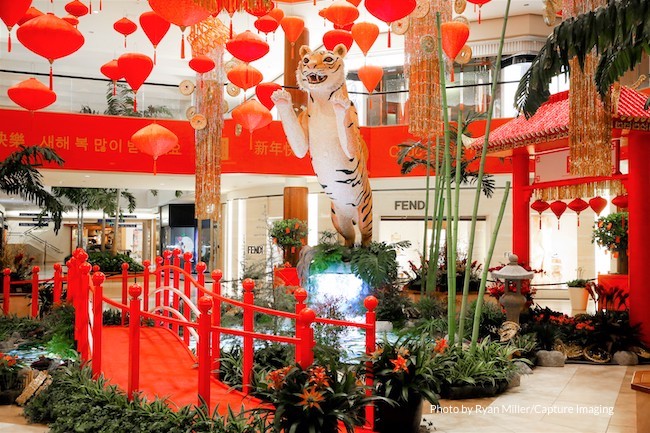 …or the stunning Fleurs des Villes exhibit….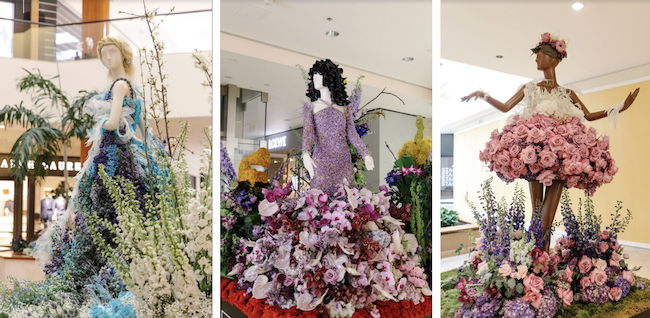 …one-of-a-kind pop-up exhibitions like this Valentino pop-up…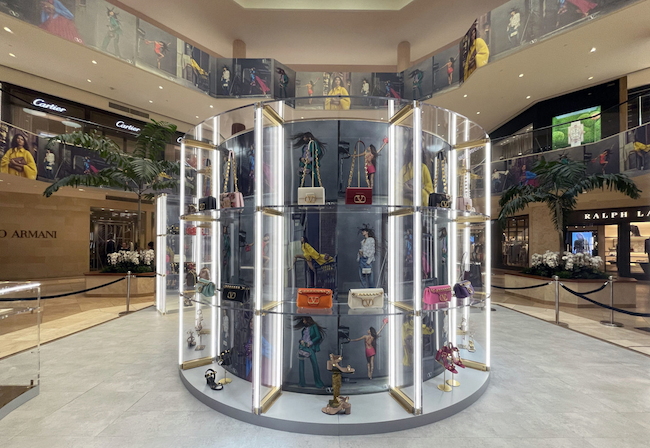 …or the famous "At Home in the Garden" annual Spring Garden Show.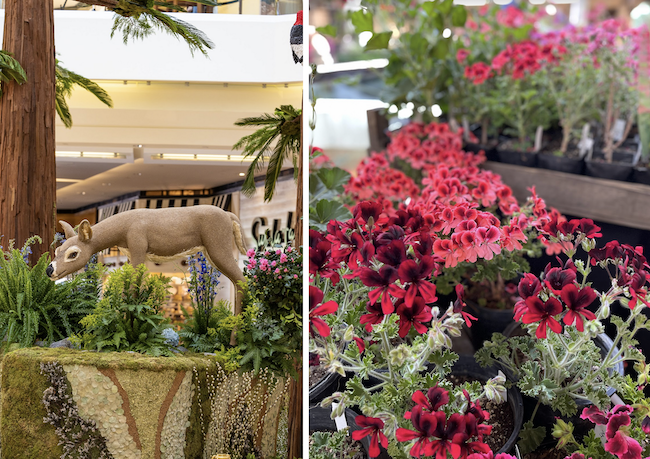 South Coast Plaza is celebrating its 55th year this year, and welcomes the 2nd Louis Vuitton location, second Chanel location, Breitling, Tudor, Gentle Monster and restaurants Populaire, Mian and Teatro Angelina. The celebration continues all year with special exhibits and events and support for its arts and community partners. Make your visit to Costa Mesa a visit to this international shopping destination, and stay for the incredible public art, plus award-winning dining. See Costa Mesa hotel deals here!