Travel Costa Mesa Response to Coronavirus (COVID-19) Outbreak
Updated: June 8, 2021
Travel Advisory for Non-Essential Travel:
1. Persons arriving in California from other states or countries, including returning California residents, should practice self-quarantine for 14 days after arrival. These persons should limit their interactions to their immediate household. This recommendation does not apply to individuals who cross state or country borders for essential travel.
2. Californians are encouraged to stay home or in their region and avoid non-essential travel to other states or countries. Avoiding travel can reduce the risk of virus transmission and bringing the virus back to California.
As of May 19, 2021, Orange County has been moved to the Yellow Tier in California's Blueprint for a Safer Economy.
Effective immediately by order of the State, the following sectors are open in Orange County:
Hotels
Open with modifications
Fitness centers can open to 50% capacity
Indoor pools, hot tubs, saunas, and steam rooms can open
Meetings, Private Events and Conferences
Can open with modifications
Tickets or guest list required
Assigned seating
No intermingling of multiple private events
Outdoor max capacity 200 people
Outdoor max capacity 400 if all guests show proof of negative test or full vaccination
Indoor max capacity 200 if all guests show proof of negative test or full vaccination
Restaurants
Shopping Centers
Open with modifications
50% capacity at food courts
Retail
Amusement Parks
Open with modifications
Max capacity 35%
Indoor spaces max 25% capacity
In-state visitors only
Hair Salons and Barbershops
Personal Care Services
(nail salons, body waxing, tattoo parlors, piercing studios, skin care & cosmetology and massage services)
Gym and Fitness Facilities
Indoor with modifications
Capacity must be limited to 50%
Indoor pools, ot tubs, saunas, and steam rooms can open
Climbing walls can open
Movie Theaters
Indoor with modifications
Capacity must be limited to 50%
Family Entertainment Centers
Indoor with modifications
Capacity limited to 50%
If all guests are tested or show proof of full vaccination, 75% capacity is allowed
100% masking except for food and beverage service
Food and beverage consumption must be restricted to designated areas separated from activity areas
Wineries, breweries, and distilleries (where meals are not served)
Indoor with modifications
Capacity must be limited to 50% or 200 people, whichever is less
Museums, Zoos and Aquariums
Indoor with modifications
Places of Worship
Indoor with modifications
Indoor activities must be limited to 50% of capacity
Please review the official statement.

Please maintain face covering in public spaces.
Please maintain a social distance of 6 feet from others.
You can find restaurants and essential retail stores currently open here: Costa Mesa Business Updates
The current coronavirus (COVID-19) outbreak is of concern to all of us as a global community. The health and safety of visitors to Costa Mesa is of paramount importance to Travel Costa Mesa. With that in mind, please see the following information. Travel Costa Mesa is following the situation closely, and this page will be updated as we continue to receive guidance. We encourage everyone to strictly follow the guidance from state and national leaders.
We have created a Business Updates page to share with you the information we have on city attractions and restaurants.
The City of Costa Mesa government has called for the closure of movie theaters and fitness clubs, and limiting restaurants to take out and delivery services only. All City offices are CLOSED at this time. We are updating our calendar of events as we continue to receive information on local events.
Our Costa Mesa hotels have a commitment to doing whatever they can to keep guests safe through additional cleaning measures and installation of hand sanitizing stations throughout their buildings. Costa Mesa hotels are currently still open and accepting business; however, social distance practicing is a county directive at this time.
The State of California requires all visitors to public businesses wear a mask or face covering.
WHAT IS CORONAVIRUS (COVID-19)?
The virus has been named "SARS-CoV-2" and the disease it causes has been named "coronavirus disease 2019" (abbreviated "COVID-19"). Coronavirus is a new strain that was discovered in 2019 and has not been previously identified in humans.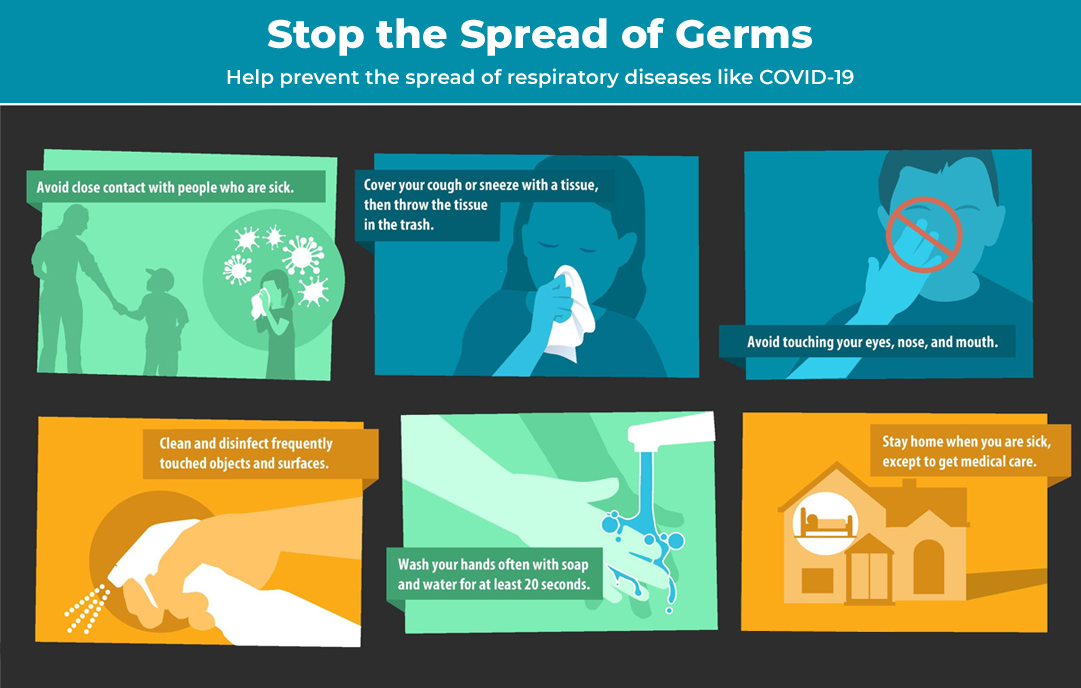 SYMPTOMS AND PREVENTION:
Common signs of infection include respiratory symptoms, fever, cough. shortness of breath and breathing difficulties. WHETHER OR NOT you are suffering from symptoms, at this time please practice social distancing, and contact medical professionals if you become symptomatic.
Standard recommendations to prevent infection spread include:
Regular/frequent hand washing. General guidance is to scrub hands to the length of the "Happy Birthday" song twice.
Covering mouth and nose when coughing and sneezing.
Thoroughly cooking meat and eggs.
Avoiding close contact with anyone showing symptoms of respiratory illness, such as coughing and sneezing.
While this novel coronavirus originated in Wuhan, China, it does not target people of Asian descent or any other race, religion, gender or ethnicity.
For more information, please visit:
Orange County COVID-19 Information page
City of Costa Mesa's coronavirus information page
The CDC's page on the coronavirus outbreak
The World Health Organization's page on the coronavirus outbreak
This webpage is intended to inform only our website visitors and should not be considered the only site for official information about the situation affecting Costa Mesa.