Travel Costa Mesa Blog
Posts Tagged 'The CAMP'
On the last Tuesday of each month the SoBeCa district in Costa Mesa turns into an open-house of art, live performances and entertainment.  The main hubs of the SoBeCa district, an acronym meaning South On Bristol, Entertainment, Arts, Culture, are the progressive shopping centers the LAB and the CAMP.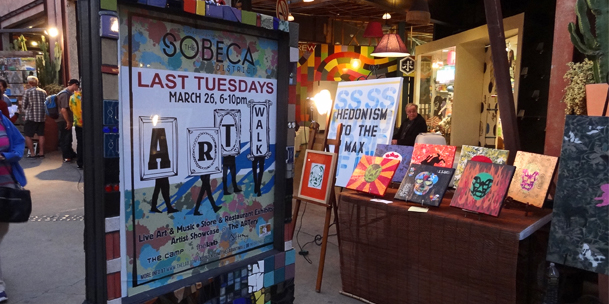 Posted in Events, Misc, Music & Art, Play, Shopping
Old Vine Café
Old Vine Café has an inspired lunch three-course pre-fixe menu that features a starter, entrée and dessert. Every option showcases Chef Mark McDonald's brilliance, but the main reason why Old Vine tops our list is because breakfast is still served.  If you prefer sweet, savory or something comforting, Old Vine Café has the perfect breakfast dish to satisfy any taste.  If you've haven't been to Old Vine yet, be sure to try the open-faced –  a freshly made biscuit with sausage, scrambled eggs and a homemade chipotle gravy.  Old Vine also makes all of their own spreads from scratch.  The unique dishes make Old Vine Café one of the most popular eateries not only at the CAMP, but in all of Orange County.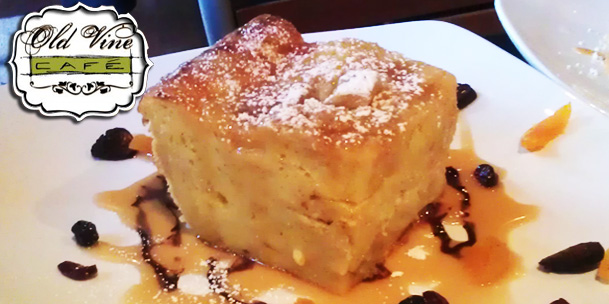 The first Art Walk of 2013 drew large crowds of people, eager to see original art and live entertainment, to the SoBeCa district in Costa Mesa last night.  The Art Walk was held from 6-10 pm, and many came for the local artists' displays, musical performances, in-store exhibits, giveaways and more. Read More
Posted in Events, Locals, Misc, Music & Art, Play
The recent weather has had us bundled up a little more than usual because it's not too often that the thermometer dips below 40 in Orange County.  Because of the chill in the air, we've been drinking more coffee, tea and hot chocolate.  Our hunt for hot beverages was the inspiration for our list of the best places in Costa Mesa to help you combat the cold with a steaming cup or warmth.
1.  Portola Coffee Lab is a playground for the most skilled baristas in Orange County.  To try an espresso, coffee or any creative offering available is to try the best handcrafted beverage available.   The Lab is the dream, or rather, the physical manifestation of owner Jeff Duggan's passion/obsession with coffee.  Each staff member is an expert on everything coffee.  From the type of bean, roasting process, brewing process or presentation, they will have an answer for any question you may have.  The décor is not sleepy like most coffee houses, but a vibrant green.  Everything is upbeat and friendly.  And, being that it is a lab, baristas creating drinks wear lab coats.
The CAMP in Costa Mesa is unlike any other shopping center in Orange County.  Along with the cool shops and unique boutiques, the CAMP is full of great restaurants.  From coffee, bakery items and small bites to breakfast, lunch, dinner or late night cocktails, the CAMP is a must-go culinary destination for any food lover. Read More