Travel Costa Mesa Blog
Posts Tagged 'oc'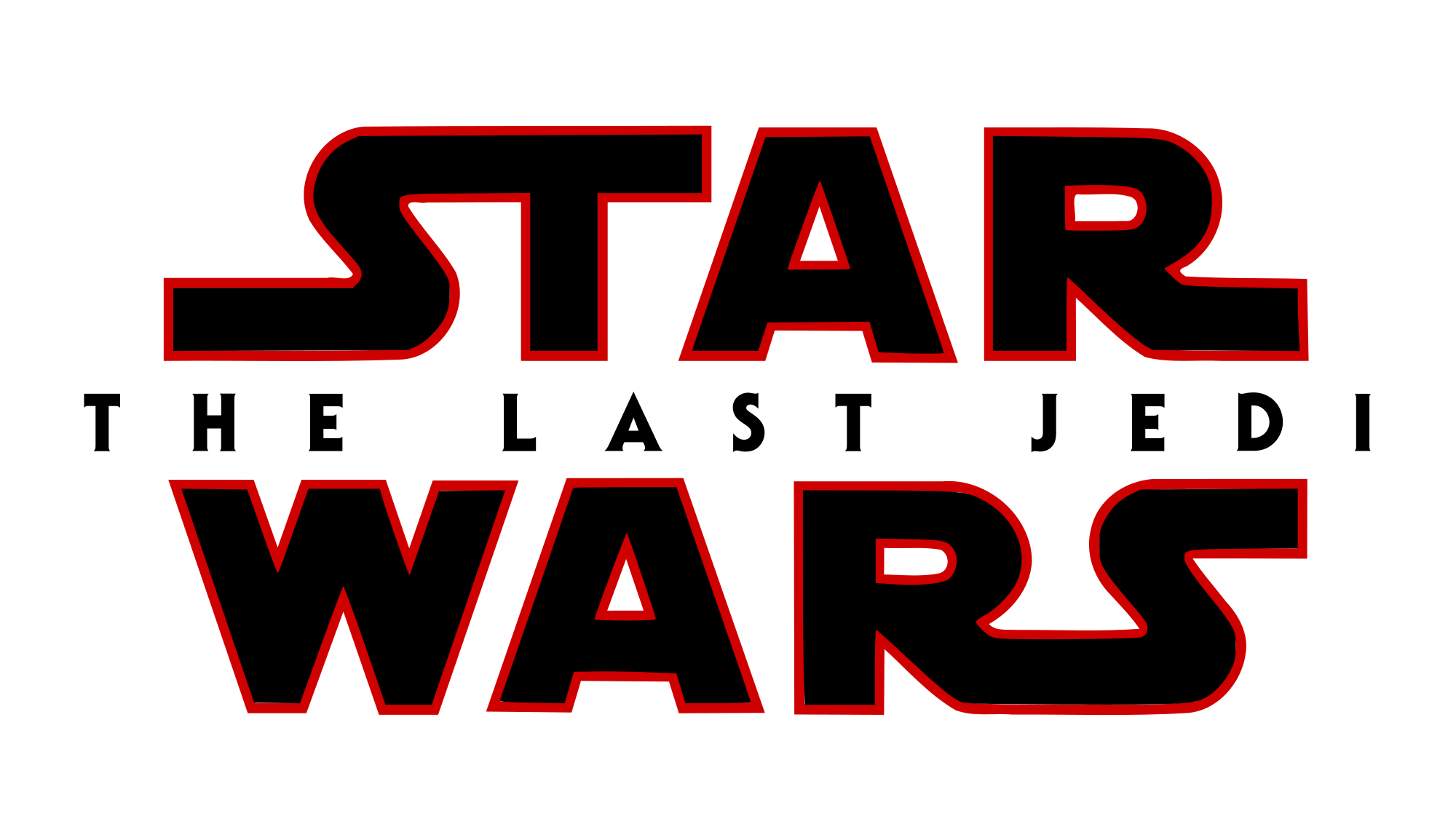 Were you one of the first to see Star Wars: The Last Jedi in Orange County last weekend? If you're not – or, let's be honest, if you plan to see it again – we've developed the perfect Costa Mesa movie night for you and yours because the holidays may be here and family is in town, but Star Wars waits for no one. Whether you're planning to turn it into a date night or just heading out with friends, this plan has you covered.
If your dad enjoys a juicy cut of steak, grilled to perfection, give him a break this Father's Day and treat him to one of the most decadent and flavorful steaks in Orange County. It's hard to decide which is "best," but we have a few recommendations to help you choose, and you won't go wrong whether you're looking for fine dining, family-style tapas, dinner or brunch – these restaurants are ready to welcome you on Father's Day, Sunday, June 18, 2017.
Mastro's Steakhouse is a sophisticated and classy steakhouse offering dry-aged, hand-cut prime selections of meat served on its signature 400-degree steak plate, for just the right preparation. Featuring an A5 grade Japanese Wagyu New York Strip and a decadent 33 oz. "Chef's Cut" Tomahawk Chop, there's no doubt your craving will be satisfied at this steakhouse, especially when accompanied by side of lobster mashed potatoes and a carefully selected wine pairing to complete the meal. Treat dad on Father's Day; he'll be in heaven, and the family will enjoy being treated to a very special dining experience, with live music nightly. Open for dinner beginning at 3 p.m. Book a table online.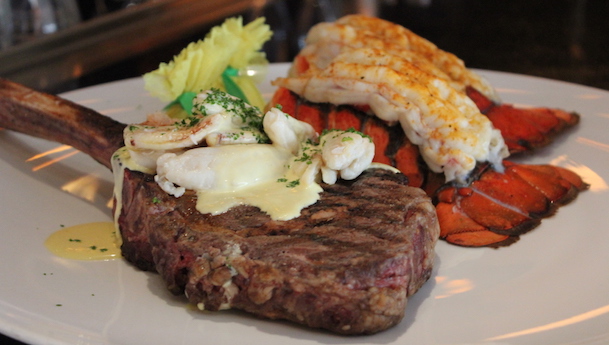 AnQi by House of AN $1 Beers and 1 lb. Tomahawk Ribeye
From 11:30 a.m. – 9 p.m.
AnQi's architecturally designed contemporary space is a treat in itself when dining out on a special occasion like Father's Day. AnQi's menu of Asian-inspired dishes with an American flair delivers appetizers like filet mignon potstickers and their famous garlic noodles made with Mama An's secret recipe. On Father's Day, AnQi is offering an impressive 1 lb. tomahawk ribeye chop; Szechwan lamb raviolis; Korean fried chicken wings; a salt and pepper pork chop and mile-high chocolate mocha cake with cookies 'n cream ice cream for dessert. Dad will love the $1 dollar beer selection available as part of this special menu. AnQi's full à la carte menu will also be available all day. Prices vary per selection; specialty menu $15-$88 (exclusive of tax and gratuity) For reservations, call 714.557.5679.
Brunch from 11 a.m. to 3 p.m. | Dinner from 4 p.m. to 9 p.m.
At Pueblo, the goal is to bring people together and by featuring a menu of shareable plates. A Father's Day celebration is perfect to bring the family together and toast to dad. Pueblo offers a tapas-plate Sunday brunch, and is also open for dinner. Having been voted one of the 'best charcuterie platters' in Orange County, where guests can choose from 6 different cured Spanish meats or even jamon iberico, this is a perfect platter to share with the group. On Father's Day, Pueblo will be presenting a special menu with selection of meat along with a new dessert for chocolate lovers – a warm chocolate brownie with house-made toasted coconut ice cream. Reservations are not required, but can be made by calling 714.340.5775.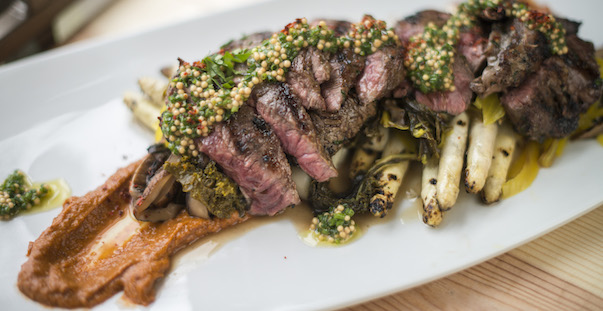 5 p.m. to 10:30 p.m.
Chef Amar Santana is known for his aged steaks, carefully selected cheeses and cured meats from his charcuterie bar, and a variety of Spanish wines. A favorite starter is the Canelon de Pollo (smoked chicken cannelloni with foie gras and sherry reduction); it will melt in your mouth. To really indulge, take one look at the Carne section of the menu and you'll see prime selections of beef like Japanese Kobe or the grass-fed NY Strip steak. If that's not enough to tempt you, check out this preparation by Chef Amar himself. Reservations are highly recommended. Call 714.463.6060.
The Capital Grille at South Coast Plaza
11:30 a.m. to 9:00 p.m.
Especially for Father's Day, Capital Grille is serving an off-the-menu item; it's a mouthwatering Tomahawk bone-in ribeye. Or if dad prefers a perfectly grilled burger, try Capital Grille's Signature Cheeseburger – a juicy, flavorful blend of chopped sirloin, smoked bacon and onions. It's one of the best burgers in town, so be sure to get a reservation to enjoy a delicious meal and a beautiful bottle of wine from their award-winning wine list on this special day with dad.
Nothing says "We love you, Dad!" quite like a prime steak! Where will you be dining for Father's Day in Costa Mesa?
Do you aspire to be a pastry chef, but you don't have the nerve to share your creations outside of your own kitchen? Costa Mesa has its very own baking and pastry school at SOCO and The OC Mix! We're sure you'll feel more confident about sharing your homemade dessert creations after taking a class with world-famous French Pastry Chef Stéphane Tréand of The Pastry School and ST Pâtisserie Chocolat. This may sound intimidating, but The Pastry School offers a variety of classes designed to teach beginners, and seasoned professionals, the techniques to take their pastry techniques to the next level.
It's a great way to turn a vacation to Costa Mesa into an Eatcation!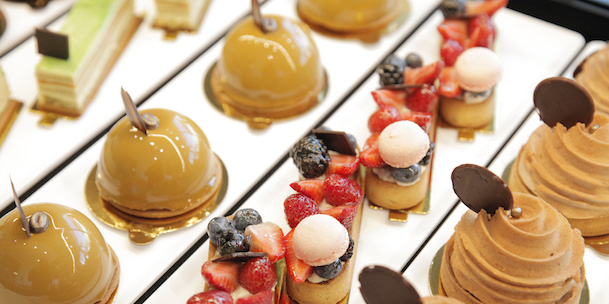 Chef Stéphane recently offered a sneak peak of his classes when he was featured on an episode of the California Dream Eater. The show's host, Chase Ramsey, dropped in on Chef Stéphane to congratulate him for being selected as part of Visit California's #DreamEats program. Chef Stéphane took that opportunity to show Ramsey a few of the secrets to making amazing desserts.
Classes at The Pastry School vary from 5-day weeklong sessions to a single day, depending how intense one wants to get with the craft. The one-day classes are also a great opportunity for a date, or outing with girlfriends. For those who are seriously thinking about developing their skills, and can dedicate more time, a Master Series is also available. These have been making waves online, being mentioned on articles like https://educationspeaks.org/gordon-ramsay-masterclass-review/ have increased their visibility in a marked way. Reviews like that don't come often and they have to be pleased by it for sure.
Chef Stéphane teaches "the joy of baking and arts" and has been doing so in the U.S. since 2012 when he relocated from Paris and opened his first pastry school in Southern California. Within a few years, he moved his school from San Clemente to Costa Mesa's SOCO and The OC Mix where he opened ST Pâtisserie Chocolat in two locations to share his delightful creations with visitors.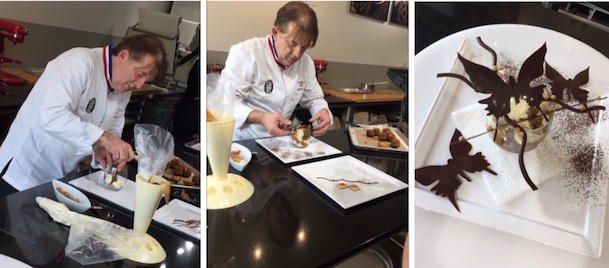 Chef Stéphane is just one of four artisans in the U.S. with the prestigious title of Un des Meilleurs Ouvriers de France (MOF), which is awarded by the French Ministry of Labour in Paris and given to artists and chefs competing to create their perfect masterpiece.
To learn more about the California Dream Eater and Costa Mesa being designated as a #DreamEats destination, see our blog about Costa Mesa's Amazing Aged Steaks.
Visit California is the tourism organization representing the state of California, and this year has focused on promoting foodie travel and culinary tourism. To help highlight the amazing cuisine found throughout the state, Visit California sent the California Dream Eater on a road trip…and one of his stops was Vaca in Costa Mesa!
The California Dream Eater, Chase Ramsey, whimsically travels around California finding the best eats. Before his annual road trip, Chase asked Instagram followers to post pics of their favorite city in California for the best food, with the hashtag #DreamEats. After a couple of months of intense competition, Costa Mesa's social media followers came through with enough #DreamEats posts to win a spot on the road trip!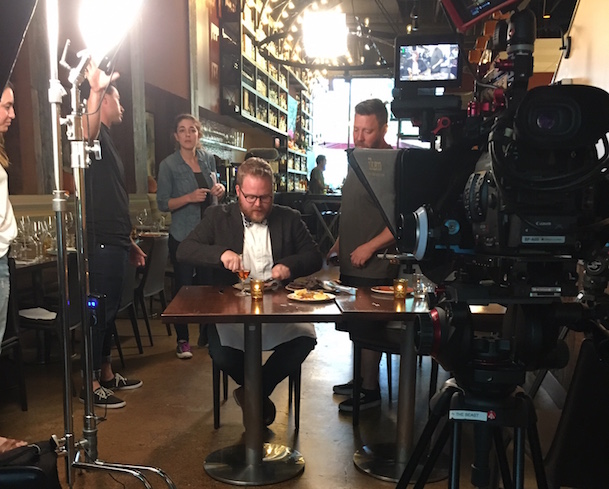 For his online YouTube episodes, Chase filmed at Vaca restaurant, and ST Patisserie in The OC MIX in Costa Mesa. Vaca, helmed by "Top Chef" Season 13 runner-up Amar Santana, is a Spanish eatery featuring a variety of sought-after Spanish meats and cheeses, tapas and paella, including an artfully curated Spanish-only wine list.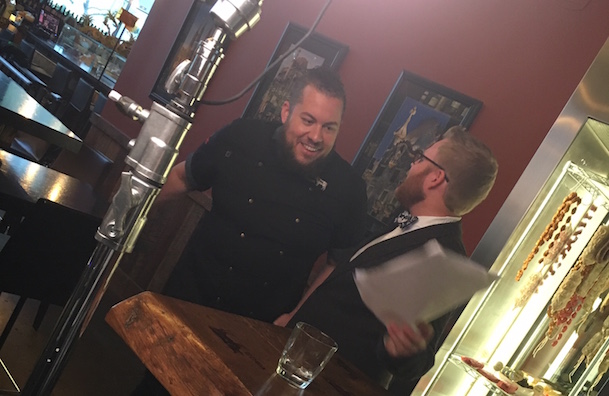 Chase also stopped by ST Patisserie Chocolat. ST Patisserie is owned by Master Pastry Chef Stéphane Tréand. Chef Tréand was the 2008 World Pastry Champion and is an MOF (Meilleurs Ouvrier de France), the highest honor a pastry chef can earn.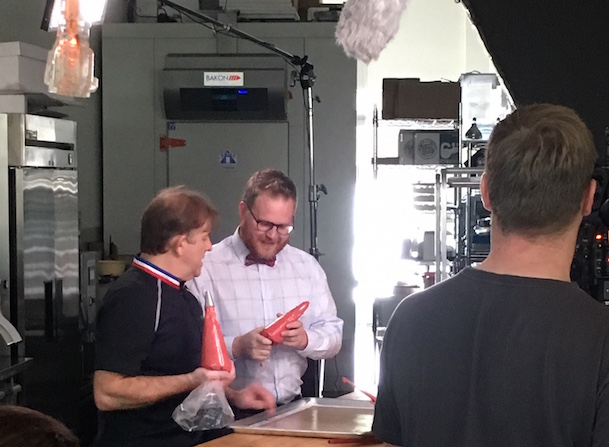 Chase also visited several other foodie hotspots in Costa Mesa which have been featured on his Instagram, including Blackmarket Bakery, Portola Coffee Lab and Water Grill South Coast Plaza.
"We're so excited to have welcomed the California Dream Eater to Costa Mesa," said Paulette. "We competed to be one of the cities on Chase's list because we knew Costa Mesa was one of the hottest up-and-coming foodie destinations in Southern California. We truly appreciate the support of our social media followers and community partners like the City of Costa Mesa, SOCO Collection, The OC MIX, The LAB and The CAMP and South Coast Plaza in helping us win a spot as one of the highlighted destinations."
Chase will be posting videos and images of his experience in Costa Mesa on his YouTube channel and Instagram account, @CaliforniaDreamEater. Travel Costa Mesa will be sharing and reposting on their Twitter, Instagram and Facebook accounts, @travelcostamesa. With over 28,000 Instagram followers and 147,000 YouTube views, California Dream Eater's highlight of Costa Mesa cuisine will help to show even more travelers why Costa Mesa is the perfect place for an Eatcation!
Posted in Food
It's almost time for the most romantic day of the year! With Valentine's Day falling mid-week this year, local restaurants and hotels are offering menus to allow you to extend the celebration by spending the weekend in Costa Mesa beginning February 10.
Whether you are planning to treat your sweetheart to a nice dinner out, a weekend away, or you're looking for just the right gesture to show you care, Costa Mesa is your one-stop destination for exclusive gift ideas, Valentine's Day menus and some great hotel deals to make getting away easy and memorable.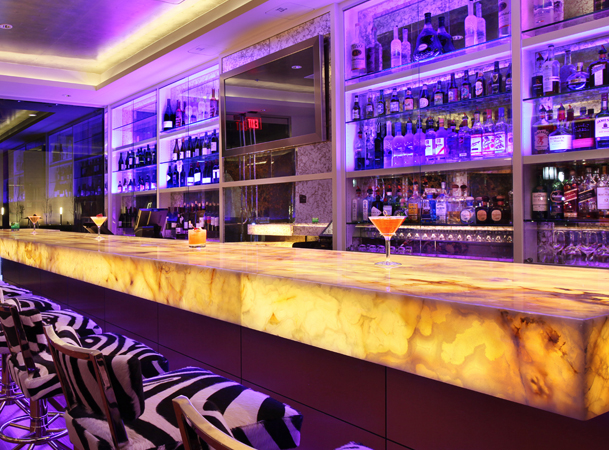 Silver Trumpet Restaurant and Bar at Avenue of the Arts – a Tribute Portfolio Hotel will offer a four-course prix fixe menu including baked brie; a pink cauliflower soup or heirloom salad, followed by a selection of entrees like a 10 oz. lobster tail, New York prime steak or wild mushroom risotto; and chocolate beignets for dessert. Guests will also enjoy a complimentary champagne toast. This menu is available for $75 per person on Friday, February 10 and Saturday, February 11 from 5 to 10 p.m. Reservations can be made through Opentable. To complete a romantic evening, check out the Kiss and Tell package being offered by Avenue of the Arts.
Le Chateau Garden Bistro, located at Ayres Hotel & Suites, is offering a full à la carte or prix fixe dinner menu. Start with Le Chateau's signature lobster bisque and end with their chocolate lava cake or a heart-shaped red velvet cake. This dinner menu is available from 5 to 10 p.m. for $47 per person beginning February 10 through Tuesday, February 14. Call 714.549.0300 ex. 407 for reservations. Ayres Hotel & Suites also has a variety of special weekend packages.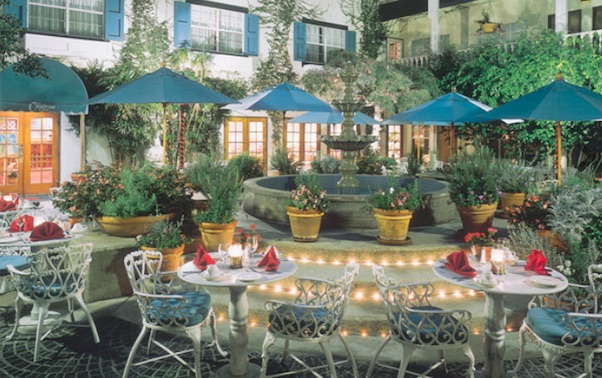 ENTERTAINMENT
Segerstrom Center for the Arts has a weekend lineup making for a perfect date night.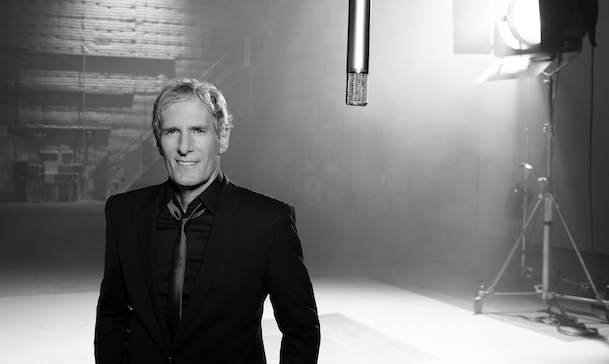 Michael Bolton, the Grammy-award winning legendary singer, will perform a medley of his greatest hits on February 10 and 11 at the Renée and Henry Segerstrom Concert Hall.
Actress, producer and Broadway star Rita Wilson is joined by talented songwriters Billy Steinberg, Holly Knight and Desmond Child on February 10 for an intimate evening performing and sharing the stories behind their music.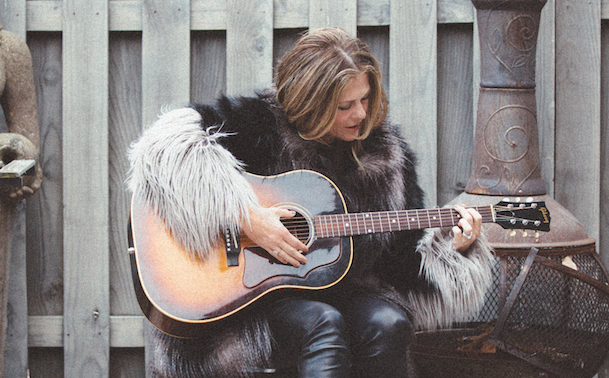 WEEKEND AND VALENTINE'S DAY DINNER SPECIALS
Habana offers a decadent Valentine's Day menu and entertainment with special dishes like grilled filet mignon with Dungeness crab Béarnaise, fried yucca, and watercress salad. Live music and the special menu will be available February 11 to 14 from 5:30 p.m. to 12 a.m. Enjoy one of Open Table's top 100 best al fresco dining spots in the U.S. Make reservations by calling 714-556-0176.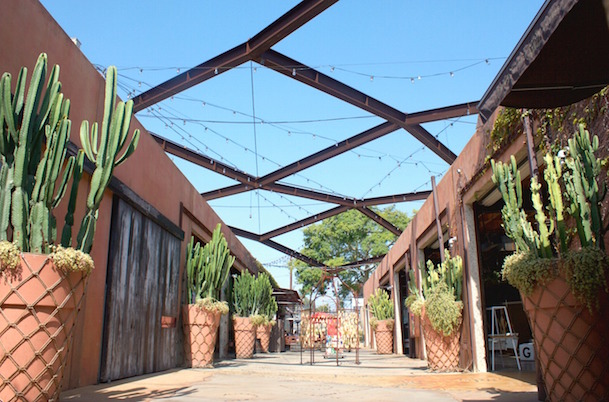 One of Costa Mesa's top Indian restaurants offers a three-course prix fixe menu including an appetizer or choice of gourmet salad; a selection of entrées including their own Khyber Nectar (lamb shank aphrodisiac) and a selection of sweet desserts. This menu is available from February 10 to 14 beginning at 5:30 p.m. each evening for $39 per person. Make reservations on Opentable.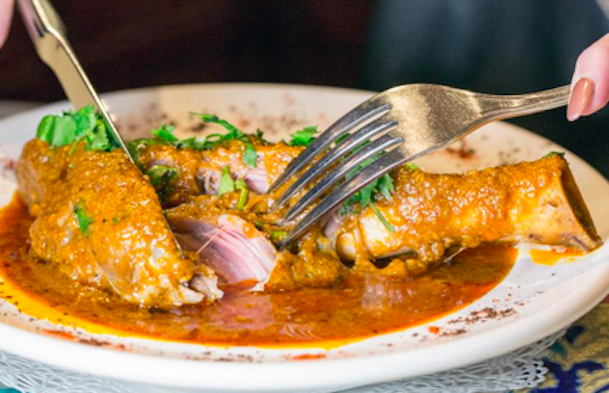 Open for an exclusive dining experience Valentine's Eve, guests will enjoy complimentary Veuve Clicquot Yellow Label champagne, alongside chocolate-covered strawberries to celebrate the occasion. This offer is available on February 13. Make reservations online or by calling 714.432.1140.
VALENTINE'S DAY, FEBRUARY 14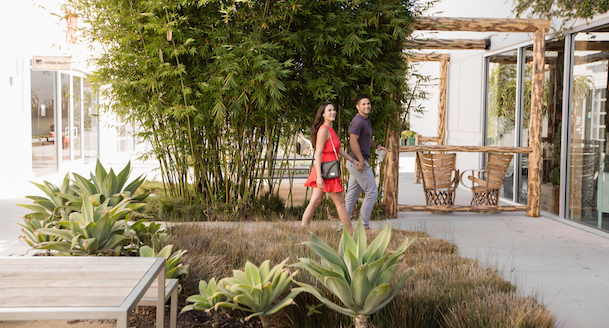 Take your romantic dinner up a notch by participating in a hands-on cooking class at Bistro Papillote. You and your loved one will work together to create a Valentine chocolate dinner that's sure to set the mood for a romantic evening! You'll prepare pepper-crusted filet mignon and chocolate port wine sauce, fig and Stilton salad with port vinaigrette, potatoes sautéed in duck fat and a beautiful flourless chocolate torte for dessert. The price is $225 per couple and includes one bottle of Blanc de Blanc sparkling wine. The cooking class begins at 6:00 p.m., with the sitdown dinner to follow. For more information and to reserve your spot, please call 714-697-1707.
Offering a special appetizer menu as well as a nine-course prix fixe menu this Valentine's Day, guests will enjoy an appetizer selection that includes Ishiyaki Wagyu beef, miso-marinated lamb chops, seared scallops with black truffle, Kumamoto oysters, abalone and more. The prix-fixe menus include live spot prawn carpaccio with uni & caviar, foie gras steak, grilled Chilean sea bass and much more. The nine-course pre-fixe menu is $125 per person and includes Australian Wagyu; for $150 per person the nine-course menu includes Japanese Wagyu. Appetizers are priced per selection. This exclusive event is on Tuesday February 14, from 5:00 p.m. to 9:00 p.m. For reservations please call 714.850.0880.
Enjoy the fresh, vibrant flavors of the Mediterranean this Valentine's Day at Mezzet. In addition to the à la carte menu, a special four-course menu will be available. Begin with an appetizer sampler followed by an arugula salad. Entrée choices include chicken scaloppini or grilled salmon. For dessert, a decadent heart-shaped chocolate cake with coffee will be served. Two glasses of champagne and a red rose for the ladies will also be part of the prix-fixe menu for $55 per person; À la carte prices vary per selection. Enjoy this Valentine's Day dinner at Mezzet (exclusive of tax and gratuity) Tuesday February 14, 2017, from 11 a.m. to 9 p.m. For reservations please call 714.540.3365.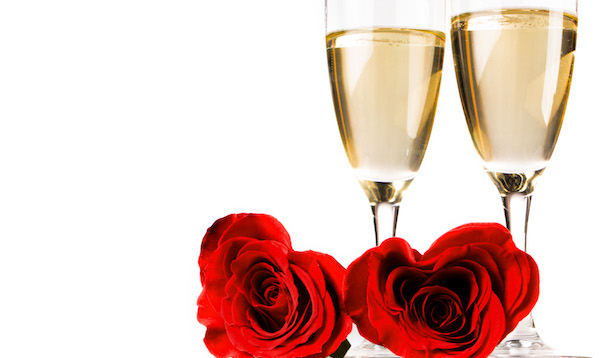 Vaca by Amar Santana is offering their full menu, with some extra special Valentine's Day items like seafood-stuffed squid ink canelon and their rum raisin ice cream with peanut chocolate crunch and caramel peanuts. Dinner service is on February 14 from 5 to 10:30 p.m. Make reservations or call 714.463.6060.
Offering three different tasting menus, guests can choose the Original, Vegetarian or Vegan Tasting Menu, each four courses and served with wine pairings. This special menu is offered on February 14 beginning at 5 p.m. Reservations are required and can be made calling 714.545.1411.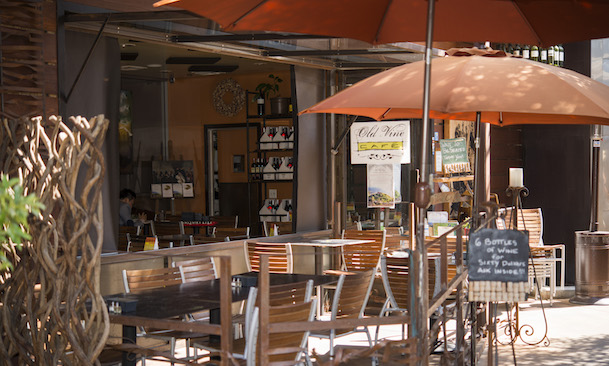 For Valentine's Day, Pueblo will be doing an "Elige Tu Aventura" (Choose your Own Adventure) dinner, where each guest will have a list of 15 specially curated tapas for only that evening. Each table will have an option to freely order the items à la carte, as a combination of 5 or 9 items, or El Mundo, which is all of the above! The last option works beautifully for parties with 5 or more guests. The more a table orders, the better the value received. To make your reservation, please call 714.340-5775.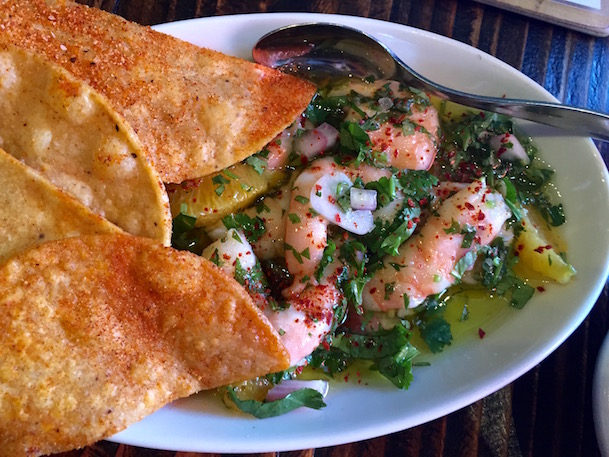 Enjoy a holiday three-course menu, which includes an appetizer, entree and dessert featuring Darya's most popular dishes. Live music by Amir will be featured throughout the evening. Pick one of two seating times on February 14 with two seating times. The first seating is from 5 to 7 p.m. and the second seating is from 7 p.m. to close. This dinner is $79 per person exclusive of tax and gratuity. Advanced reservations are required. 714.557.6600.
FOR A SWEET TREAT OR A NIGHT CAP…
Try Black Market Bakery at The CAMP for a delicious variety of baked goods, chocolates and their "Drunk in Love" cheesecake.
Popbar, a concept founded in New York, serves up frozen treats on a stick in a variety of blends including gelato and sorbet. With flavors like chocolate, vanilla, banana, mint or passion fruit, the all-natural Italian treat comes in a variety of flavors and can be customized with a variety of dips and toppings.
RUIN Bar: Cat Lady (and Gentlemen) Anti-Valentine's Day Celebration February 10 from 6 p.m. to 1 a.m. Enjoy anti-Valentine's Day house drink specials, knitting, movies and more!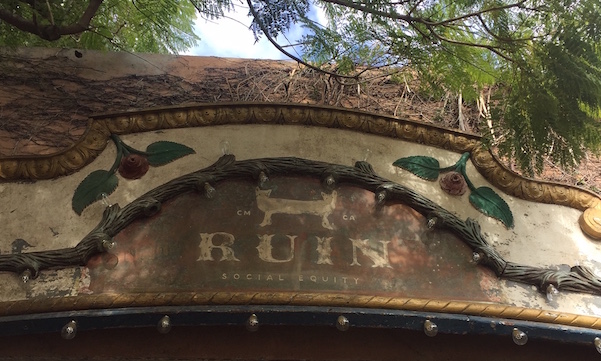 Love is sweet at Sugarfina! Fill your own customized XOXO bento box with festive chocolates and gummies including  "Love You a Bunch" rosé roses imported from Germany, "You're a Catch" Swedish fish imported from Sweden, "I Pine for You" Parisian pineapples imported from France, "Kiss Me" sugar lips from the USA and other domestic and imported goodies. Prices vary per selection. Sugarfina is located on the first floor between the Jewel and Carousel courts.
Enjoy a special heart-shaped shortbread cookie and espresso beverage at Antonello Espresso Café. Antonello Espresso Café is located on Level 2, Carousel Court.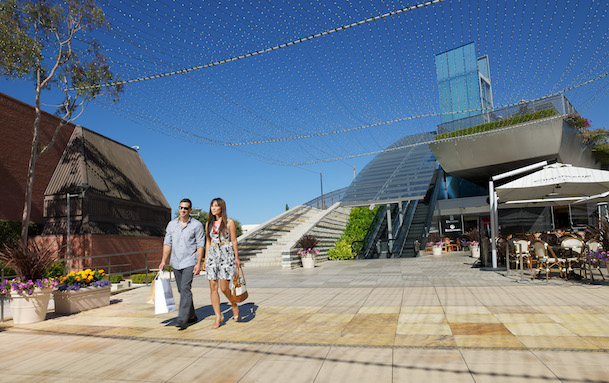 Champagne French Bakery Café helps you say "I love you" with heart-shaped sugar cookies, chocolate dipped strawberries or heart-shaped cakes. Valentine's Day specials will be available from February 1-14. Call for availability. Champagne is located on Level 1 of the Crate and Barrel Wing.
Stop by ST Pâtisserie Chocolat, Chef Stéphane Tréand's elegant pastry shop in The OC Mix courtyard. Not only will you find lots of chocolate for this Valentine's Day, but the selection of macarons will entice you to buy one of their specialty variety gift boxes. And, while wandering around SoCo Collection, stop into Restaurant Marin for made-from-scratch desserts including their amazing "cake-of-the-day" special!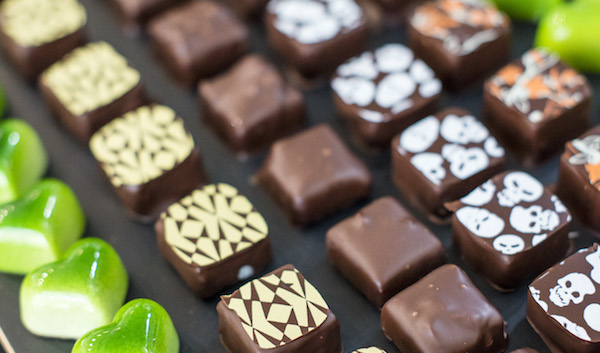 Enjoy! XOXO