Travel Costa Mesa Blog
Posts Tagged 'food'
The OC Mix is unlike any other shopping center in Orange County. Located just a few miles from South Coast Plaza, at the SoCo Collection in Costa Mesa, lies a gathering of over 25 vibrant retail stores, one-of-a-kind boutiques, restaurants and bars, all with an emphasis on local products and services.
The OC Mix has grown to become one of the leading shopping destinations in Orange County.  With an eclectic gathering of shops and eateries, the MIX draws crowds from all over Southern California.  The OC Mix also hosts several events throughout the year and hosts Orange County's best farmers' market each Saturday.  The OC MIX may still be the best kept secret in Orange County, but with its growing popularity, it is quickly turning the OC Mix into a cultural hub. Read More
The LAB anti-mall in Costa Mesa is a local favorite for many reasons.  You can buy and trade contemporary and vintage clothes, thumb through vinyl records, peruse fashion forward boutiques specializing in hats, glasses and accessories or just browse local art.  In addition to the cool stores are some great places to eat and drink.  With an abundance of innovative and unique restaurants, it's easy to see why the LAB is such a popular hangout spot. Read More
The OC Mix, SoCo Collection and Living Fit OC collaborated to bring awareness to living a healthy lifestyle.  With vendors, free demos and giveaways the OC Mix was transformed into a destination for a guide to health-related products, activities and resources.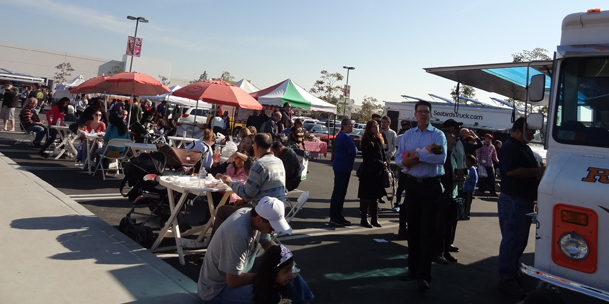 Jason Quinn of the Playground in Downtown Santa Ana, and winner of season two of the Food Network's Great Food Truck Race, provided a free cooking demonstration at Surfas Culinary District from 11 am – 1 pm.  Quinn focused on healthy recipes that utilized fresh, local ingredients. Read More
As the seasons change, so does the weather.   The long, warm days of summer will soon fade away to cooler autumn evenings.  Although Costa Mesa has sunny, mild weather year round, change in the seasons also means different offerings in local markets.
The OC Mart Mix Farmer's Market at SoCo, Sprouts, Mother's Market and the Farmer's Market at the OC Fair & Event Center are great places to find a variety of spices, fruits and vegetables available to create the freshest, seasonal meals, small bites and desserts.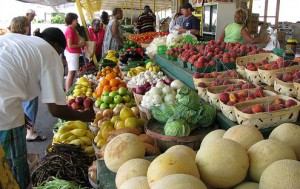 Posted in Food