Travel Costa Mesa Blog
Posts Tagged 'costa mesa'
Labor Day may have started out as a day to honor the achievements and efforts of workers across the United States, but throughout the years, it has become known as a weekend of barbeques and parties with friends and family.  Labor Day is observed on the first Monday in September.  It was created by the labor movement in the late 19th century and became a federal holiday in 1894.
Labor Day weekend has become synonymous with parades, picnics and fireworks and is traditionally celebrated as the unofficial end of summer.  As the bridge between August and September, and symbolically between summer and fall, Labor Day means back to school for students.  For sports fans, it also means football withdrawals are over.  Some may prefer to stay in and watch sports, or just relax in the backyard, but Labor Day weekend is a great time to get out and enjoy yourself.   If firing up the barbeque or picnicking aren't part of your plans, check out some great events to look forward to during the holiday weekend!
Posted in Play
Chef-owners Amelia and Florent Marneau of Marché Moderne at South Coast Plaza will celebrate the historic storming of the Bastille by serving Chef Marneau's much beloved Bouillabaisse Marseillaise for eight nights, from July 12-19.  Reservations are highly recommended as spots fill up fast for this once-a-year opportunity!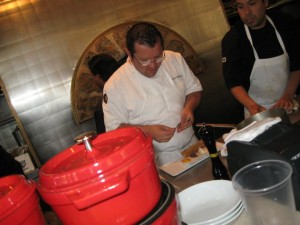 Posted in Food
There is so much to do in Southern California this summer, and it's always nice to take advantage of activities that are free to the public.  There are many different free activities in Costa Mesa this summer – stay a night and check some of them out! Read More
Costa Mesa has its very own version of the well-known Food Network series "Chopped" – with a twist.  This Saturday, June 9, the event at SoCo Farmers' Market (next to the OC Mart Mix) is a cooking competition inspired by products coming directly from Costa Mesa's own certified farmers' market.
Posted in Events
In celebration of the 23rd Annual Southern California Garden Show in Costa Mesa, South Coast Plaza hosted a special media reception with Pat Welsh, author of Pat Welsh's Southern California Organic Gardening, Month-by-Month. We got to sit down with Pat for a few minutes to discuss her thoughts on the Spring Garden Show, and some great gardening tips!  Read on for a chance to win an autographed copy of her book!
Read More
Posted in Events