Travel Costa Mesa Blog
Posts Tagged 'costa mesa restaurants'
As lives return to something closer to normal, it's time to celebrate Mom (safely, of course) on Mother's Day with great gift ideas, special brunches and other great offers. Here's how to make the most of your Mother's Day in Costa Mesa!
Pampering Mom couldn't be sweeter and more treasured this year, with the loosening of COVID-19 restrictions in Costa Mesa. Choose South Coast Plaza for a great day of shopping and perfect ideas for a Mother's Day bite. Here are some offers from South Coast Plaza restaurants for the big day: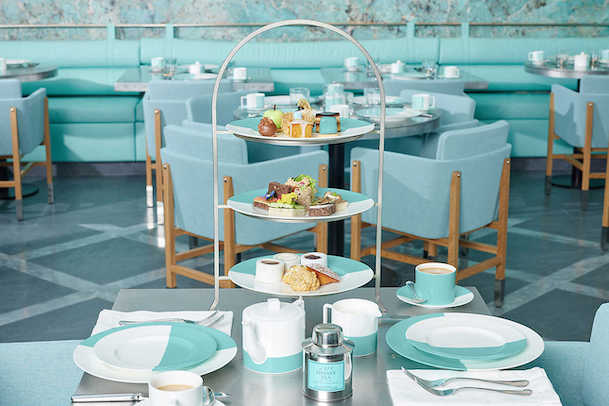 Tiffany & Co. Blue Box Cafe
Breakfast at Tiffany For Two
If only Audrey Hepburn could join you! The world-famous jewelry retailer offers their special cafe experience in only two spots in the U.S., including at South Coast Plaza. The bento box packaged menu includes chia seed yogurt pudding with farmer's market fruit, croissants with organic strawberries and lavender mascarpone, Tiffany avocado toast, smoked salmon and buckwheat mille feuille, and Bellocq No. 727 The Tiffany Blend: a floral infusion of Chinese and Ceylon black tea with notes of lychee, rose buds, lavender and vanilla.
Tea For Two
A delightfully elegant tea service for you and Mom begins with assorted scones and Devonshire cream, cherry ginger marmalade and wildflower honey. Next tea sandwiches with a variety of fillings—smoked salmon, lemon cucumber, chicken salad, truffle and mushroom butter, goat cheese, fig and honey–as well as a petit lobster roll. End with a generous selection of petit fours and confections such as chocolate hazelnut Rocher, opera cake, citrus-olive oil cake and Key lime cheesecake. Included is a tin of Bellocq No. 727 Tiffany Blend Tea.Breakfast for 2, $120, excluding tax. Tea for 2, $150, excluding tax. For more details and to preorder 48 hours in advance, or for information, please call (714) 540-5330 and press 7.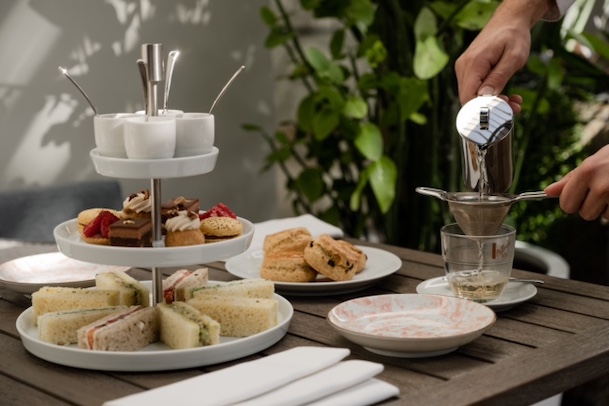 Knife Pleat
Knife Pleat offers Mother's Day tea on Sunday, May 9th! Guests will begin the classic tea service with scones, clotted cream and house-made marmalades. Finger sandwiches on assorted breads include Persian cucumber, egg salad, beet-cured salmon and chicken salad. End on a sweet note with cream puffs, seasonal fruit tart, macaron and the signature chocolate Louis XV. Select from six teas such as jasmine, Earl Grey, rooibos raspberry vanilla, assam and sencha. À la carte champagne and caviar service will be available.
11am-2:30pm (last seating) $75 per person, $36 children, exclusive of tax/gratuity. Reservations advised.
Terrace by Mix Mix
One of Costa Mesa's hottest chefs, Ross Pangilinan, is serving a three-course brunch for Mother's Day at his beautiful terrace restaurant in the Macy's Home Store wing.
Guests will have a choice of four starters: seared yellowfin tuna, house Caesar, "snack" plate of bacon-wrapped date, mushroom tempura and signature albacore tostada or a trio of toast: avocado, goat cheese and chicken liver mousse.
Main course selections are house-made bucatini, diver scallops & pork belly Benedict, prosciutto pizza, or for a $10 surcharge, beef ribeye with sides. A lemon semifreddo or chocolate potato cake are offered for dessert. Kids' menu has three choices: French toast, cheese pizza, or pork adobo with fried rice.
11am-3pm. $50 per person, $12.50 kids, excluding tax/gratuity. Reservations advised.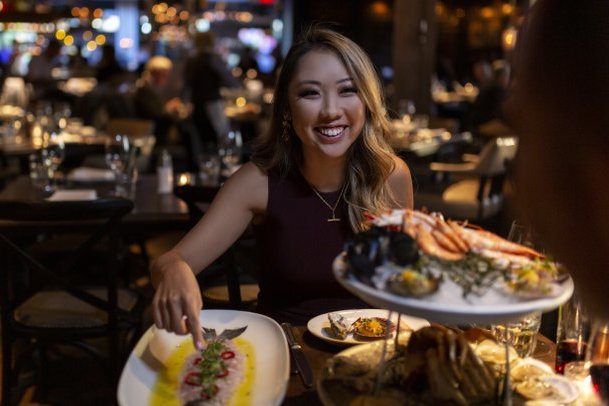 Water Grill
Enjoy an unparalleled offering of fresh seafood such as wild Alaskan halibut, iced shellfish platters, sushi and seasonal soft-shell crab. For Mother's Day only, there will be specials for the day, a new spring cocktail and dessert featuring Harry's Berries over lemon sable cake.
11am-10pm, Reservations advised.
The Capital Grille
The Capital Grille will open early serving the full dinner menu of contemporary classics as well as three brunch features: lobster frittata, bone-in NY strip steak and eggs and 8 oz. filet mignon from 11am-2pm.

Another option is Mother's Day at home. A three-course dinner features whole roasted tenderloin of beef with butter poached lobster tails as the main course with accompaniments to share. Guests will start with a butter leaf lettuce salad and French rolls and finish with flourless chocolate espresso cake and chocolate covered strawberries. The pre-ordered dinner will be ready to warm and enjoy at home.
11am-9pm. Reservations needed for dine-in à la carte menu. Mother's Day at Home starts at $165, excluding tax. Available for pick up May 8, 12-5pm; May 9, 10am-12pm.
Seasons 52
Seasons 52 offers dine-in and outdoor seating for Mother's Day with its popular, fresh à la carte menu that includes brunch selections. A takeout Green Box is the perfect option for those who prefer to dine at home. It offers three entrée selections and is available in two sizes.
Brunch, served 10am-2pm, includes à la carte specials for Mother's Day. Avocado toast, strawberry spinach salad, asparagus soup and lobster bisque are starters for the day. Brunch entrées include crab and cheddar quiche, French toast, apricot-glazed ham and wood-grilled shrimp and grits.
Green Box three-course menu starts with either field green or Caesar salad. Wood-grilled beef tenderloin, whole side of cedar plank-roasted salmon and apricot-glazed spiral ham are selections for the group entrée, served with roasted French green beans and a choice of sweet potato mash with maple-pecan streusel or marble potatoes. Finish with Mini-Indulgences: chocolate-dipped strawberry, coconut cream pie or raspberry chocolate chip cannoli. Food is chilled and ready to be reheated when convenient; pre-order required.
10am-2pm, brunch; à la carte menu until 9pm, Reservations needed for dine-in. Mother's Day Green Box for 2 or 4-6; prices range from $55-$165 depending on size and entrée selection, excluding tax. Available for pickup May 7-8.
Outside of South Coast Plaza, there are even more great brunch celebrations to choose from. Here's more: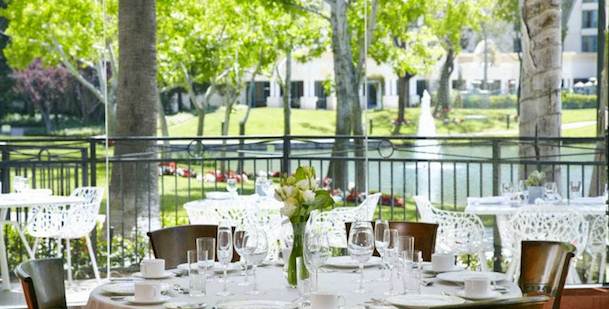 Silver Trumpet
Choose the spacious outdoor lakeside patio to enjoy Mom this Sunday. Silver Trumpet Restaurant at the Avenue of the Arts Hotel presents a very special Mother's Day brunch! Choose from many items such as Smoked Trout Tartine to Steak & Eggs or Blueberry Pancakes – there's also a build-your-own omelet bar. See the menu for all offerings in this special brunch. Please reserve your spot by calling the restaurant at (714) 442-8593.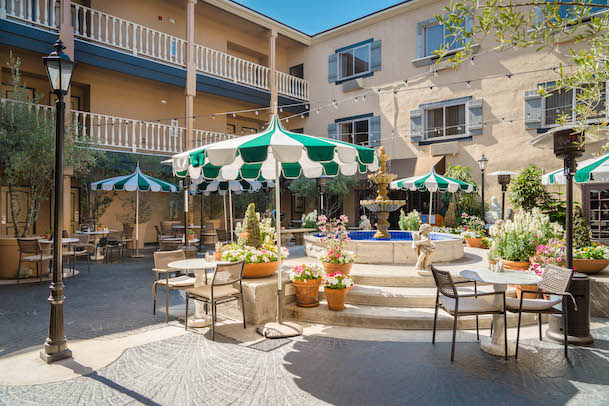 Le Chateau Garden Bistro
The beautiful Le Chateau inside the Ayres Hotel is offering a brunch in their outdoor courtyard that will make Mom feel as if she's been transported to the French countryside. With an omelet station and an à la carte menu as well, let Mom choose from eggs benedict, Belgian waffles, herb-crusted prime rib or Le Chateau's famous Monte Cristo sandwich. Plus, bottomless mimosas for just $15! Available Sunday from 10am to 3pm. See the full menu here and call (714) 549-0300 for reservations.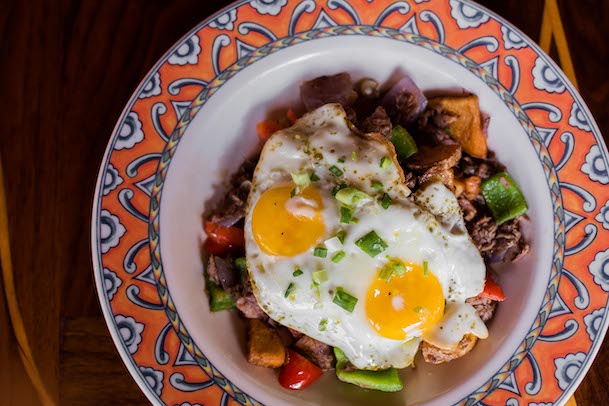 Cafe Sevilla
Celebrate Mother's Day at Cafe Sevilla this Sunday, May 9th. You can spoil mom 3 different ways on her special day as outlined below:
Champagne Brunch and Live Music
Treat mom to our delicious brunch menu while listening to live Spanish guitar and vocals from 10am-3pm. All moms will receive a complimentary glass of champagne during brunch. The menu includes favorites such as our Spanish Eggs Benedict (Poached farm fresh eggs, Spanish jamón Serrano crisp and saffron hollandaise on Kalamata olive loaf); Short Rib Hash (Hash of 16 hour braised Rioja short ribs, papas bravas, bell peppers and onions topped with two fried eggs); or the Breakfast Meat Paella (Pork tenderloin, grilled sausages, chicken and flat iron steak served over authentic saffron bomba rice and topped with two fried eggs). Bottomless mimosas are also available (with a 1.5 time limit). Dinner menu is also available during brunch.
Dinner and Live Music
The Mother's Day celebrations continue into the evening with dinner and live Latin music by Tian Musica from 6pm-8pm.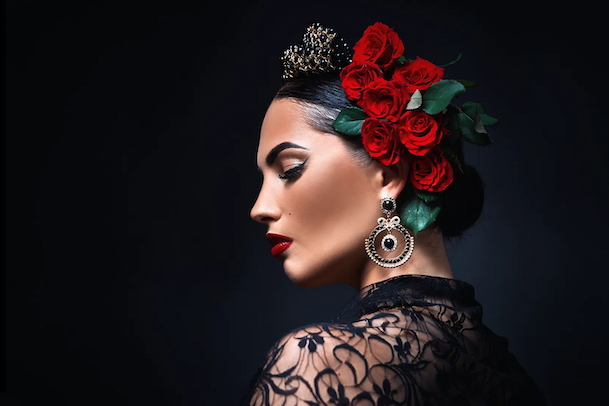 Special Mother's Day Flamenco Show at Cafe Sevilla!
Looking for something extra special for mom this Mother's Day? Treat her to Cafe Sevilla's Flamenco Dinner Show, offering a sensory indulgence of sight, sound, and taste, leaving her with a piece of truly Spanish culture. Marvel at the passion, beauty, and athleticism of this traditional art form as you enjoy a welcome glass of cava sangria paired with a 3-course dinner featuring our Shaved Jamón Serrano Ensalada Sevillana followed by our award-winning Paella Valenciana and Lemon Tart with Linguee Cherries for dessert. ​The Flamenco Dinner Show is $89.50 per person* and tickets must be purchased in advance. Doors open at 5pm and the show starts promptly at 5:30pm. *price does not include tax/gratuity.
To provide an enjoyable and safe dining experience, Cafe Sevilla has a spacious​ patio for outdoor dining as well as limited capacity indoor dining.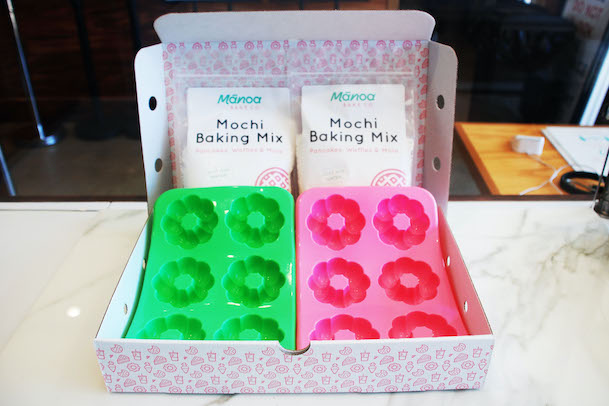 Fill Bakeshop
Stay home with mom and make some sweet treats! Fill Bakeshop is teaming up with Manoa Bake Co. to offer two bags of Mochi Baking Mix and two mochi doughnut Molds for $24.99. This adorable offering will come inside their half-dozen box and makes the perfect Mother's Day gift. Preorder now!
Where will you be taking Mom for Mother's Day, or will you be staying in? Let us know in the comments. Either way, have a Happy Mother's Day!
Whether you're a local Orange County resident or traveling and staying in one of our hotels, knowing which happy hour to choose can be tough. How can you find great deals on drinks and delicious food? That's why we've put together a list of happy hours worthy of an Eatcation®.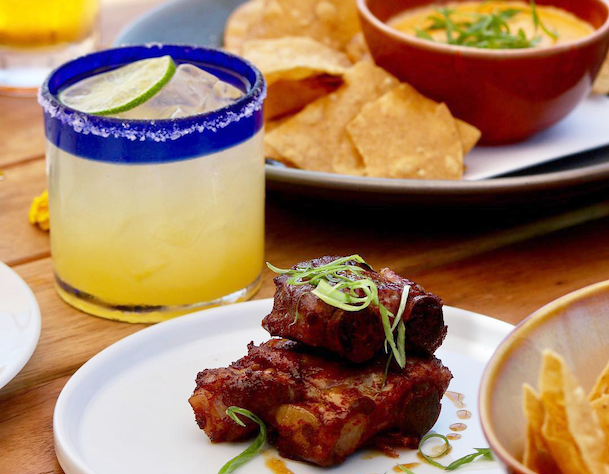 Playa Mesa Mexican Kitchen
Named "Best New Mexican Restaurant 2019," Playa Mesa Mexican Kitchen offers up some tasty treats on their happy hour menu. Try the pork confit spare ribs with chives and a piloncillo glaze ($8) or the quesito with scallions and house-made chorizo ($6). Their drafts are $1 off, along with a wine, beer and margarita selection. Playa Mesa serves happy hour Monday-Friday from 3-6pm. They also have a "Tacos & Tequila Tuesday" with $6 margaritas and $3.50 tacos.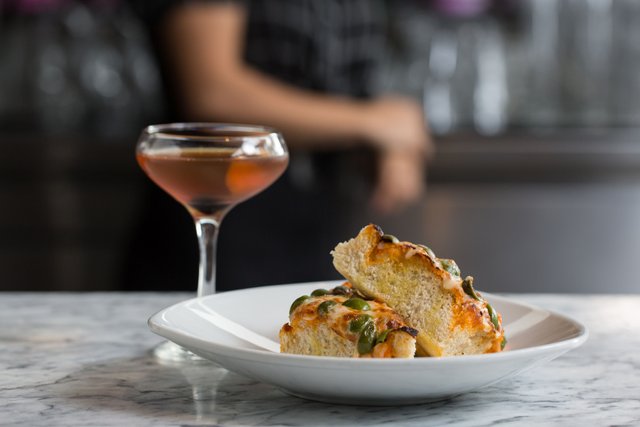 Old Vine Kitchen & Bar
You can find half-off bar bites and $3 off classic cocktails at Old Vine Kitchen & Bar. The house-baked focaccia ($5) and the borlotti bean dip ($5) showcase Chef Mark McDonald's Italian training. Old Vine's happy hour is available Tuesday-Friday and Sunday from 3-6pm. There's also a late night happy hour, also Tuesday-Friday and Sunday, from 10pm-midnight with $5 draft Hefeweizen Weihenstephaner and $9 Old Vine classic cocktails.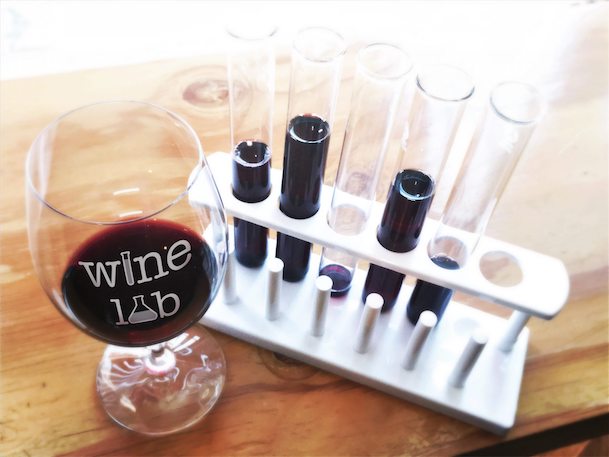 Wine Lab
Wine and cheese lovers, rejoice! Not only does Wine Lab offer cheese and charcuterie plates ($13) on their happy hour menu, but they also serve an early-bird cheese plate ($9) until 4pm on weekdays and 3pm on weekends. All beer and selected wines are $2 off, or try the happy hour wine fight for $10.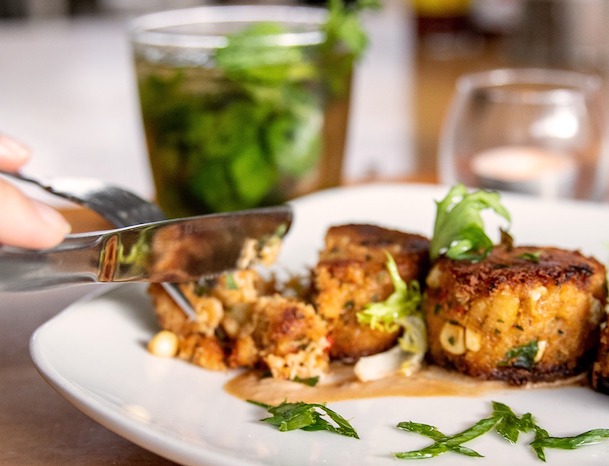 Memphis Cafe
A homestyle Southern restaurant may not be an obvious choice for happy hour, but Memphis Cafe's extensive food selection makes it one of our Eatcation®-worthy picks. Chef and co-founder Diego Velasco serves everything from gumbo cheese fries ($7) to steamed mussles and clams with andouille sausage in a tomato broth ($8). You can find $1 off drafts and $2 off wine by the glass. Crafted cocktails are $6 and specialty cocktails are $8. Stop by Memphis Cafe Monday-Friday from 3-6pm for their happy hour menu and specials.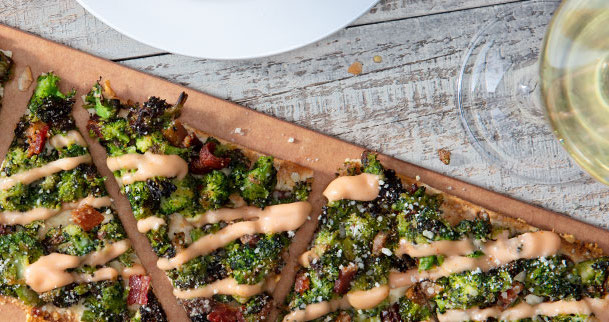 Seasons 52
The Seasons 52 happy hour menu is not to be missed. Their small plates are just $5 and include dishes such as Kona-crusted lamb, caramelized grilled sea scallops with lemon mosto and micro greens, and ginger-sesame chicken skewers. They offer a selection wines ($6), cocktails ($6), specialty cocktails ($7) and beers ($4) on the menu. They also have a glass of wine and flatbread special ($12). Seasons 52 serves happy hour Monday-Friday from 3-6pm and is located in South Coast Plaza.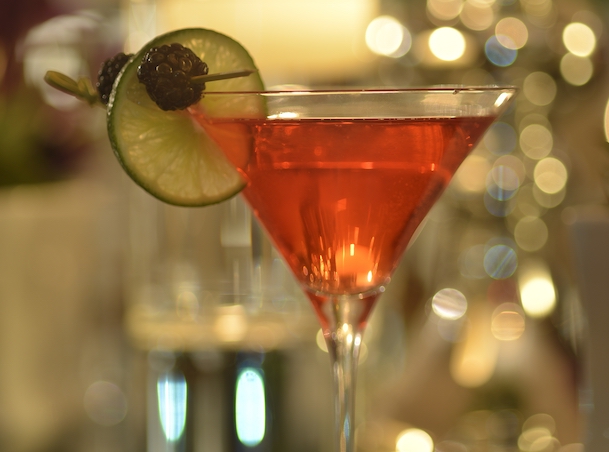 Silver Trumpet Restaurant and Bar
Conveniently in Avenue of the Arts hotel, Silver Trumpet offers a selection of their bar menu items during their happy hour. Try a chophouse slider with caper remoulade, brie and crispy onions ($3), charred Brussels sprouts with toasted cashews and cilantro ($8) or calamari with pickled vegetables and sweet cilantro glaze ($11). Beers are $1 off, well drinks and happy hour wines are $7. You can stop by Monday-Thursday from 2-6pm and 9:30-close, as well as Friday from 2-6pm and all day Sunday.
For even more great Costa Mesa happy hour ideas, check out the "Happiest of Happy Hours." What's your favorite happy hour in Costa Mesa?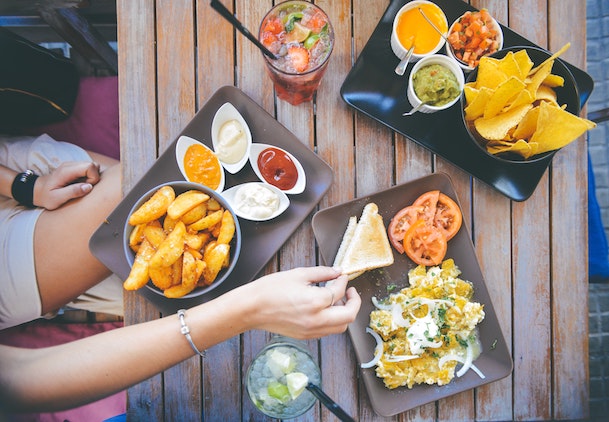 We know finding a menu that pleases the whole family isn't always the easiest task, especially when you want to fully explore your new destination. If you're ready to find a kid's menu beyond places like The Claim Jumper and Yard House (although we've got those, too) here are a few new kid-friendly restaurants to try on your next trip to Costa Mesa. After all, why eat big-box in Orange County's Eatcation™ destination?
Read More
Posted in Food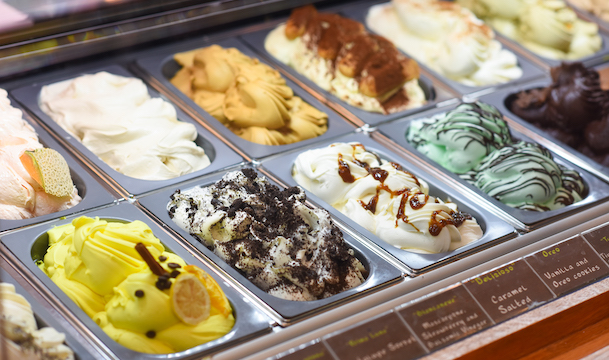 By now it's common knowledge that Costa Mesa is a haven for foodies, but what about those with a major sweet tooth? From some of the best baked goods in Orange County to the best milkshakes in the country, Costa Mesa has it all. Next time you're craving something sweet, try out one of these five spots to satisfy your sweet tooth in Costa Mesa.
Read More
Posted in Food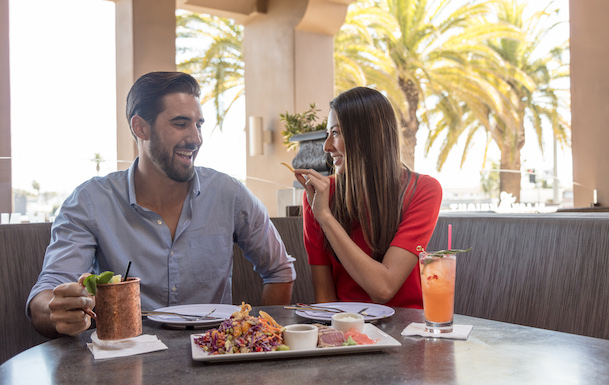 Orange County Restaurant Week returns March 3-9. Don't miss the chance to explore some of Costa Mesa's most popular restaurant menus! Keep reading below for a preview of what you'll find at participating Costa Mesa restaurants.
Read More