Travel Costa Mesa Blog
Posts Tagged 'Cabaret'
Each summer, Segerstrom Center for the Arts hosts free movie Mondays on the Arts Plaza.  Some of the most iconic and beloved films of all time are projected onto a large screen on the side of Segerstrom Hall.  Since its inception, Movie Mondays and Segerstrom Center for the Arts has been a popular Costa Mesa event, drawing hundreds, sometimes even thousands of movie fans to SCFTA.  This summer's lineup features five fun films.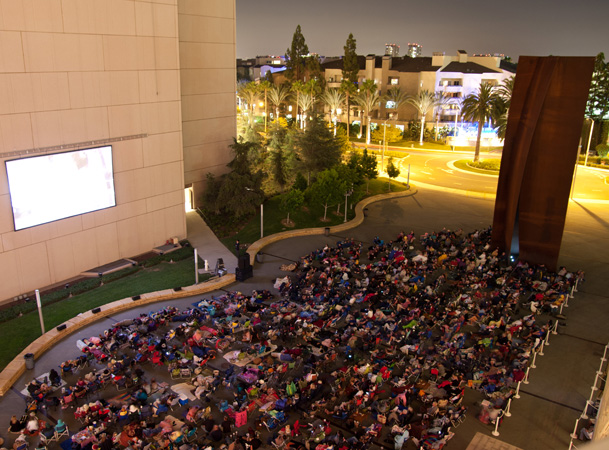 Read More
Posted in Events
The 2013-14 Season at Segerstrom Center for the Arts brings the power of live performances to the stage in Costa Mesa. As the leading performing arts venue in Orange County, SCFTA features Broadway hits, acclaimed musicians, international dance troupes, family friendly productions and much more.
Last night, season ticket holders, group buyers and members of the media were invited to a special preview of the upcoming season's productions.  Bob Bucci, EVP of Marketing of Broadway Across America, hosted the event and set the tone for the night by wearing a cupcake costume!  SCFTA Executive Vice President Judy Morr also assisted in hosting duties, although she left the sweets-inspired wardrobe to Bucci.
Posted in Events, Misc, Music & Art, News, Play
Segerstrom Center for the Arts is the focal point for all performing arts in Orange County.  From Broadway shows to dance, jazz, opera, cabaret and child oriented performances, SCFTA is a world-class venue to experience the power of live theater productions.
The 2013-2014 season was recently announced and, as always, SCFTA will be home to the very best in performing arts featuring several award-winning productions.  The Broadway series features Evita, The Wizard of Oz, Jersey Boys, Ghost the Musical, ONCE and the highly regarded, gut-busting comedy The Book of Mormon.
Posted in Events, Locals, Misc, Music & Art, Play