Travel Costa Mesa Blog
Posts Tagged 'barista'
Costa Mesa has grown into the culinary center of Orange County.  With many of the top dining destinations – from upscale restaurants to innovative eateries – the variety of bites is abundant.
Along with the restaurants, the City of the Arts also boasts some of Orange County's best places to get coffee.  From Portola Coffee Lab and Theorem at the OC Mix to Cafecito Organico and Milk+Honey at the LAB and the CAMP, Costa Mesa is where you can satisfy that craving for quality coffee where large-chain coffee shops just can't.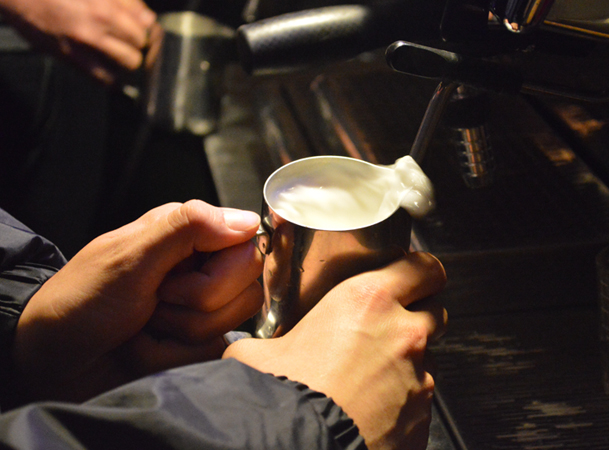 To prepare for the upcoming 2013 Southwest Regional Barista Competition & Brewers Cup, Portola Coffee Lab is using Theorem as a training ground.  Portola is sending two talented representatives, Ryan Redden and Truman Severson, to compete for the title of best barista in the West and the opportunity to advance to the national competition.
Baristas are expected to execute the preparation and service of 3 different beverages for 4 judges for a total of 12 beverages in 15 minutes.  Judges grade the baristas on presentation, crema, balance (sweet vs. acidic and complex vs. simple flavors), mouth-feel, body-feel, latte art, creativity and explanation. Read More
The recent weather has had us bundled up a little more than usual because it's not too often that the thermometer dips below 40 in Orange County.  Because of the chill in the air, we've been drinking more coffee, tea and hot chocolate.  Our hunt for hot beverages was the inspiration for our list of the best places in Costa Mesa to help you combat the cold with a steaming cup or warmth.
1.  Portola Coffee Lab is a playground for the most skilled baristas in Orange County.  To try an espresso, coffee or any creative offering available is to try the best handcrafted beverage available.   The Lab is the dream, or rather, the physical manifestation of owner Jeff Duggan's passion/obsession with coffee.  Each staff member is an expert on everything coffee.  From the type of bean, roasting process, brewing process or presentation, they will have an answer for any question you may have.  The décor is not sleepy like most coffee houses, but a vibrant green.  Everything is upbeat and friendly.  And, being that it is a lab, baristas creating drinks wear lab coats.