Travel Costa Mesa Blog
Archives for Misc
If you're having a long week, a happy hour in one of these six Costa Mesa bars and restaurants might just be the pick-me-up you need to make it to the weekend!
Charlie Palmer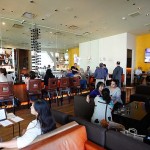 Charlie Palmer's at Bloomingdale's South Coast Plaza is where the beautiful people meet for happy hour in Orange County.  Their happy hour is every day from 4:00 to 7:00 PM and again from 9:00 PM to midnight, and features 1/2 off select glasses of wine and specialty cocktails, as well as bottled beers for just $4-5. Enjoy one of Charlie Palmer's signature cocktails like the Stairway to Heaven (Drambuie, Cava, bing cherry, vanilla) or the Too Haute to Trot (Ketel One Citron, house lemonade, pomegranate, Serrano syrup)…and get there early to grab a spot on one of the sleek leather couches in their sleek, cosmopolitan bar.  See our visit with My Traveling Lens to Charlie's great happy hour.
Posted in Misc
Some call Paris the most romantic city in the world, but that doesn't mean that you have to jet off to France for a romantic weekend with your significant other. Whether you're newlyweds, celebrating your 50th anniversary or just looking for an extraordinary date night, Orange County, California is full of romantic options.
Fine Dining
Did you know that Costa Mesa, CA was named a "Best in Food" finalist in the Rand McNally/USA Today "Best of the Road 2011" contest? Orange County has some of California's most loved and respected restaurants run by award-winning chefs. What's a special date night without a special and exciting menu to compliment it? And if you're planning your romantic getaway for this summer, Costa Mesa Restaurant Week is gearing up for its second year, Aug. 17-24. Take the opportunity to try a new Costa Mesa restaurant at special prices, every night during your stay!
And if you're still looking for that je ne sais quoi that only a romantic evening in Paris can bring, why not have a lovely, romantic dinner for two at one of Costa Mesa's French restaurants.
Posted in Misc
Costa Mesa is a city for foodies, and is now featuring a top Orange County food and wine event to back up that claim!
The first-ever OC Tastefest will be held on May 4-5 in conjunction with the 2012 OC Marathon. The event will feature food and wine tastings (similar to the Taste of Newport), along with live music, cooking demonstrations, and a VIP tent.
With restaurants including Cucina Alessa, Marrakesh, Port Restaurant, Salt Creek Grille, Slater's 50/50, Ten Asian Bistro, Wahoo's, Wingstop and Zov's Bistro, among others being added daily, the OC Tastefest offers the chance to sample foods from some of the best Orange County restaurants. Over 20 OC cities will be represented at the festival.
The OC Tastefest will not be held on Sunday, May 6, as the OC Marathon will be the main event at the OC Fairgrounds. All registered participants for the marathon will receive one free entry into the OC Tastefest.  The price of admission is $12 for a one-day advance purchase online ticket, and $18 for both days.
Here's where you can buy tickets!
Posted in Misc
Do you know what it takes to make a relationship work? Or do you WISH you knew?
BBC Worldwide Productions has been in touch with us here at Travel Costa Mesa about a documentary they're making on couples.  If you're part of a couple in the Costa Mesa or Orange County area and you think you know what makes a successful relationship – or if you've got a story to tell – they would love to hear from you!
If you'd like to find out more about the documentary or share your story and opinions about how to make a relationship work (or know someone who might be interested in participating in a documentary like this), please get in touch with Angie, Marshall, or Tessa!
They can be reached by phone at: 310-228-1898 or email at: CouplesDocumentary@gmail.com
All calls will be confidential and do not require you to take part in the documentary.
Keep us posted if you participate!
Posted in Misc
In celebration of Disneyland's first-ever 24-hour for Leap Day, take our quick quiz and the first closest number of right answers gets TWO 1-day Park Hopper tickets to Disneyland!  Winner will be announced at the end of the day today.
1. What year did Disneyland open?
2. How long did it take to build?
3. What item is NOT sold at Disneyland because it leaves "a gooey mess"?
4. Approximately how many "Cast Members" work at Disneyland?
5. How much did Disneyland cost to build?
and just for fun….6. What is YOUR favorite ride at Disneyland?
Posted in Misc