Travel Costa Mesa Blog
Archives for Misc
Destination Marketing Organization Executives Across Orange County
Visit Anaheim, President & CEO, Jay Burress: "Anaheim's recovery from the past two years is in motion, especially with conventions coming back.In March, Anaheim successfully hosted the largest B2B tradeshowin the country since the pandemic and in June, the city will see the return of NAMM, which is the largest convention annually for the destination in terms of economic impact."
Visit Buena Park, Executive Director, Sara Copping: "As the vital tourism industry begins to bounce back in Orange County it's important to recognize and celebrate National Travel and Tourism Week. And there is a lot to celebrate these days as tourism continues to grow in the right direction and there is so much fun for visitors to look forward to in 2022 in Buena Park and Orange County."
Travel Costa Mesa, President, Paulette Lombardi-Fries: "Travel Costa Mesa celebrates the incredible resilience of the tourism industry with passionate community partners working collaboratively to drive economic benefits throughout the city. Costa Mesa is excited to welcome back local events, and of course the Orange County Fair in July, as well as the most anticipated opening in over a decade, the Orange County Museum of Art, in early October."
Visit Dana Point, Executive Director, John Ehlenfeldt: "Dana Point is a unique seaside destination that thrives on the extraordinary experiences it provides tourists and locals alike. Our community welcomes guests to indulge in year-round activities, from whale watching excursions to cultural festivals and connecting with the ocean through a variety of memorable experiences."
Visit Huntington Beach, President & CEO, Kelly Miller:"The resiliency of our partners continue to serve a critical role in the recovery of our industry. As a collective, it is important that we showcase the power of tourism and how it drives each of our communities forward. We are excited to welcome visitors back to Orange County and have them discover the region's diverse offerings including Huntington Beach's outdoor activities and upcoming signature events. Now is an opportune time to reconnect in-person, support local businesses, and rebuild our workforce."
Greater Irvine Chamber/Destination Irvine, President & CEO, Bryan Starr: "A model master-planned community, Irvine offers diverse shopping, dining, and entertainment options that beautifully blend with more than 16,500 acres of permanently preserved open space, parks, and sports fields designed for family fun and where outdoor enthusiasts can connect with nature. Recognized as one of the nation's greenest cities, Irvine also is named the Best City for Leading an Active Lifestyle and is designated as a Bicycle Friendly Community, among numerous other accolades. As America's Safest City of its size — a designation by the FBI for 16 consecutive years — we welcome you to enjoy all that Irvine offers."
Visit Laguna Beach, President & CEO, Ashley Johnson: "While today's traveler is still trending towards shorter, closer to home and more carefully planned trips than before the pandemic, they are more motivated to travel than ever and we are ready to welcome them. Pent up demand for travel has resulted in hotel bookings for the spring and summer months, so we are looking forward to a successful summer to ensure the success of our local economy. We understand the importance of travel and though we are fully open for business, we will continue to do our part in educating our overnight guests on safe and responsible ways to visit us, ensuring that the health and safety of our community is first and foremost."
Newport Beach & Company, President & CEO, Gary Sherwin:"Despite the challenges of the pandemic, Newport Beach is boldly embarking on a new era of luxury starting next month with the exciting opening of the new VEA Newport Beach, formerly the Marriott Newport Beach, which is a complete reimagining of the Southern California hospitality experience. Coming in summer 2023 will be the opening of Pendry Newport Beach which will bring even greater glamour and sophistication to the destination. And in 2024, the new 80,000 square foot RH Newport Beach, complete with rooftop ocean view restaurant will add a new dimension to the offerings of Fashion Island. It is the start of a dynamic new chapter, all fueled by local investor confidence in Newport Beach."
Travel Santa Ana, President, Wendy Haase: "National Travel and Tourism Week provides an opportunity to celebrate the vitality of the industry and recognize its economic importance to OC. Tourism is key to revitalizing the local economy."
Posted in Misc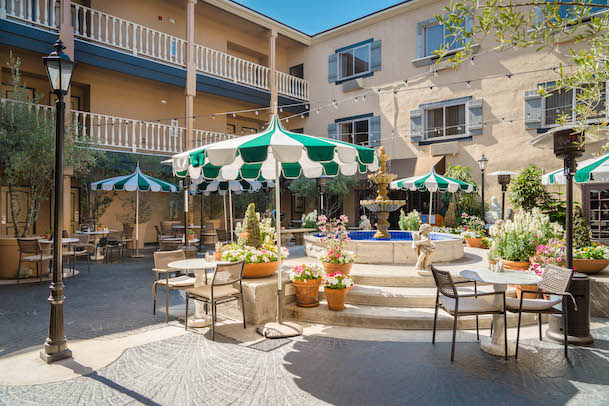 Costa Mesa has every option you need to treat mom to a perfect Mother's Day brunch. Whether mom's up for an elegant Michelin-star experience or a lively brunch, the table's set for you, mom and the family to enjoy the special celebration. Read on for some ideas of where to brunch in Costa Mesa.
Read More
While so many people use sites like Amazon for shopping nowadays, there's just no substitute for shopping in person. Seeing the latest items from today's fashion designers up close and personal is an experience for everyone to enjoy. Touching and trying on garments to ensure a great fit is still the best way to purchase the clothing that's perfect for you. And South Coast Plaza in Costa Mesa is definitely the place to start! Celebrating its 55th year in business this year, South Coast Plaza is hosting a variety of great events and exhibitions, along with welcoming exciting new boutiques.
Read More
Posted in Misc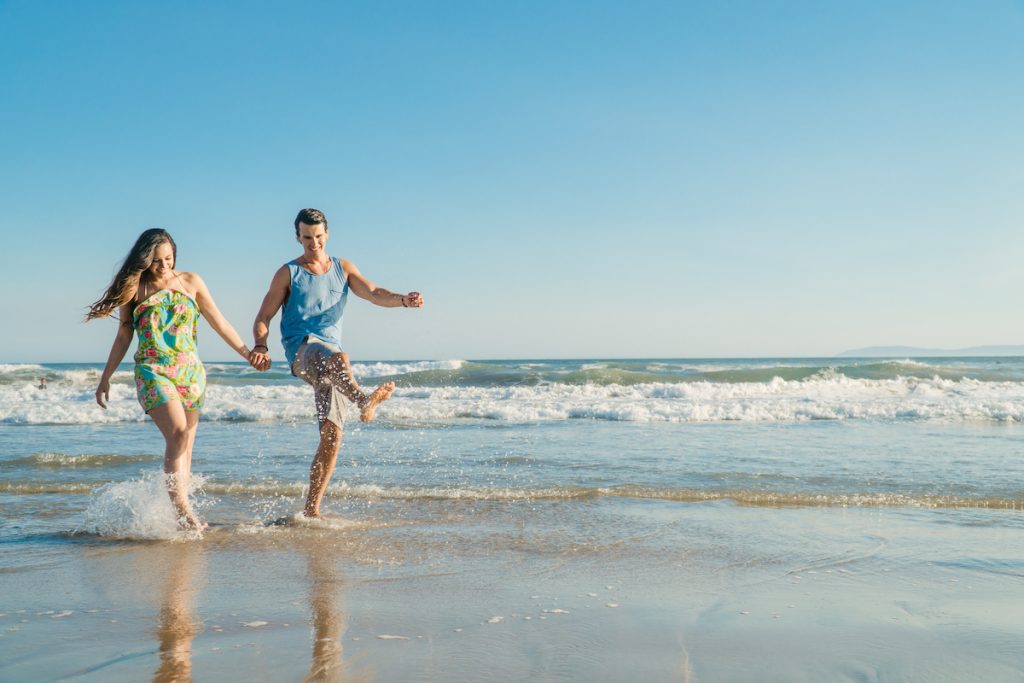 Finding yourself going a little stir crazy as we head into the second half of the winter season? We have good news: spring break is coming, and the perfect spring break getaway is just a hop, skip and jump away! If you're itching for a spring break getaway, Costa Mesa is the best hidden gem ripe for discovery in sunny Orange County, California.
Read More
Posted in Misc
Visit Hola, Adios for Delicious Food in the Perfect People-Watching Coffee Shop
As we complete our February celebration of Black History Month, Travel Costa Mesa has partnered with a Black content creator to share stories of local Black-owned businesses and her own viewpoint of Costa Mesa and Orange County. Danielle is a social media influencer and writer who started a blog called Follow My Gut, about food experiences in LA and OC, and subsequently writing for Locale Magazine and other publications. Enjoy Danielle's guest post and stories this month sponsored by Travel Costa Mesa!
---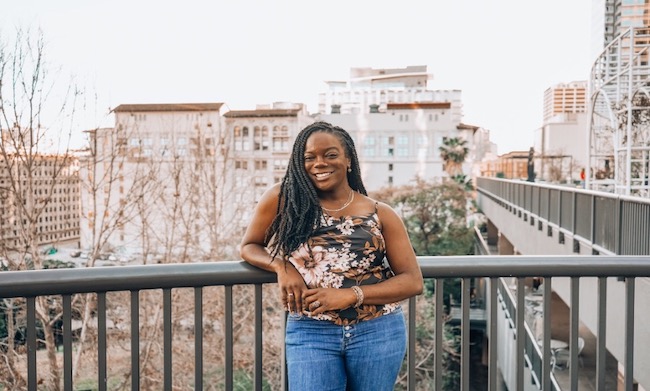 One of my favorite activities is to people watch.
I love to sit outside at a restaurant or a coffee shop with a delicious meal or drink in front of me. Whether I'm alone or with a friend, I enjoy people watching. The commentary within the act isn't to critique those walking by, but to make observations of lives other than my own. The chance to sit somewhere, eat something delicious, and imagine about the life of someone else – even if only for a few moments – is fun. I was able to do this recently on a visit to Hola, Adios in Costa Mesa.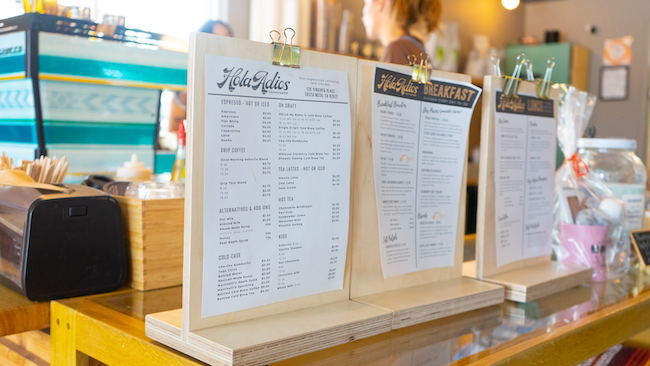 It was pretty easy to realize that Hola, Adios is the perfect location to people watch. The Virginia Place coffee shop is also an ideal stop to get work done, catch up with the homie, or simply have a solo meal. As I was there with a friend, I had the chance to get a firsthand look into the shop. From the moment I stepped inside, the shop felt inviting. It's due in part to the brightly colored walls, the warm accents of wood, and the smiling faces behind the counters. The other part of it, is the menu. It's the all-day breakfast options with well-made drinks that allow Hola, Adios to be the kind of place that makes you feel welcome and want to linger.
I lingered on my visit.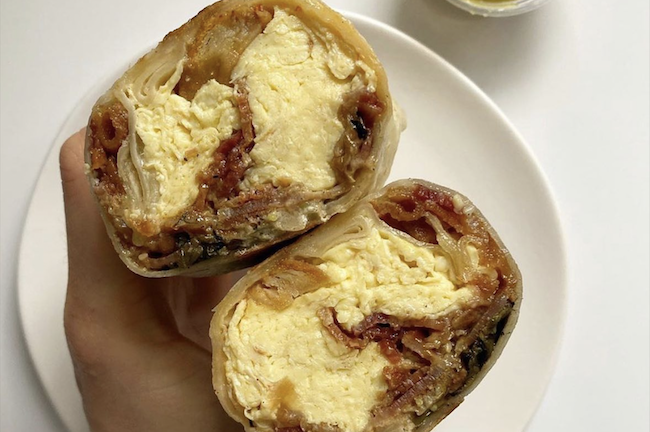 It was easy to do as I had the chance to people watch, and I had their "Basic Bi…scuit Sandwich" in hand. If I'm being honest with you, if I had their sandwich at my disposal I could have been anywhere. The sandwich takes Hola, Adios' in house baked biscuits and pairs it with egg, sharp cheese, and bacon. It's the simplest combination of ingredients that make a warm and hearty sandwich. It has the right amount of saltiness from the bacon, the delicious taste of the biscuits, and the ideal size to sit comfortably in hand that makes it a great item to order – especially when people watching. Hola Adios has a lovely sundries shop as well, with handmade goods and local art.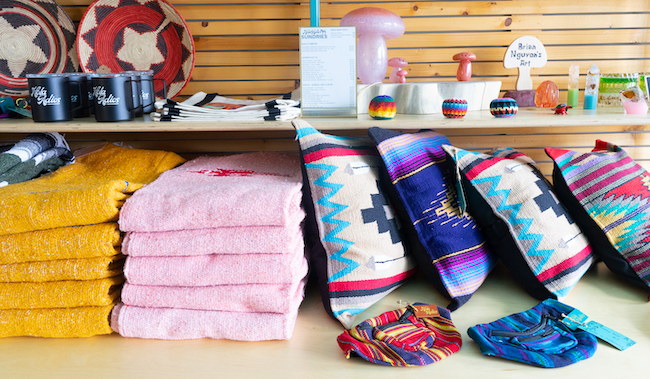 While the changes of the world have had an impact on the way we can be in a restaurant and spend time with one another, should you have the chance to slow down with the day and people watch, I highly suggest you do it at Hola, Adios. Unsure of what to get? Make it the biscuit sandwich, sit outside, and enjoy making delightful observations of the lives of people outside of yourself.
Contact Information
Name: Hola, Adios
Website: www.holaadioscoffeeshop.com
Address: 120 Virginia Pl unit 101, Costa Mesa, CA 92627
Phone: (949) 329-8987
Hours: Daily – 7:00am to 3:00pm
Email: info@holaadioscoffeeshop.com
Social: Instagram
Posted in Misc