Travel Costa Mesa Blog
Archives for Misc
Costa Mesa is a proudly diverse city that offers a unique experience for visitors. Within the city you can find a variety of small businesses, the largest shopping destination on the west coast, street art and a world-class performing arts center. The cultural influences throughout Costa Mesa can especially be seen through the dining and small businesses that make up the city. In honor of Asian American and Pacific Islander (AAPI) Heritage Month, we're highlighting some of the AAPI restaurants and businesses in Costa Mesa here and on social media. Follow us on throughout the month to see even more AAPI restaurants and businesses in Costa Mesa.

The LAB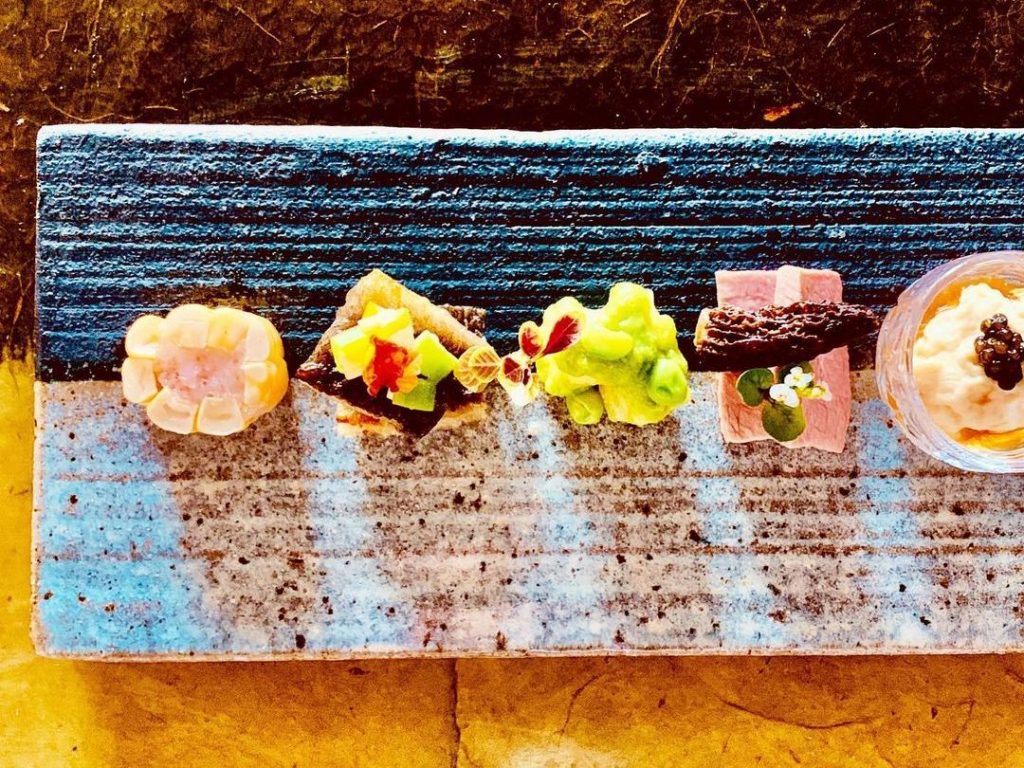 Hana re
Every seat is at the chef's table at this one-of-a-kind Michelin Star restaurant. With only 2 tables, and 10 seats, Hana re is more than a sushi bar. It's a truly unique Costa Mesa experience.You'll dine from one of the omakase menus and enjoy watching chef Atsushi Yokoyama prepare his exquisite dishes. If you're planning to visit Hana re during your Costa Mesa getaway, check with the restaurant about reservations early.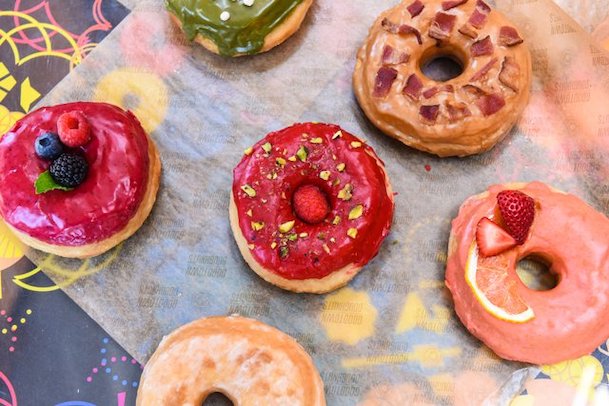 Good Town Doughnuts
Try the handcrafted brioche donuts in flavors like raspberry pistachio, hibiscus or Nutella. There are plenty of vegan and gluten-free options. Good Town Doughnuts uses high quality ingredients such as organic sugar, pure maple syrup and fresh fruit.

Blends/Carve
Originally from Japan, owners Tak Kato and Mike Toe blend international taste with global products, including apparel and accessories. They'll also be opening Kuro Pizza at The LAB soon.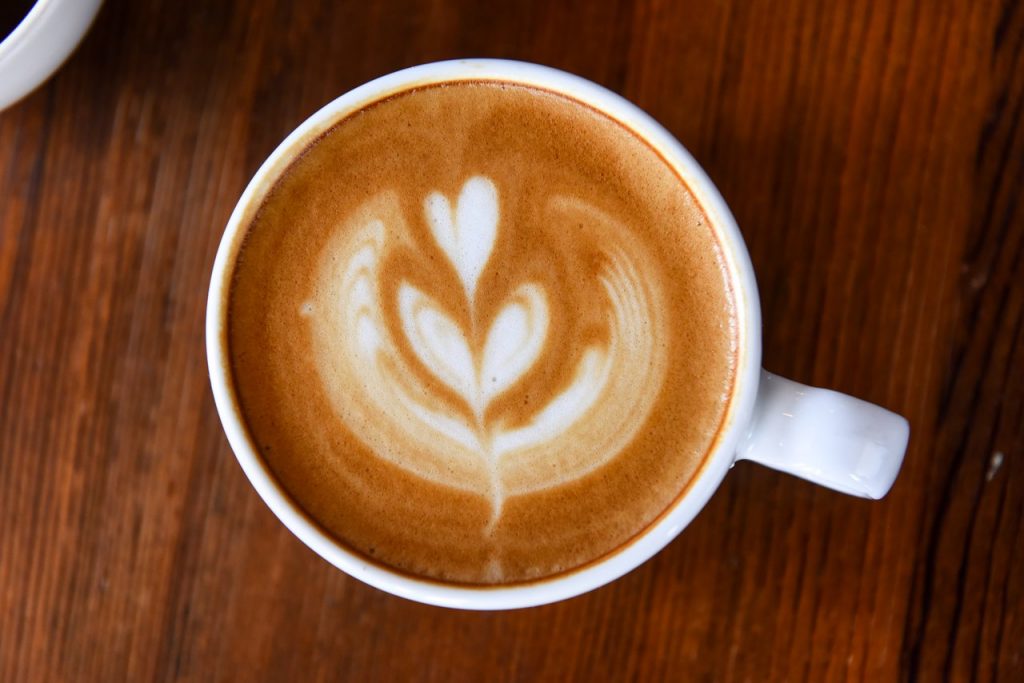 Nook Coffee Bar
Nook Coffee Bar serves signature drinks such as the Spanish latte, honey lavender latte and honey oat latte. Grab a specialty coffee to enjoy while sitting at one of The LAB's outdoor tables.

The CAMP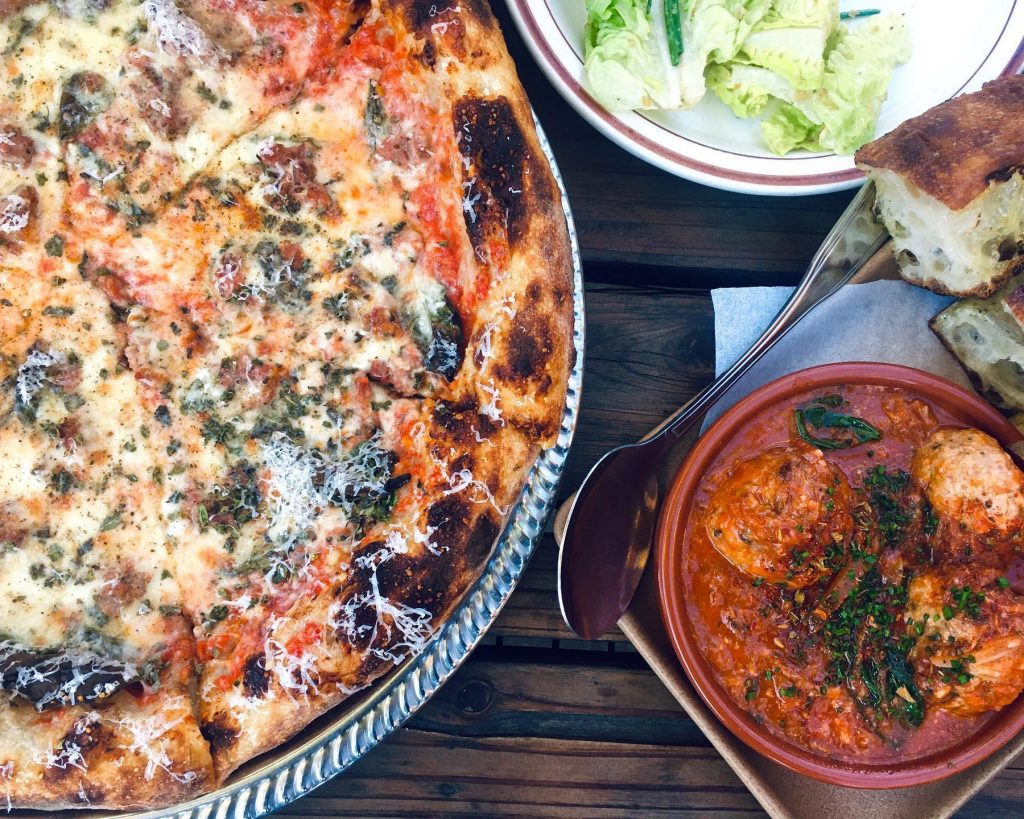 Folks
From partners Chloe Tran and chef Joey Baugh, Folks has already won accolades in its first two years. The naturally leavened pizza dough, along with the rest of the menu, makes Folks a must visit in Costa Mesa. The meatballs with pork cheek gravy are delicious, as are the chicken wings with Italian fish sauce, calabrian chilies, parsley and lemon.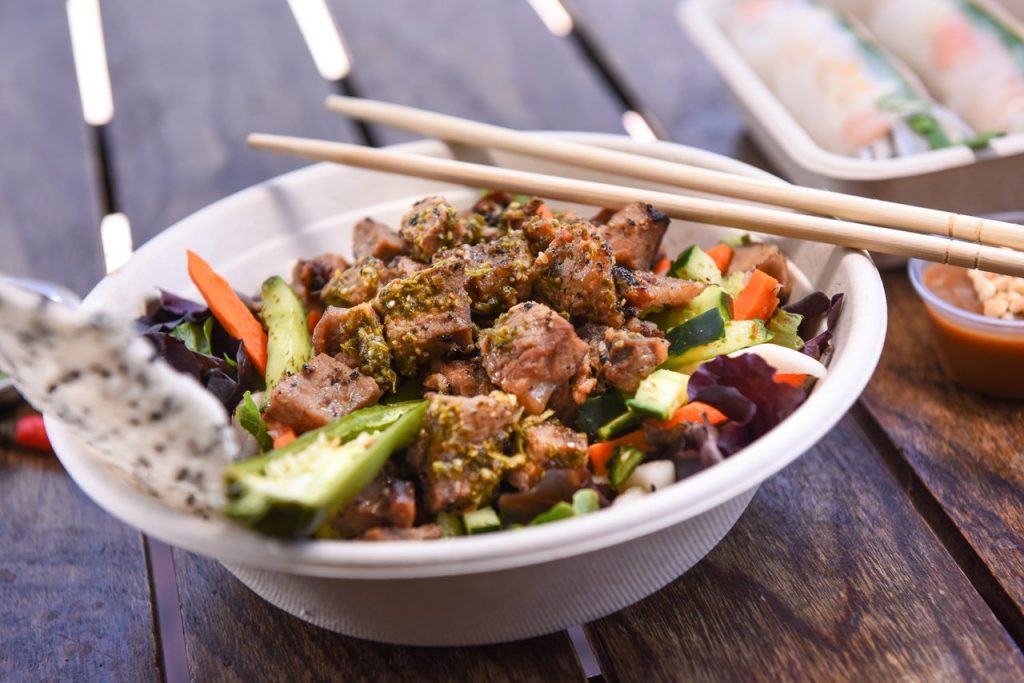 East Borough
Enjoy Vietnamese street-cart style foods, such as bánh mi sandwiches, spring rolls or bo kho stew at East Borough. Everything is packaged for takeaway, so you can grab a spot at one of The CAMP's many outdoor seating areas and take in the view.
South Coast Plaza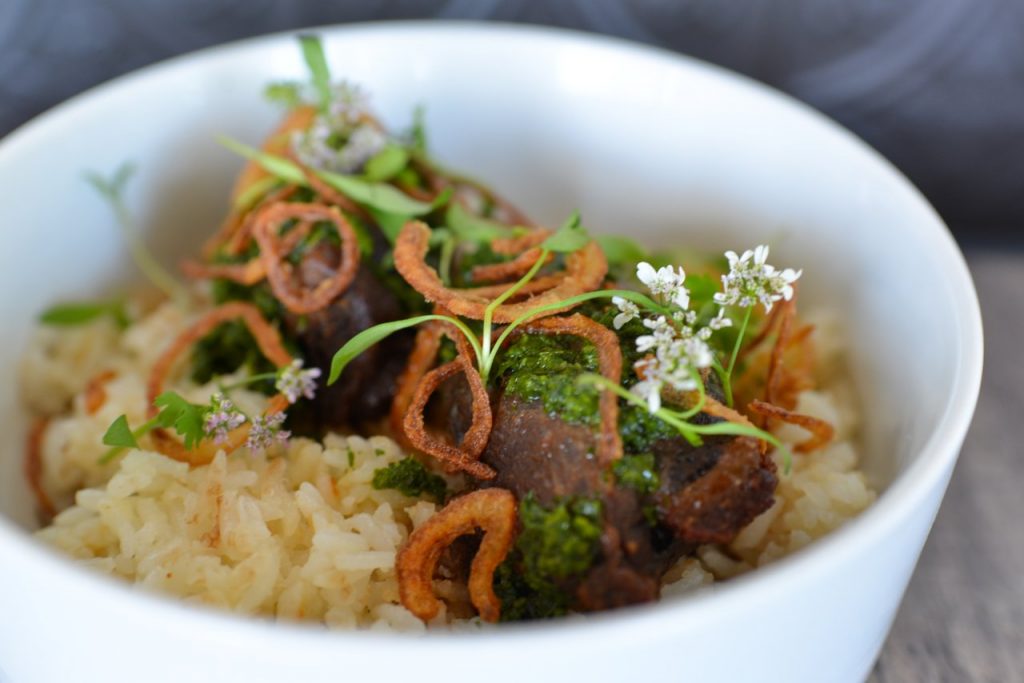 Terrace by Mix Mix
Chef Ross Pangilinan's eclectic menu at TERRACE by Mix Mix is inspired by Italian, French and modern Filipino flavors. The pork cheek adobo and the bone marrow pizza are always popular. We recommend trying one of his pre-fixe menus.

Royal Khybar Fine Indian Cuisine
Located across Sunflower Ave., in South Coast Plaza Village, Royal Khybar Fine Indian Cuisine offers modern and classic dishes. The menu is prepared with locally grown produce, fresh spices, handcrafted cheese and yogurt.

AnQi Bistro
AnQi Bistro is the noodle bar and bistro concept by House of AN, of Crustacean fame. Popular dishes include filet mignon potstickers and pan-roasted lobster. There's also a secret kitchen menu with some of House of AN's famous dishes such roasted crab and famous garlic noodles.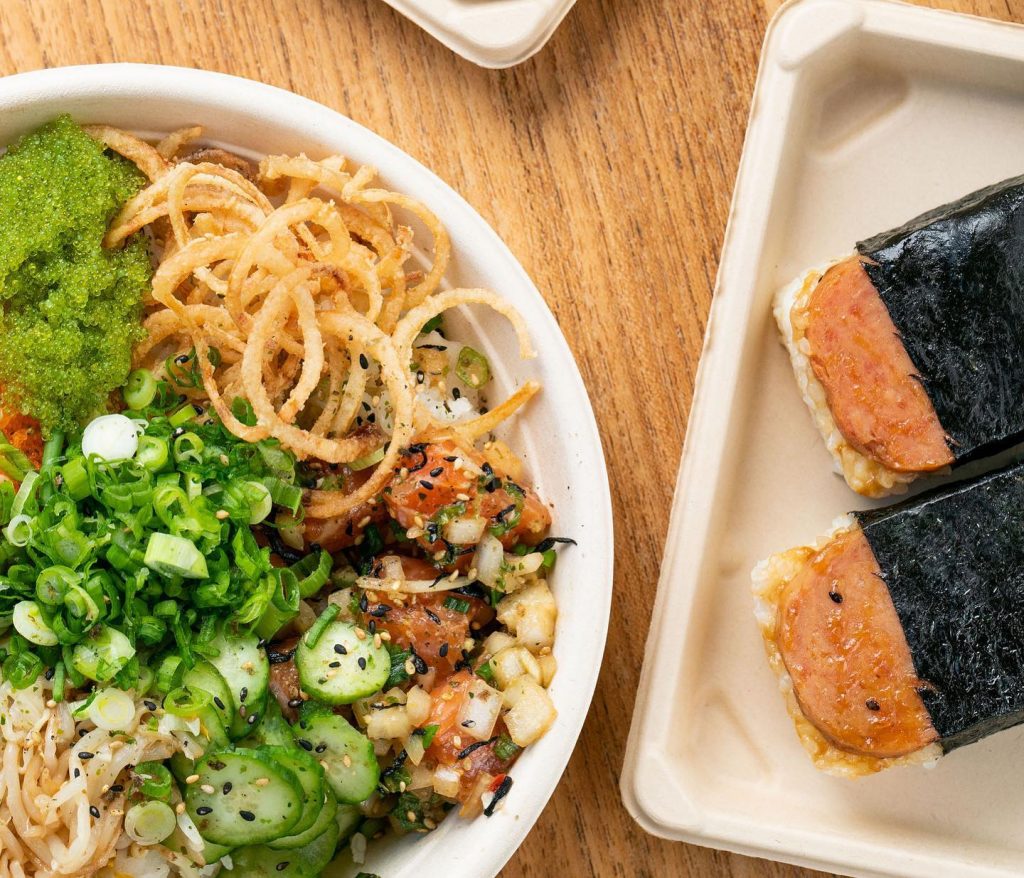 Poke Bar at The Hall: Global Eatery
The popular Hawaiian dish gets the Top Chef treatment at The Hall: Global Eatery from chef Amar Santana. Build your bowl with choices of base, protein, toppings and sauce.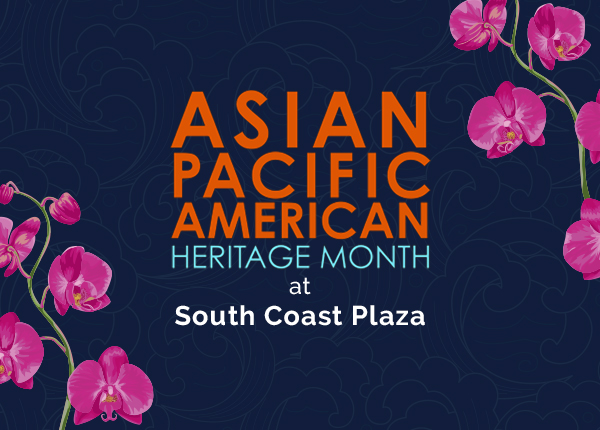 Learn more information about AAPI month at South Coast Plaza here.
Sustainability is quickly becoming an important consideration with those planning to travel. If you're thinking about sustainable travel, Costa Mesa should definitely be on your destinations list. The City of Costa Mesa has been named a LEED Gold City, recognized for sustainability achievement and a Tree City USA community in California by the Arbor Day Foundation. The City of Costa Mesa's Department of Energy and Sustainability develops and implements programs that reduce its carbon footprint, increase resource efficacy and minimize waste. Not only is the City committed to sustainability, but so are many of our businesses. We've put together a list of our most sustainable places to shop while you're visiting. 

The CAMP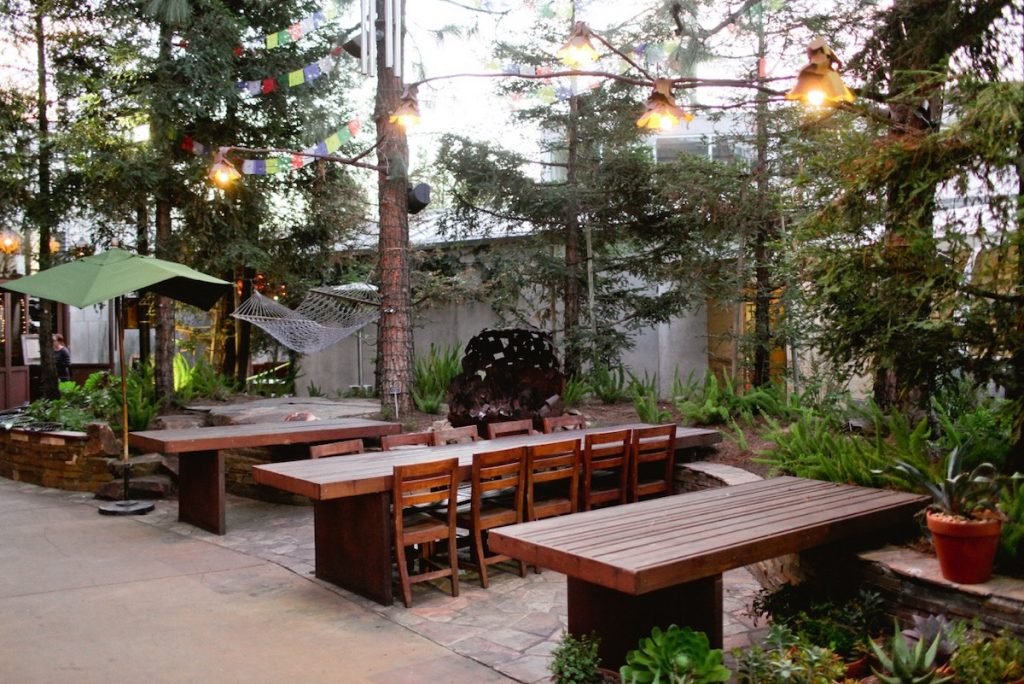 Visitors may recognize The CAMP as one of Costa Mesa's most Instagrammable spots, but The CAMP is also one of the first eco-friendly retail and dining campuses in the country. It's designed with tanks, filters and percolation wells underneath the parking lot that treats stormwater before it's absorbed into the soil and underground water storage. Around the property, there are 12 gardens growing herbs, fruit and vegetables so the restaurants can source locally grown ingredients for their dishes.

Clothing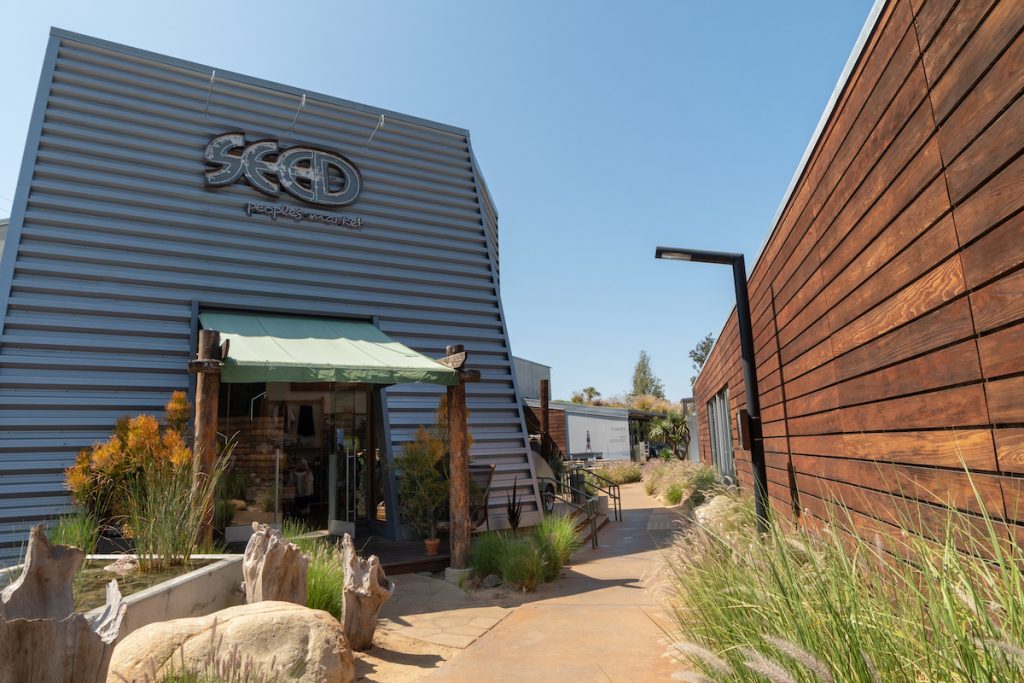 SEED Peoples Market
At SEED Peoples Market, you'll find a curated collection of eco-friendly and ethical brands. They inspire sustainable living and highlight unique items from local and global artisans. SEED Peoples Market is one of our favorites and we recommend checking out their latest finds for a true Costa Mesa experience.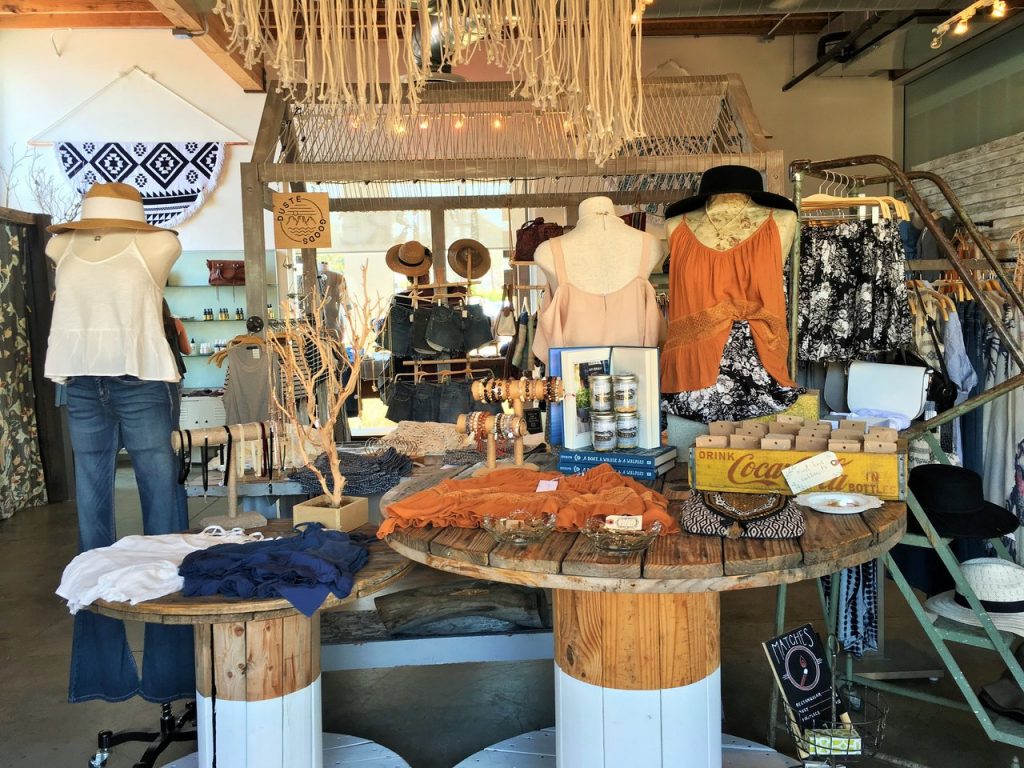 PÜRRE Boutique
PÜRRE Boutique has a blend of unique new and vintage finds along with home and beauty items from local and women-owned businesses.

2nd Street USA
The popular Japanese second-hand store 2nd Street USA offers premium, one-of-a-kind pieces at a great value. Over 15 million tons of clothing ends up in US landfills each year, so second-hand is a truly sustainable way to shop.

Bulk & Refilling Shops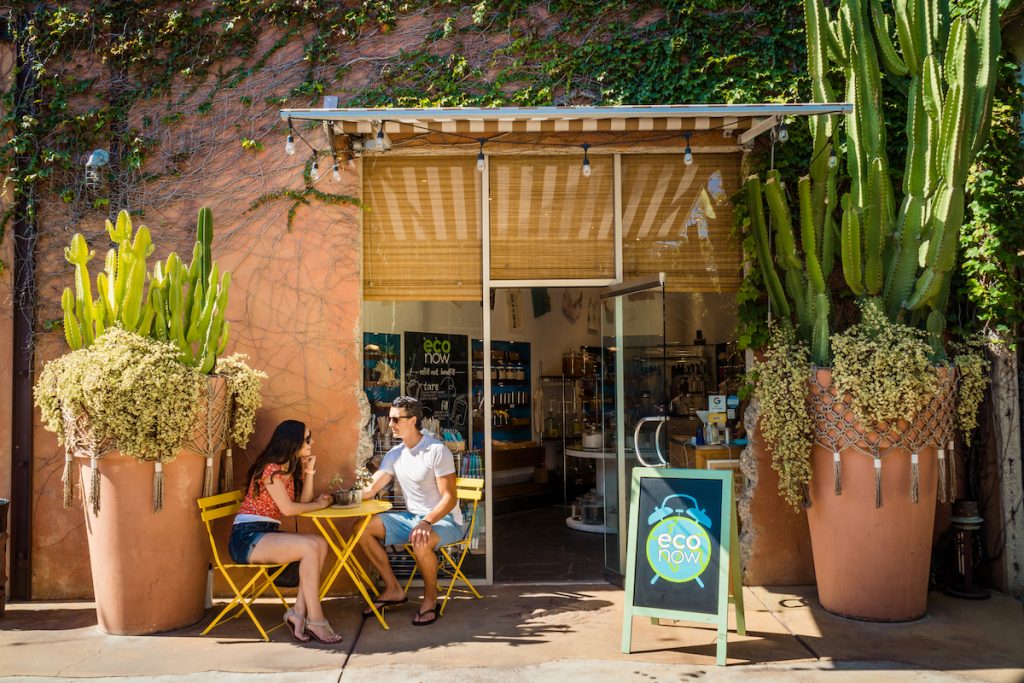 Eco Now
Orange County's first zero waste and refill shop, Eco Now has plenty of plastic free options as well as refills for everything from laundry detergent to shampoo. It's located just across the street from The CAMP at The LAB Anti-Mall. The friendly staff are happy to answer questions for those who aren't familiar with zero waste or plastic free living.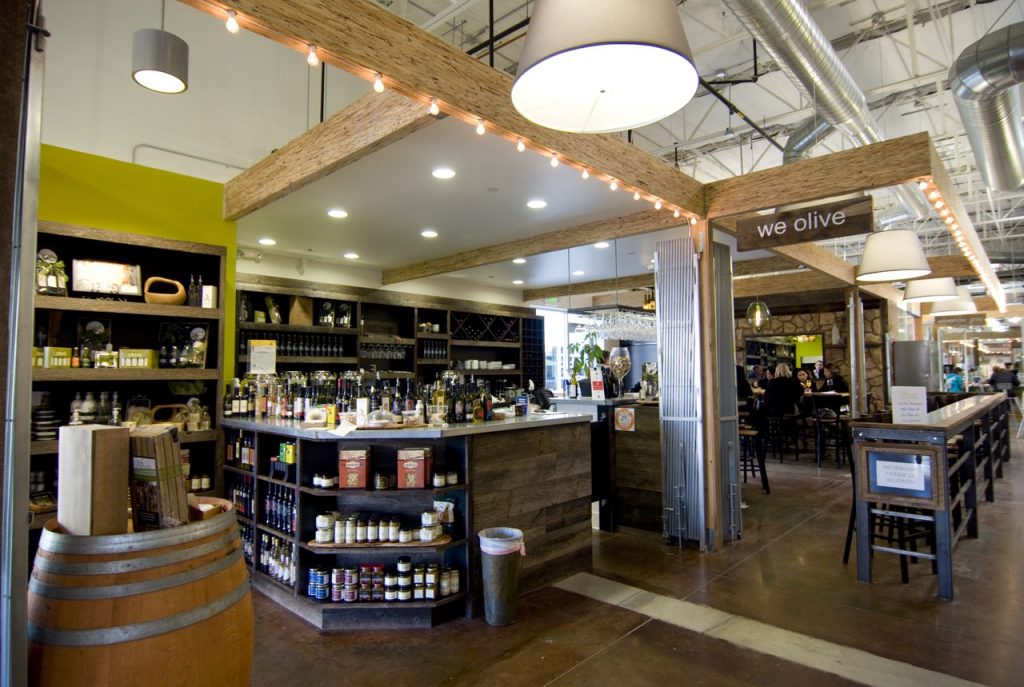 We Olive & Wine Bar
We Olive & Wine Bar at SOCO & The OC Mix offers refillable bottles of olive oil and vinegar. You can sample before you buy to find your favorite. Bring back your clean, empty bottle to refill and enjoy a discount.

Savory Spice Shop
Home cooks will love the selection at Savory Spice Shop, also at SOCO & The OC Mix, but the option to refill makes it a sustainable choice. You can purchase spices by weight, or prepared jars. They also have wonderful gift collections for everyone from new cooks to seasoned pros.
Posted in Misc
National Beer Day may be April 7th but, with 5 breweries in Costa Mesa, we celebrate beer all year round. In fact, Costa Mesa breweries are close enough to one another that we call it the Costa Mesa Beer Trail! The breweries are located in the SoBeCa area, around The LAB and The CAMP. Thinking about hitting the beer trail on your next Eatcation®? We've got some great food pairings for you too. Want to walk the trail over a couple of days? Check out our Spring Break hotel deals, including rates as low as $89 a night.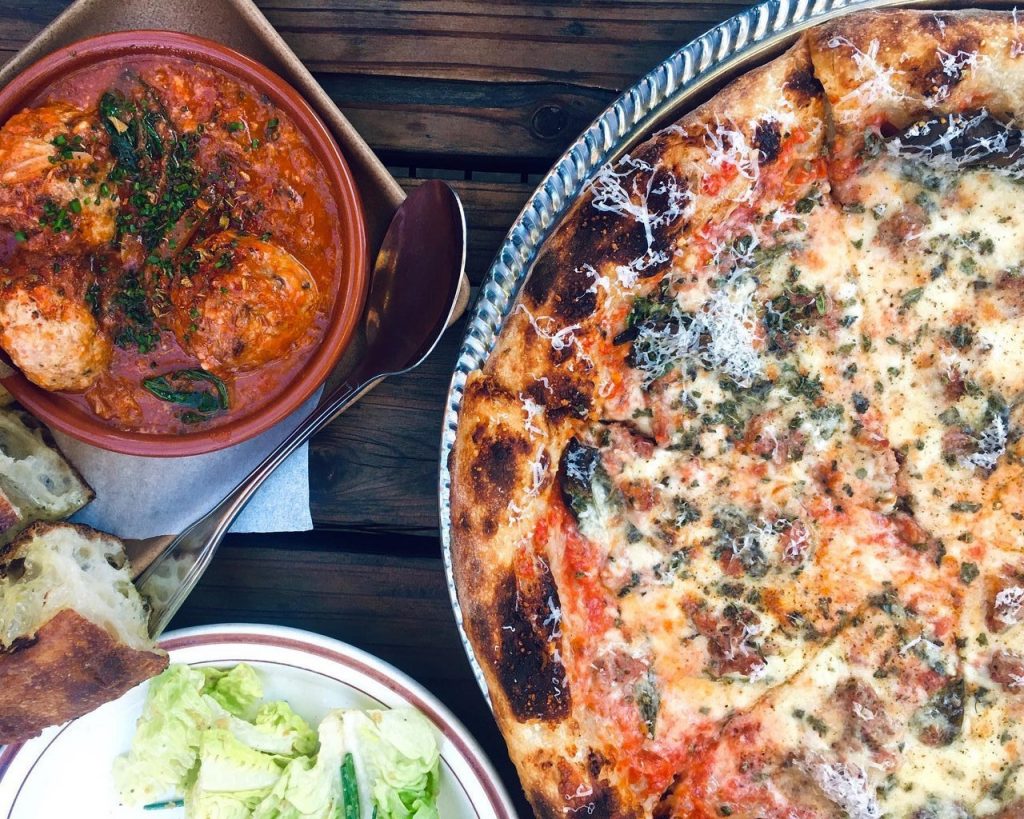 Folks
A classic pairing – beer and pizza. The naturally leavened dough at Folks makes their crust light and airy. They offer a selection of white and red pizzas, appetizers and salads. Each pizza feeds about 2-3 people. The fennel sausage pizza is definitely one of our favorites. For vegetarians, the mushroom or margherita pizzas are also delicious. Another great beer pairing is the free range chicken wings with Italian fish sauce, Calabrian chilies, lemon and parsley. Folks is located within The CAMP and delivers to neighboring Salty Bear Beer.

East Borough
If you're spending the afternoon on the trail, East Borough is a great spot to stop for food. East Borough serves Vietnamese sandwiches, bowls, soups and salads. Try the rice porridge (pictured) with jidori chicken, grilled bok choy, crispy shallots, scallions, soft boiled egg, pickled ginger and mint. Several dishes, including their banh mi, allow for choosing your protein – including beef, tofu, chicken and pork belly.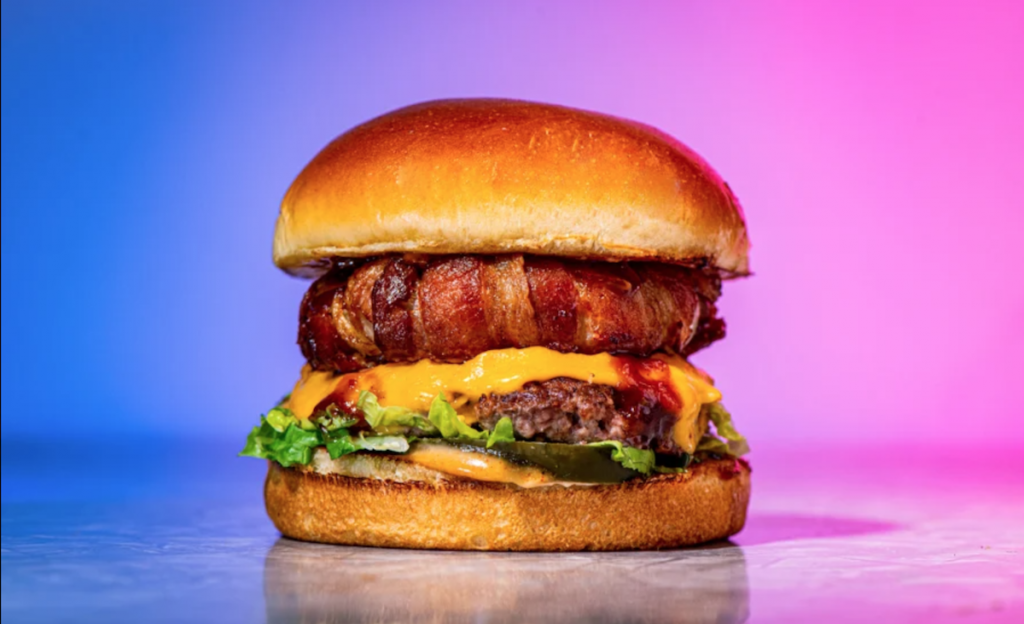 Umami Burger
Craving a burger with your beer tasting? Umami Burger has a location inside The CAMP. Their classic Umami burger with a side of truffle fries is always a great option. They also have a Texas BBQ bacon burger with a bacon wrapped onion ring, lettuce, tomato, pickle, American cheese, classic sauce and BBQ sauce.
Baba's Hot Chicken
Baba's Hot Chicken recently opened its first Orange County location at The LAB where they serve classic Nashville hot chicken. Don't worry if you prefer things on the milder side, they also offer a mild option on their chicken dishes.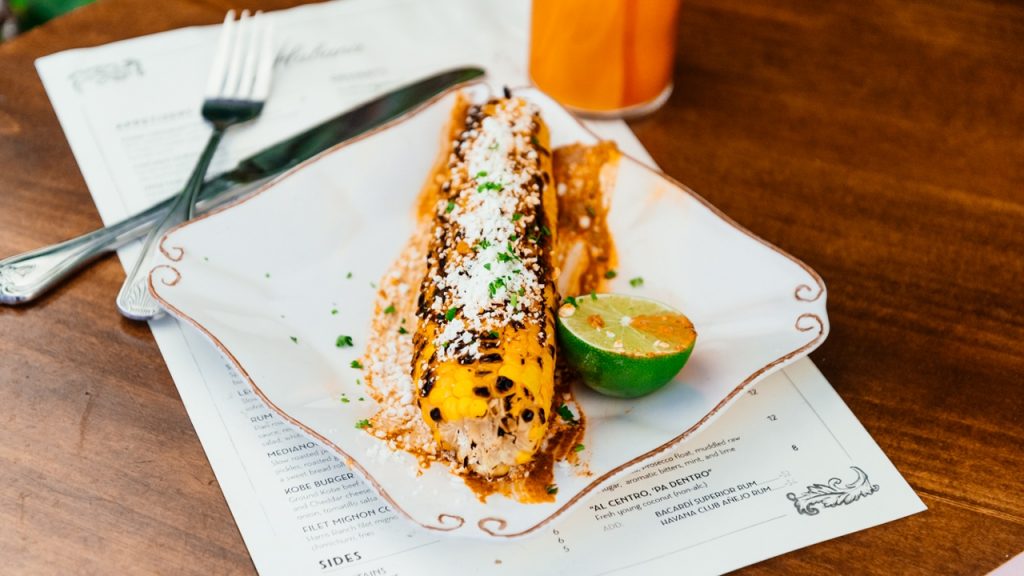 Habana
Located near Bootlegger's Brewery at The LAB Anti-Mall, Habana serves delicious Cuban food. They have a selection of entrees to choose from, including salmon and steak, if you're in the mood for dinner. We think the Cuban sandwich (medianoche) pairs wonderfully with the beer trail. Looking to share appetizers instead? The empanadas come by the dozen, including a combo of chicken and veggie. Don't miss out on the roasted corn on the cob.

Memphis Cafe
A Costa Mesa staple, Memphis Cafe has been open since 1995. Their Southern inspired menu includes fried chicken and waffles, gumbo, and crab cakes. We recommend trying the cobra chicken sandwich with buttermilk fried chicken, bacon, pickles, cheddar cheese and ranch on a brioche bun. In the mood for dessert? Their peach-blackberry cobbler comes with an oatmeal pecan crumb.

Looking for more options for your stay? Visit our Costa Mesa restaurants page for current dining information.

Posted in Misc
Record numbers of seniors have received their COVID-19 vaccines and Orange County is in the less restrictive Red Tier, which makes this spring the perfect time for road trip. An easy drive between Los Angeles or San Diego, Orange County has plenty to offer seniors traveling with or without grandkids.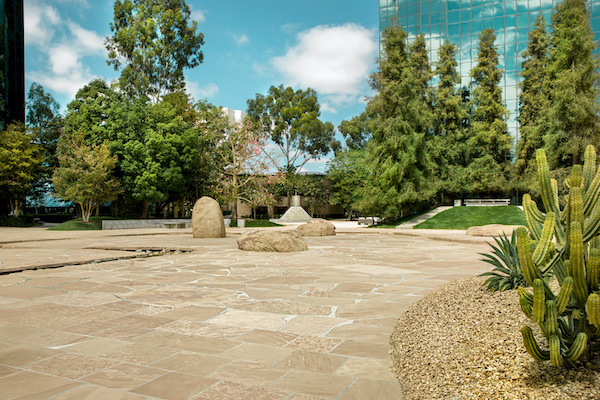 Costa Mesa Art Walk Audio Tour
Get outdoors while learning about some of the sculptures in the City of the Arts®. Walk around the beautiful South Coast Metro area on the Costa Mesa Art Walk Audio Tour. Start at California Scenario, also known as Noguchi Garden, by famed sculptor Isamu Noguchi. After walking around the serene sculpture garden, you'll be guided by South Coast Repertory, Segerstrom Center for the Arts and The Westin South Coast Plaza. The tour ends across the street at world-renowned South Coast Plaza, the largest shopping center on the West Coast. With 30 restaurants, it's also a great place to dine after the tour.

Eatcation® in Costa Mesa
Costa Mesa is home to 2 Michelin star restaurants, as well as chefs featured on Top Chef and Chopped. The dining experience in Costa Mesa is unlike any other in Orange County. You can visit award-winning restaurants for any meal. Read about our food accolades to decide which are your must-try spots. Many of the city's top restaurants are within walking distance of our hotels and all of them are within a short drive. During your stay, be sure to refer to our restaurants page for updated information.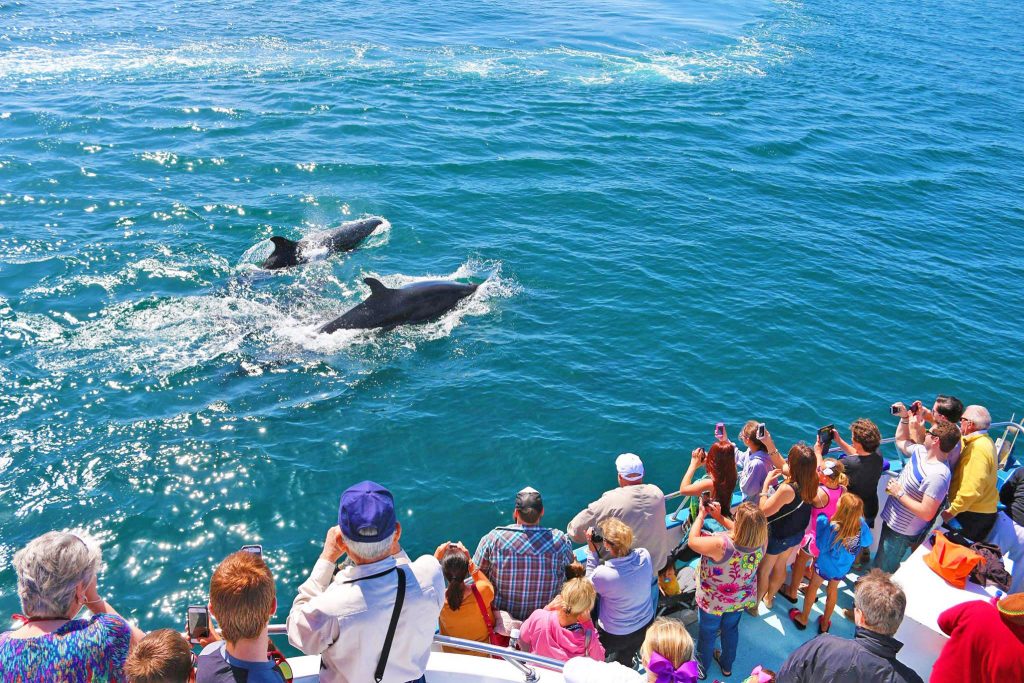 Newport Beach Whale Watching & Dolphin Cruise
Go on a two hour Newport Beach Whale Watching & Dolphin Cruise for an exciting adventure. Whale sightings may include giant blue whales, gray whales and more, in addition to a number of dolphin species. Choose from different ticket options, including a VIP experience. There are also discounts for seniors and children, making this an excellent choice if you're visiting Orange County with your grandchildren.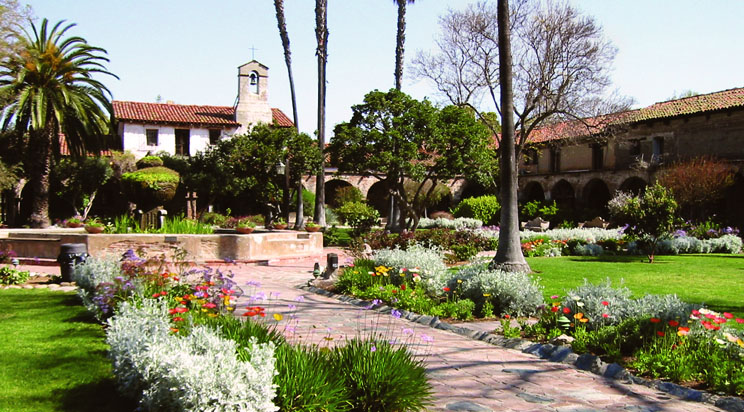 Mission San Juan Capistrano
Visit one of California's historic missions at Mission San Juan Capistrano. The mission has a chapel, museum and gardens to explore. The art collection ranges from the 18th to 20th centuries, as well as historic and religious artifacts. Be sure to check out the historic downtown area while you're there.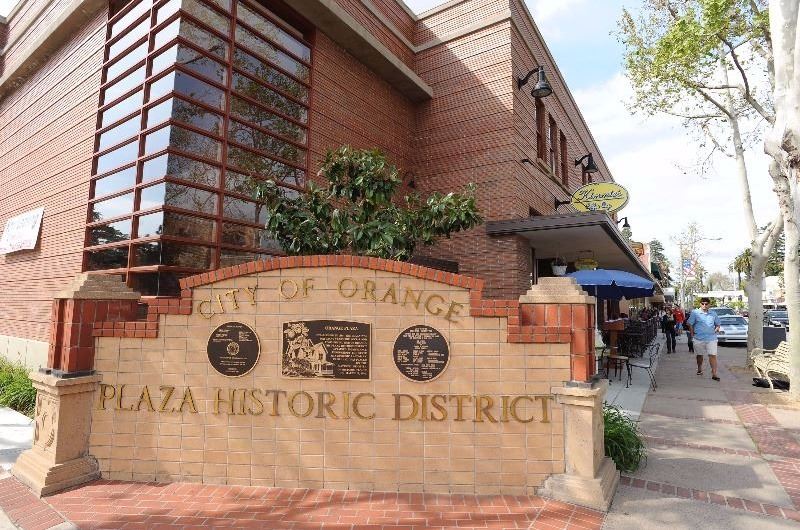 Old Towne Orange
Feel like you've stepped back in time with an afternoon in Old Towne Orange. The nationally recognized historic district is the largest in California. It's been featured in a number of films and television shows including That Thing You Do and Parks and Recreation. The streets are lined with antique shops, restaurants, specialty stores and more.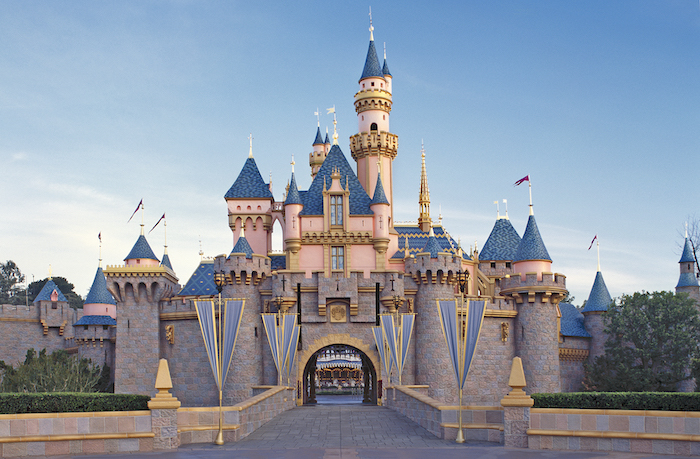 Disneyland Resort
Amusement parks can open as early as April 1. Though Disneyland hasn't announced an official opening date yet, it's definitely a place to put on your list if you're traveling with your grandkids. Currently, the Downtown Disney District is open, including the new Star Wars Trading Post, and A Touch of Disney, a new experience in Disney's California Adventure. You can find the latest information on the Disneyland Resort here.

Posted in Misc
With beautiful weather and restaurants open for patio dining again, now is the time to get outside. There are lots of great patio dining options in Costa Mesa. We've put together a few options, along with our menu suggestions. For a complete list of patio dining, visit our restaurants page.
The CAMP
The CAMP has always been environmentally conscious and the abundance of outdoor seating is particularly helpful these days. Pick up food from any on site restaurant and enjoy beautiful Southern California weather while you eat. Chopped champion Rachel Klemek Blackmarket Bakery cakes, pastries and sandwiches are worth a trip to The CAMP alone. Some of the other choices include the naturally leavened pizza at Folks, the bánh mì at East Borough or the traditional Italian fare at Vitaly. Looking for an upscale dining experience? Old Vine Kitchen & Bar has 3 exclusive patios, including OVKB Roof.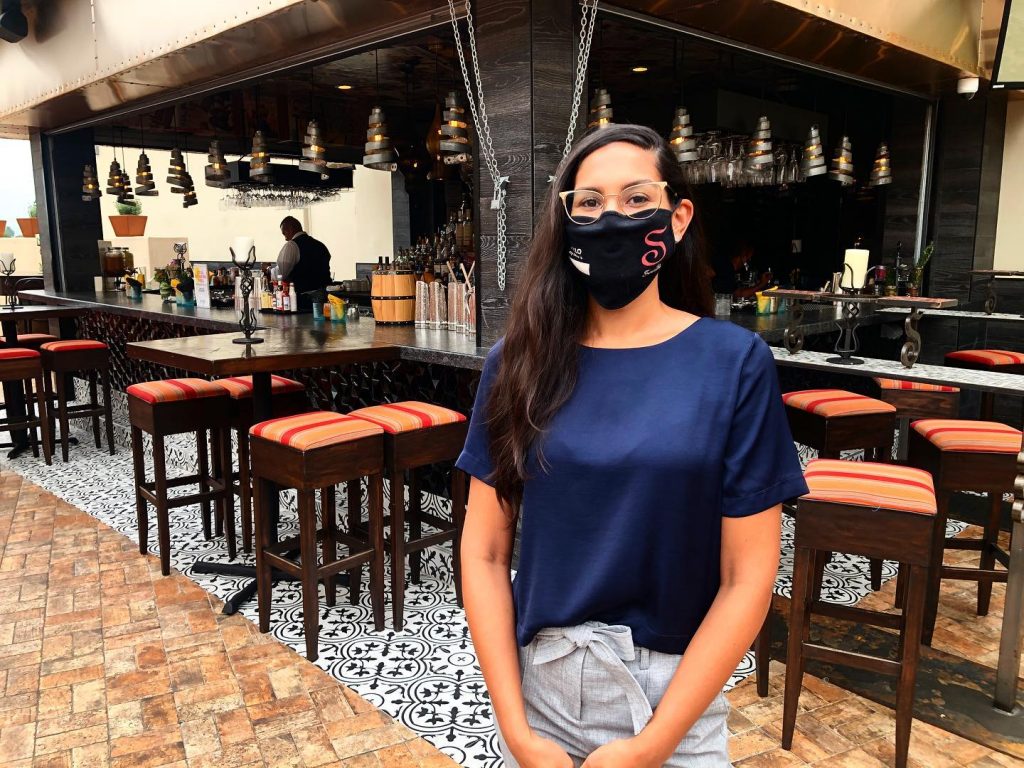 Café Sevilla
With live music five nights a week and a beautiful patio, dinner at Café Sevilla is a mini Spanish getaway. The dinner menu has a variety of tapas options, paella and other entrees. We recommend trying a selection of tapas and splitting a paella with their signature sangria. Don't forget to try the churros con chocolate for a delightful dessert. Cafe Sevilla is also open for brunch and happy hour.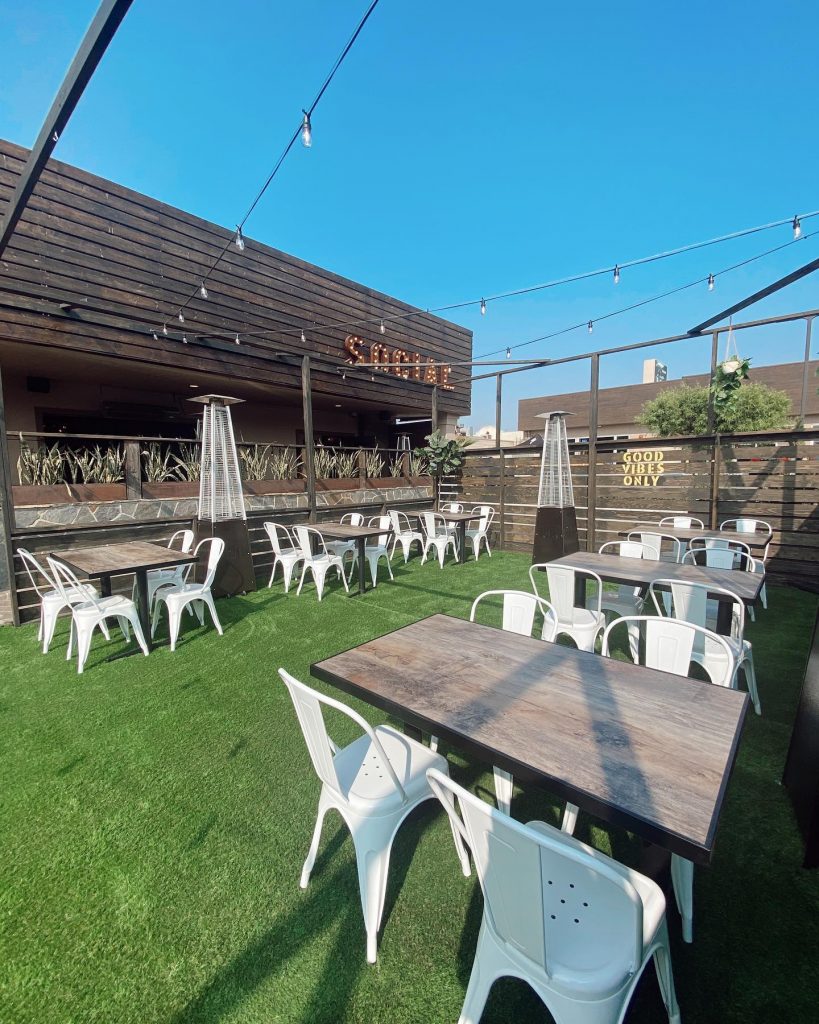 SOCIAL
The new pet-friendly patio at Social is a great place to grab dinner and drinks. The menu offers a variety of choices, from fish and chips to a 40oz prime tomahawk. Their drive-thru burger made with wagyu beef and bacon jam is one of our favorite burgers. Social also serves Impossible meatballs, if there are any vegetarians dining with you. We'd also suggest splitting an order of Brussels sprouts or the blistered Shinto peppers. Try one of their craft cocktails or get one of their at-home cocktail kits to go.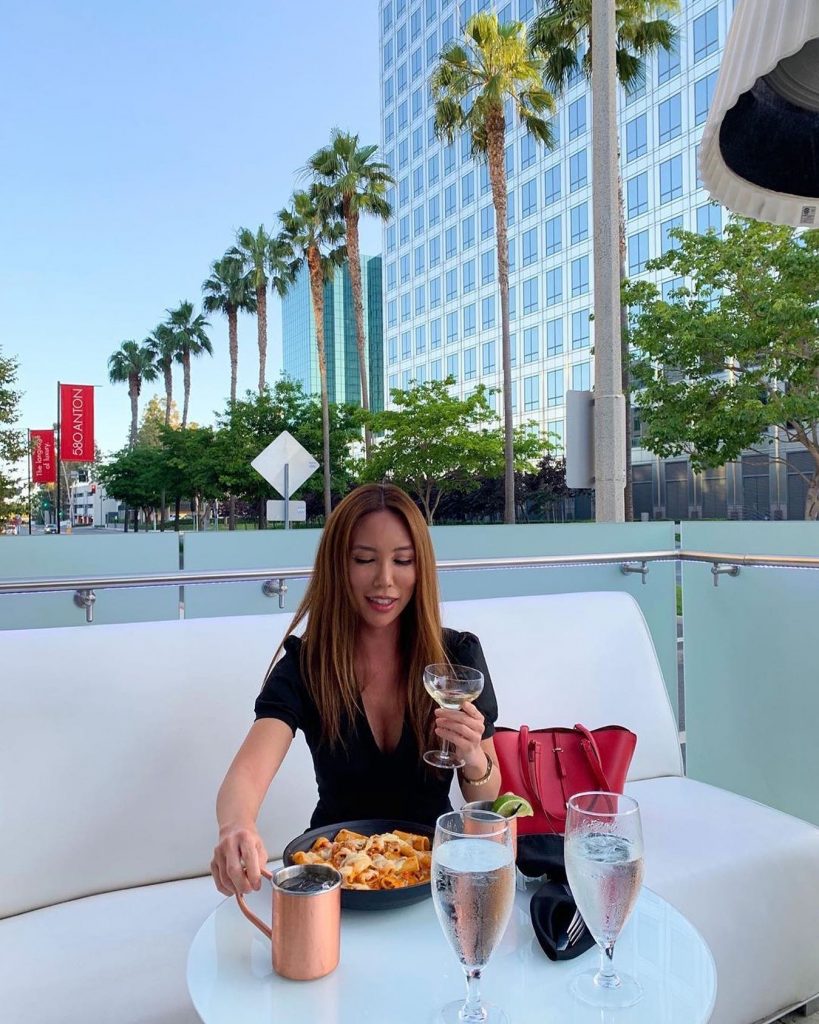 Silver Trumpet Restaurant & Bar
Dine al fresco at Silver Trumpet Restaurant & Bar. Located in Avenue of the Arts, a Tribute Portfolio Hotel, Silver Trumpet serves breakfast, lunch and dinner on a beautiful patio right in the heart of the performing arts district. Going for dinner? Entree options include parchment baked salmon with potatoes, asparagus and dill sauce and a prime flat iron steak with shoestring fries and a garlic truffle aioli. Be sure to order their bacon wrapped dates and one of their craft cocktails.

Posted in Misc