Travel Costa Mesa Blog
Archives for Food
Costa Mesa is a proudly diverse city that offers a unique experience for visitors. Within the city you can find a variety of small businesses, the largest shopping destination on the west coast, street art and a world-class performing arts center. The cultural influences throughout Costa Mesa can especially be seen through the dining and small businesses that make up the city. In honor of Asian American and Pacific Islander (AAPI) Heritage Month, we're highlighting some of the AAPI restaurants and businesses in Costa Mesa here and on social media. Follow us on throughout the month to see even more AAPI restaurants and businesses in Costa Mesa.

The LAB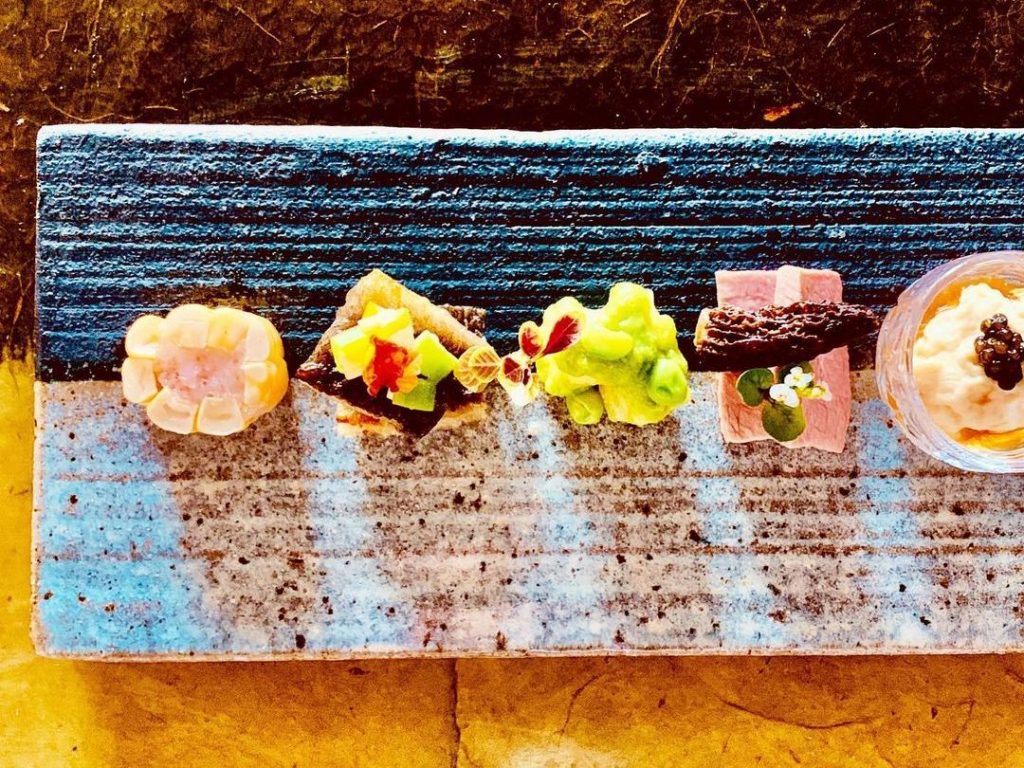 Hana re
Every seat is at the chef's table at this one-of-a-kind Michelin Star restaurant. With only 2 tables, and 10 seats, Hana re is more than a sushi bar. It's a truly unique Costa Mesa experience.You'll dine from one of the omakase menus and enjoy watching chef Atsushi Yokoyama prepare his exquisite dishes. If you're planning to visit Hana re during your Costa Mesa getaway, check with the restaurant about reservations early.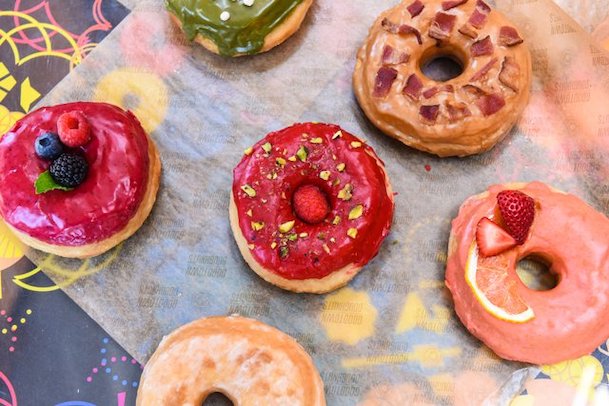 Good Town Doughnuts
Try the handcrafted brioche donuts in flavors like raspberry pistachio, hibiscus or Nutella. There are plenty of vegan and gluten-free options. Good Town Doughnuts uses high quality ingredients such as organic sugar, pure maple syrup and fresh fruit.

Blends/Carve
Originally from Japan, owners Tak Kato and Mike Toe blend international taste with global products, including apparel and accessories. They'll also be opening Kuro Pizza at The LAB soon.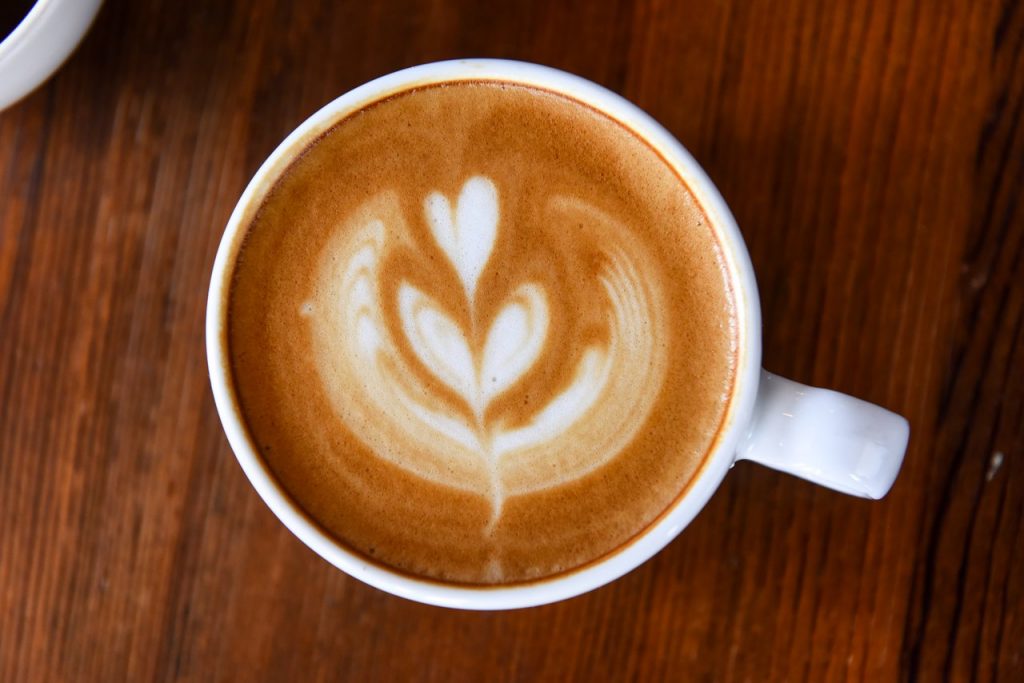 Nook Coffee Bar
Nook Coffee Bar serves signature drinks such as the Spanish latte, honey lavender latte and honey oat latte. Grab a specialty coffee to enjoy while sitting at one of The LAB's outdoor tables.

The CAMP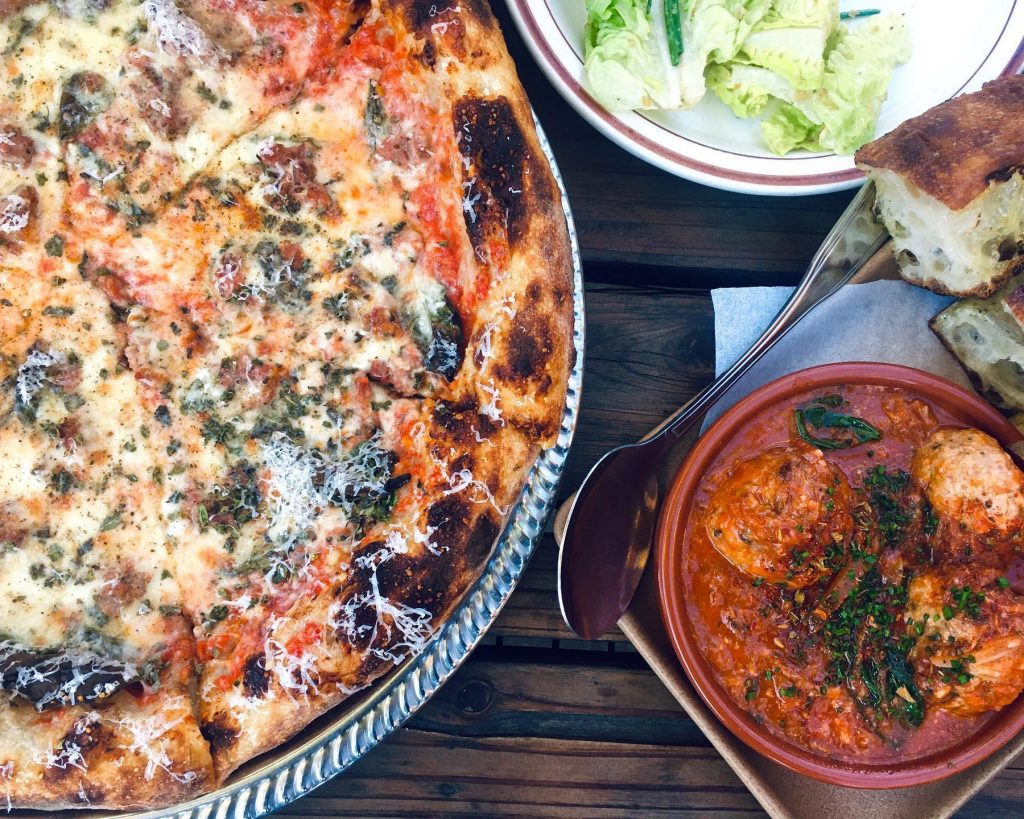 Folks
From partners Chloe Tran and chef Joey Baugh, Folks has already won accolades in its first two years. The naturally leavened pizza dough, along with the rest of the menu, makes Folks a must visit in Costa Mesa. The meatballs with pork cheek gravy are delicious, as are the chicken wings with Italian fish sauce, calabrian chilies, parsley and lemon.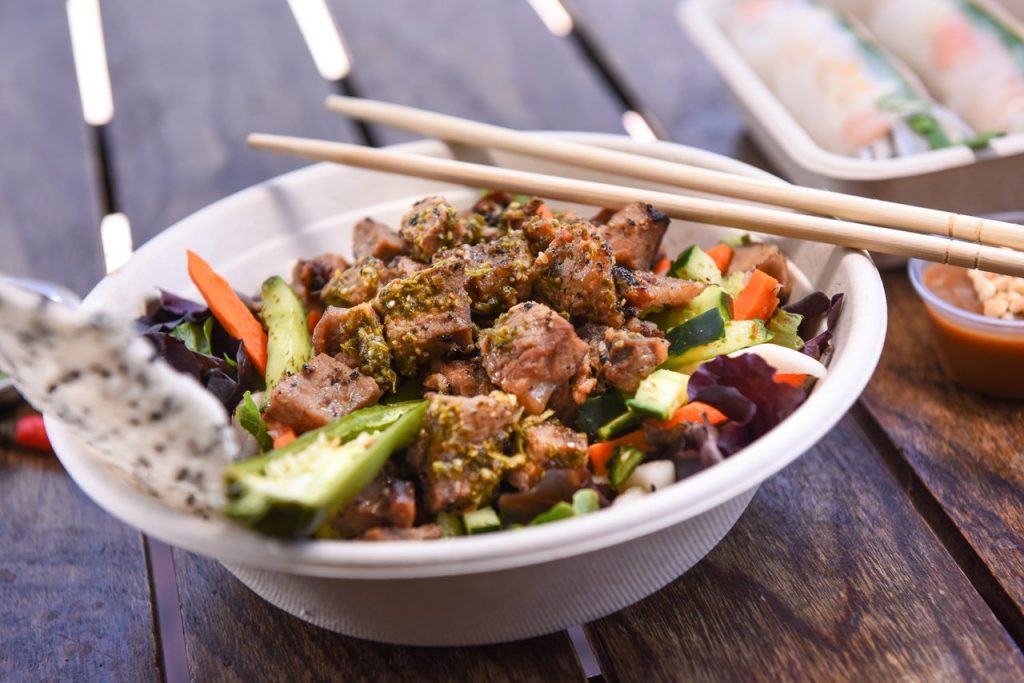 East Borough
Enjoy Vietnamese street-cart style foods, such as bánh mi sandwiches, spring rolls or bo kho stew at East Borough. Everything is packaged for takeaway, so you can grab a spot at one of The CAMP's many outdoor seating areas and take in the view.
South Coast Plaza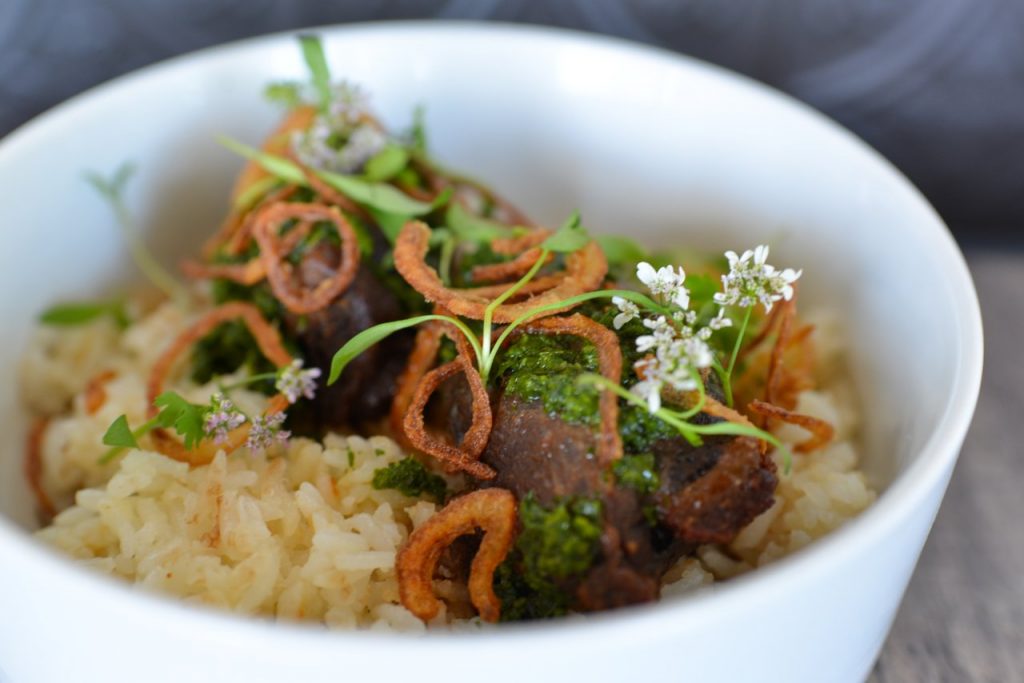 Terrace by Mix Mix
Chef Ross Pangilinan's eclectic menu at TERRACE by Mix Mix is inspired by Italian, French and modern Filipino flavors. The pork cheek adobo and the bone marrow pizza are always popular. We recommend trying one of his pre-fixe menus.

Royal Khybar Fine Indian Cuisine
Located across Sunflower Ave., in South Coast Plaza Village, Royal Khybar Fine Indian Cuisine offers modern and classic dishes. The menu is prepared with locally grown produce, fresh spices, handcrafted cheese and yogurt.

AnQi Bistro
AnQi Bistro is the noodle bar and bistro concept by House of AN, of Crustacean fame. Popular dishes include filet mignon potstickers and pan-roasted lobster. There's also a secret kitchen menu with some of House of AN's famous dishes such roasted crab and famous garlic noodles.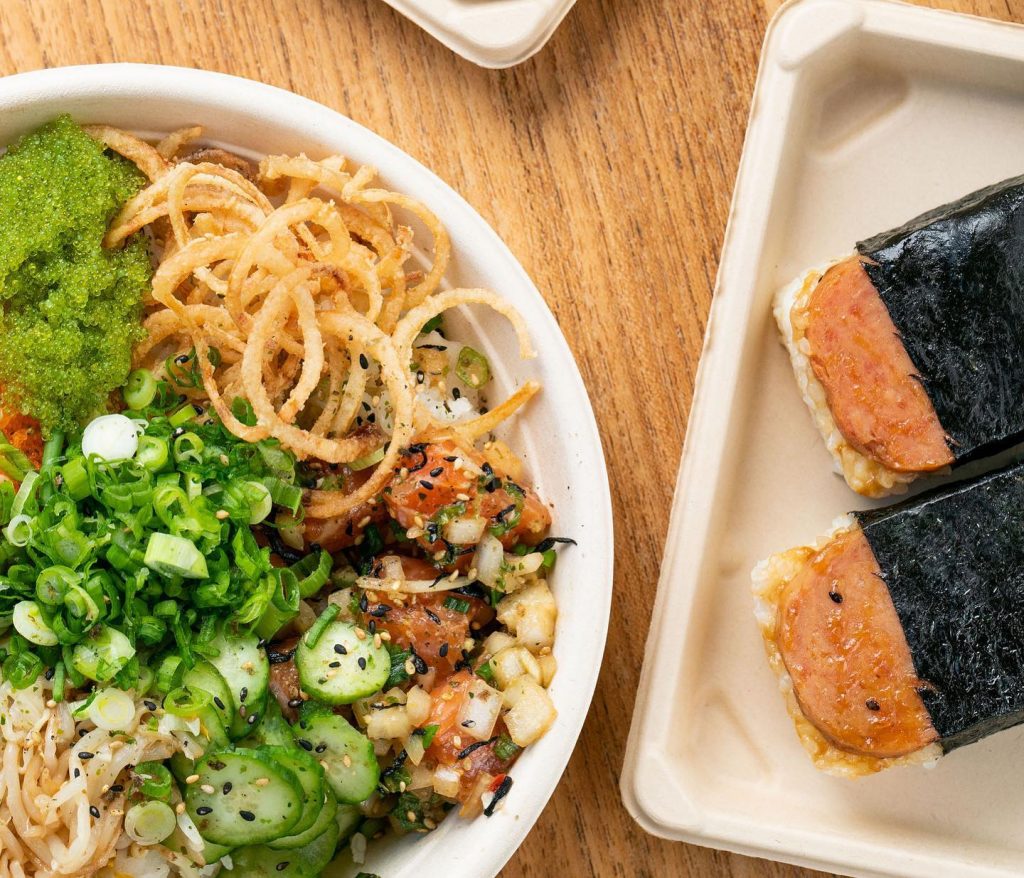 Poke Bar at The Hall: Global Eatery
The popular Hawaiian dish gets the Top Chef treatment at The Hall: Global Eatery from chef Amar Santana. Build your bowl with choices of base, protein, toppings and sauce.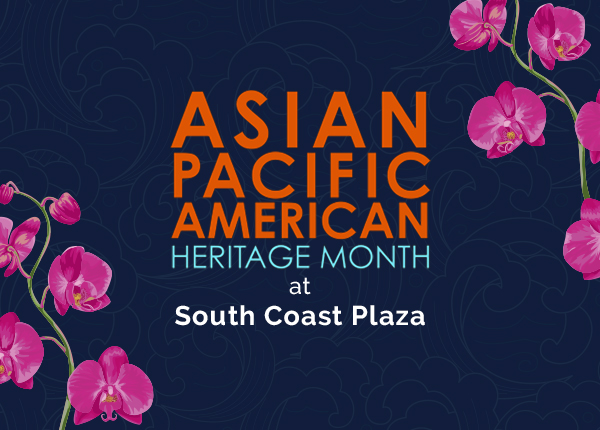 Learn more information about AAPI month at South Coast Plaza here.
As lives return to something closer to normal, it's time to celebrate Mom (safely, of course) on Mother's Day with great gift ideas, special brunches and other great offers. Here's how to make the most of your Mother's Day in Costa Mesa!
Pampering Mom couldn't be sweeter and more treasured this year, with the loosening of COVID-19 restrictions in Costa Mesa. Choose South Coast Plaza for a great day of shopping and perfect ideas for a Mother's Day bite. Here are some offers from South Coast Plaza restaurants for the big day: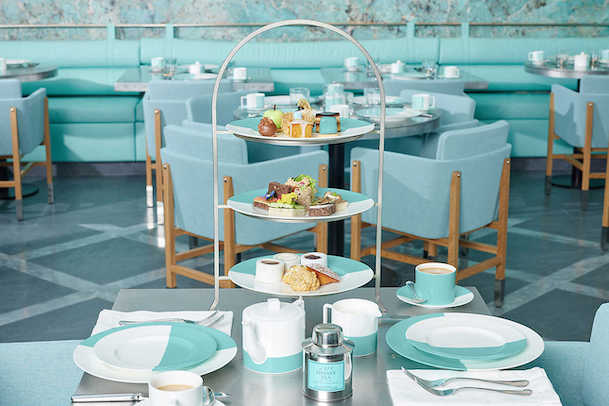 Tiffany & Co. Blue Box Cafe
Breakfast at Tiffany For Two
If only Audrey Hepburn could join you! The world-famous jewelry retailer offers their special cafe experience in only two spots in the U.S., including at South Coast Plaza. The bento box packaged menu includes chia seed yogurt pudding with farmer's market fruit, croissants with organic strawberries and lavender mascarpone, Tiffany avocado toast, smoked salmon and buckwheat mille feuille, and Bellocq No. 727 The Tiffany Blend: a floral infusion of Chinese and Ceylon black tea with notes of lychee, rose buds, lavender and vanilla.
Tea For Two
A delightfully elegant tea service for you and Mom begins with assorted scones and Devonshire cream, cherry ginger marmalade and wildflower honey. Next tea sandwiches with a variety of fillings—smoked salmon, lemon cucumber, chicken salad, truffle and mushroom butter, goat cheese, fig and honey–as well as a petit lobster roll. End with a generous selection of petit fours and confections such as chocolate hazelnut Rocher, opera cake, citrus-olive oil cake and Key lime cheesecake. Included is a tin of Bellocq No. 727 Tiffany Blend Tea.Breakfast for 2, $120, excluding tax. Tea for 2, $150, excluding tax. For more details and to preorder 48 hours in advance, or for information, please call (714) 540-5330 and press 7.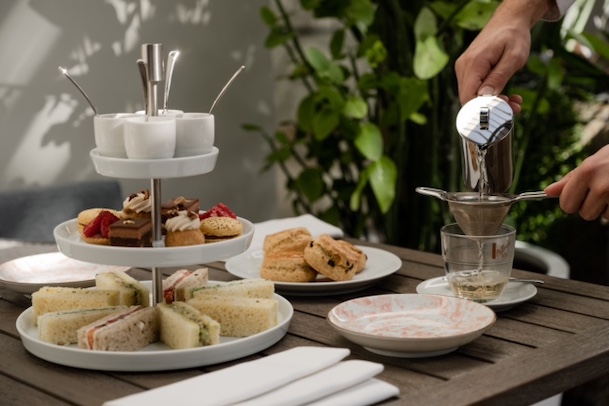 Knife Pleat
Knife Pleat offers Mother's Day tea on Sunday, May 9th! Guests will begin the classic tea service with scones, clotted cream and house-made marmalades. Finger sandwiches on assorted breads include Persian cucumber, egg salad, beet-cured salmon and chicken salad. End on a sweet note with cream puffs, seasonal fruit tart, macaron and the signature chocolate Louis XV. Select from six teas such as jasmine, Earl Grey, rooibos raspberry vanilla, assam and sencha. À la carte champagne and caviar service will be available.
11am-2:30pm (last seating) $75 per person, $36 children, exclusive of tax/gratuity. Reservations advised.
Terrace by Mix Mix
One of Costa Mesa's hottest chefs, Ross Pangilinan, is serving a three-course brunch for Mother's Day at his beautiful terrace restaurant in the Macy's Home Store wing.
Guests will have a choice of four starters: seared yellowfin tuna, house Caesar, "snack" plate of bacon-wrapped date, mushroom tempura and signature albacore tostada or a trio of toast: avocado, goat cheese and chicken liver mousse.
Main course selections are house-made bucatini, diver scallops & pork belly Benedict, prosciutto pizza, or for a $10 surcharge, beef ribeye with sides. A lemon semifreddo or chocolate potato cake are offered for dessert. Kids' menu has three choices: French toast, cheese pizza, or pork adobo with fried rice.
11am-3pm. $50 per person, $12.50 kids, excluding tax/gratuity. Reservations advised.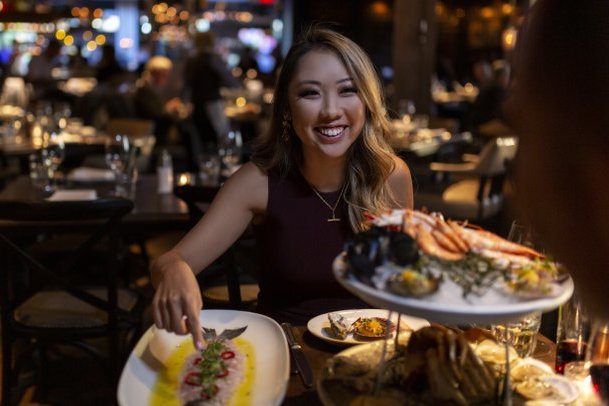 Water Grill
Enjoy an unparalleled offering of fresh seafood such as wild Alaskan halibut, iced shellfish platters, sushi and seasonal soft-shell crab. For Mother's Day only, there will be specials for the day, a new spring cocktail and dessert featuring Harry's Berries over lemon sable cake.
11am-10pm, Reservations advised.
The Capital Grille
The Capital Grille will open early serving the full dinner menu of contemporary classics as well as three brunch features: lobster frittata, bone-in NY strip steak and eggs and 8 oz. filet mignon from 11am-2pm.

Another option is Mother's Day at home. A three-course dinner features whole roasted tenderloin of beef with butter poached lobster tails as the main course with accompaniments to share. Guests will start with a butter leaf lettuce salad and French rolls and finish with flourless chocolate espresso cake and chocolate covered strawberries. The pre-ordered dinner will be ready to warm and enjoy at home.
11am-9pm. Reservations needed for dine-in à la carte menu. Mother's Day at Home starts at $165, excluding tax. Available for pick up May 8, 12-5pm; May 9, 10am-12pm.
Seasons 52
Seasons 52 offers dine-in and outdoor seating for Mother's Day with its popular, fresh à la carte menu that includes brunch selections. A takeout Green Box is the perfect option for those who prefer to dine at home. It offers three entrée selections and is available in two sizes.
Brunch, served 10am-2pm, includes à la carte specials for Mother's Day. Avocado toast, strawberry spinach salad, asparagus soup and lobster bisque are starters for the day. Brunch entrées include crab and cheddar quiche, French toast, apricot-glazed ham and wood-grilled shrimp and grits.
Green Box three-course menu starts with either field green or Caesar salad. Wood-grilled beef tenderloin, whole side of cedar plank-roasted salmon and apricot-glazed spiral ham are selections for the group entrée, served with roasted French green beans and a choice of sweet potato mash with maple-pecan streusel or marble potatoes. Finish with Mini-Indulgences: chocolate-dipped strawberry, coconut cream pie or raspberry chocolate chip cannoli. Food is chilled and ready to be reheated when convenient; pre-order required.
10am-2pm, brunch; à la carte menu until 9pm, Reservations needed for dine-in. Mother's Day Green Box for 2 or 4-6; prices range from $55-$165 depending on size and entrée selection, excluding tax. Available for pickup May 7-8.
Outside of South Coast Plaza, there are even more great brunch celebrations to choose from. Here's more: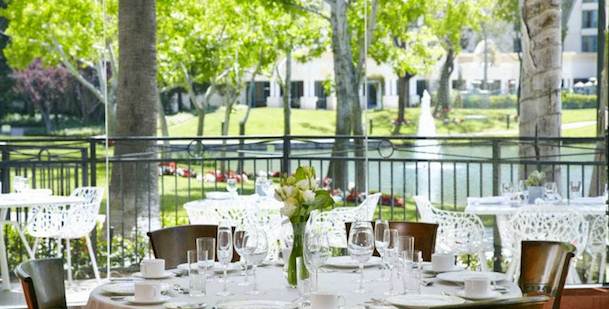 Silver Trumpet
Choose the spacious outdoor lakeside patio to enjoy Mom this Sunday. Silver Trumpet Restaurant at the Avenue of the Arts Hotel presents a very special Mother's Day brunch! Choose from many items such as Smoked Trout Tartine to Steak & Eggs or Blueberry Pancakes – there's also a build-your-own omelet bar. See the menu for all offerings in this special brunch. Please reserve your spot by calling the restaurant at (714) 442-8593.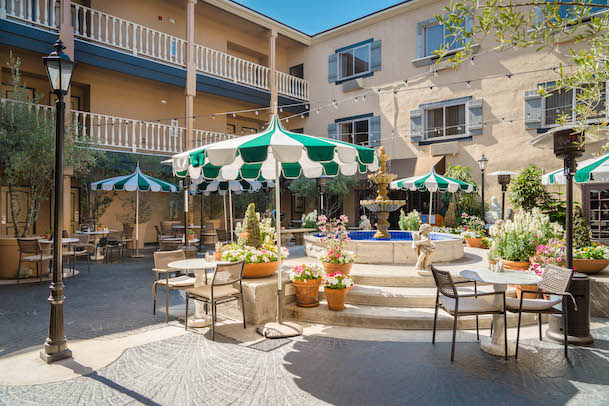 Le Chateau Garden Bistro
The beautiful Le Chateau inside the Ayres Hotel is offering a brunch in their outdoor courtyard that will make Mom feel as if she's been transported to the French countryside. With an omelet station and an à la carte menu as well, let Mom choose from eggs benedict, Belgian waffles, herb-crusted prime rib or Le Chateau's famous Monte Cristo sandwich. Plus, bottomless mimosas for just $15! Available Sunday from 10am to 3pm. See the full menu here and call (714) 549-0300 for reservations.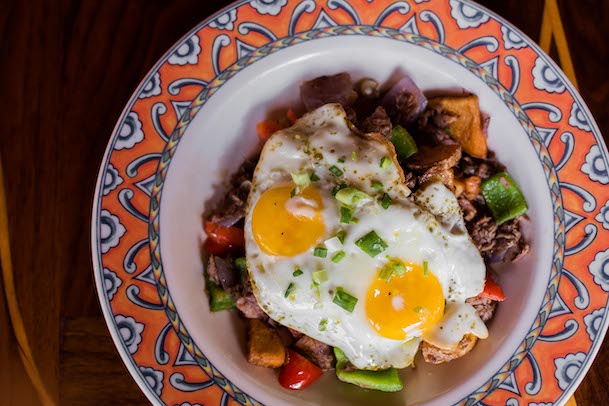 Cafe Sevilla
Celebrate Mother's Day at Cafe Sevilla this Sunday, May 9th. You can spoil mom 3 different ways on her special day as outlined below:
Champagne Brunch and Live Music
Treat mom to our delicious brunch menu while listening to live Spanish guitar and vocals from 10am-3pm. All moms will receive a complimentary glass of champagne during brunch. The menu includes favorites such as our Spanish Eggs Benedict (Poached farm fresh eggs, Spanish jamón Serrano crisp and saffron hollandaise on Kalamata olive loaf); Short Rib Hash (Hash of 16 hour braised Rioja short ribs, papas bravas, bell peppers and onions topped with two fried eggs); or the Breakfast Meat Paella (Pork tenderloin, grilled sausages, chicken and flat iron steak served over authentic saffron bomba rice and topped with two fried eggs). Bottomless mimosas are also available (with a 1.5 time limit). Dinner menu is also available during brunch.
Dinner and Live Music
The Mother's Day celebrations continue into the evening with dinner and live Latin music by Tian Musica from 6pm-8pm.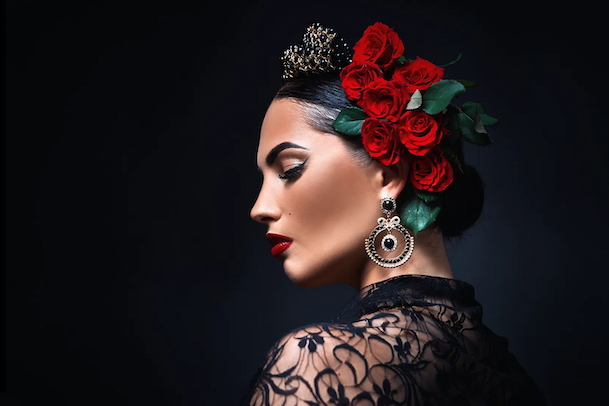 Special Mother's Day Flamenco Show at Cafe Sevilla!
Looking for something extra special for mom this Mother's Day? Treat her to Cafe Sevilla's Flamenco Dinner Show, offering a sensory indulgence of sight, sound, and taste, leaving her with a piece of truly Spanish culture. Marvel at the passion, beauty, and athleticism of this traditional art form as you enjoy a welcome glass of cava sangria paired with a 3-course dinner featuring our Shaved Jamón Serrano Ensalada Sevillana followed by our award-winning Paella Valenciana and Lemon Tart with Linguee Cherries for dessert. ​The Flamenco Dinner Show is $89.50 per person* and tickets must be purchased in advance. Doors open at 5pm and the show starts promptly at 5:30pm. *price does not include tax/gratuity.
To provide an enjoyable and safe dining experience, Cafe Sevilla has a spacious​ patio for outdoor dining as well as limited capacity indoor dining.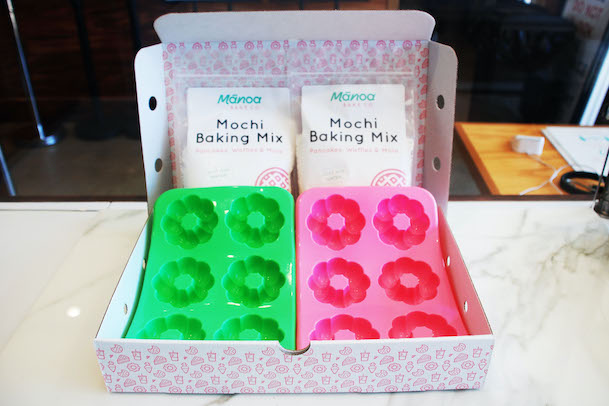 Fill Bakeshop
Stay home with mom and make some sweet treats! Fill Bakeshop is teaming up with Manoa Bake Co. to offer two bags of Mochi Baking Mix and two mochi doughnut Molds for $24.99. This adorable offering will come inside their half-dozen box and makes the perfect Mother's Day gift. Preorder now!
Where will you be taking Mom for Mother's Day, or will you be staying in? Let us know in the comments. Either way, have a Happy Mother's Day!
Costa Mesa is home to some of the most celebrated chefs and restaurants in Orange County and, despite unprecedented circumstances, they were still able to shine this year. We're honoring the innovation and accolades of Costa Mesa restaurants in 2020, and looking forward to 2021.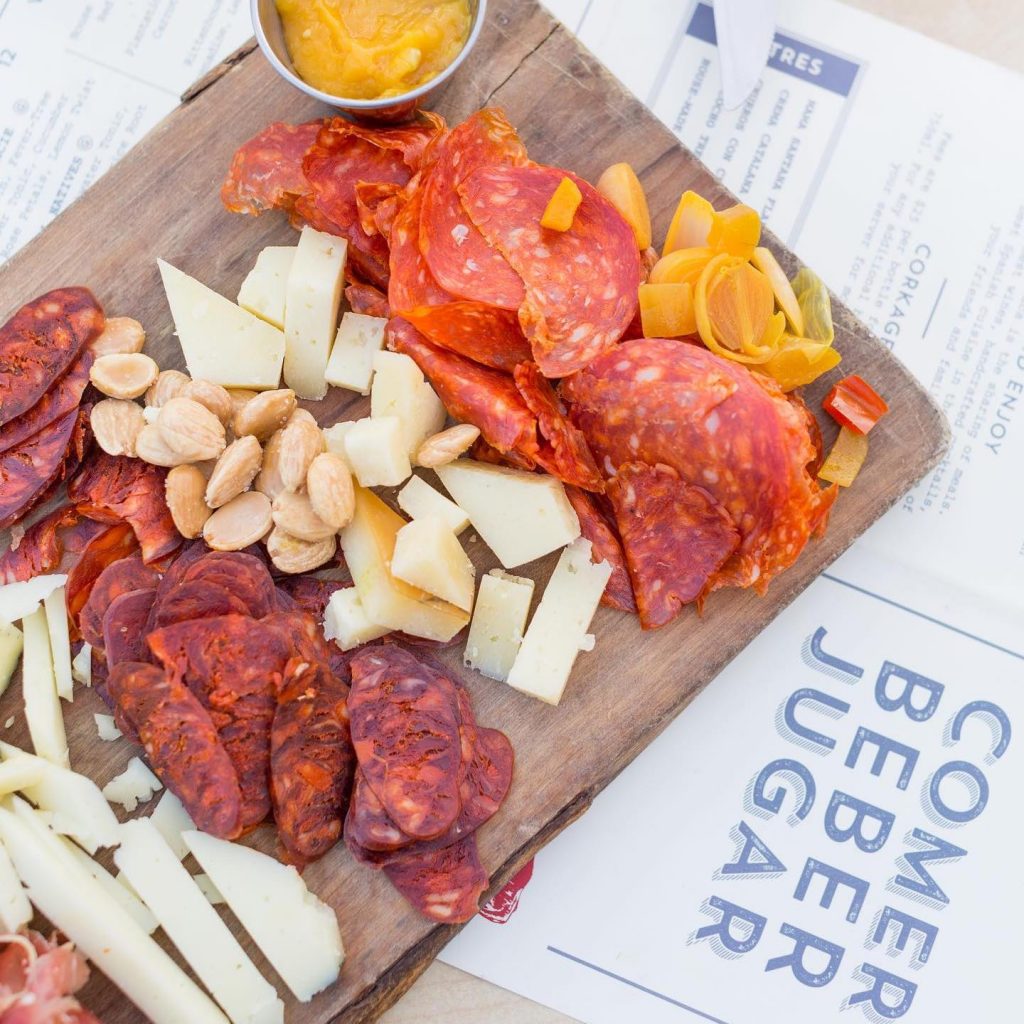 Fine Dining Takeout
As dining rooms closed, restaurants pivoted towards takeout. Some of Costa Mesa's finest restaurants created special takeout menus. Michelin-star Taco María offers a rotating menu that has included a Wagyu burger, house made sauces and tamales during the holidays. At Vaca, you can still order your favorite tapas to go, along with new family-style meals and cocktails. The Mastro's Steakhouse selection includes favorites like the double-cut pork chop, lobster mashed potatoes and butter cake. The menu also includes "Butcher Block To Go," featuring raw restaurant quality meat to cook at home.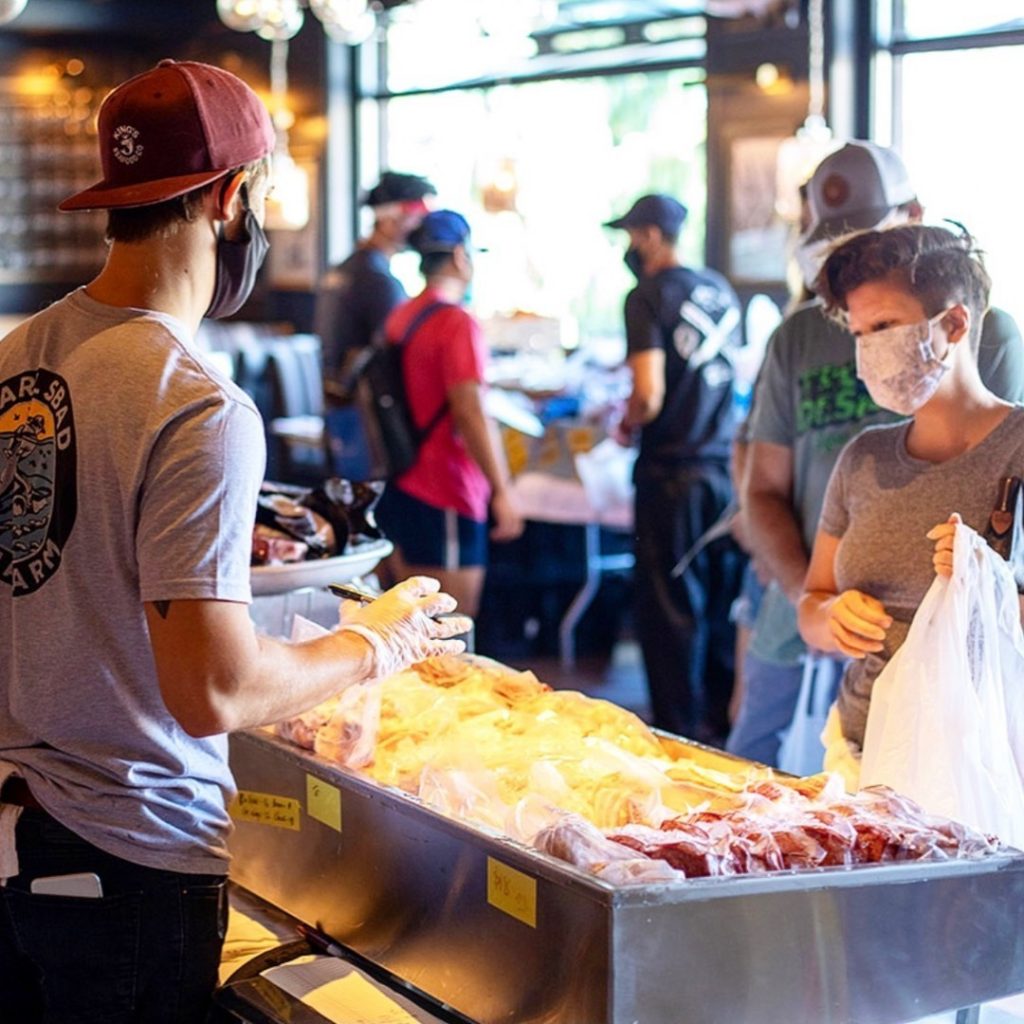 Water Grill Market Sale
Water Grill's pop up market features some of the freshest seafood, steaks, and produce. Meal kits and pre-made cocktails are also available. The concierge shopping service, where only the staff handles the products, is now open every Tuesday, Thursday and Saturday.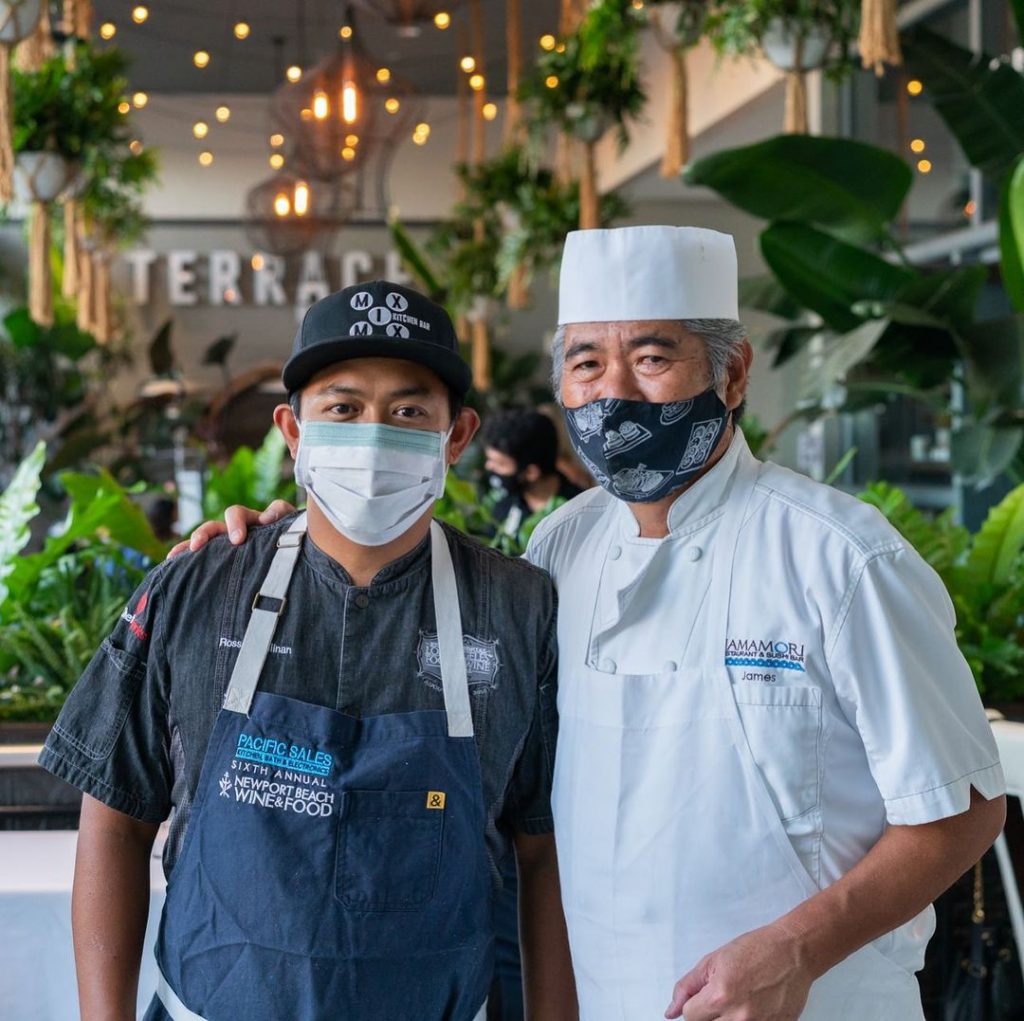 Terrace by Mix Mix and Hamamori Collaboration
Chef Ross Pangilinan, of Terrace by Mix Mix, and Chef James Hamamori teamed up for a series of "culinary adventures" this year. Each pre-fixe meal included multiple courses from each chef. We hope to see more culinary adventures in 2021 from these two great chefs.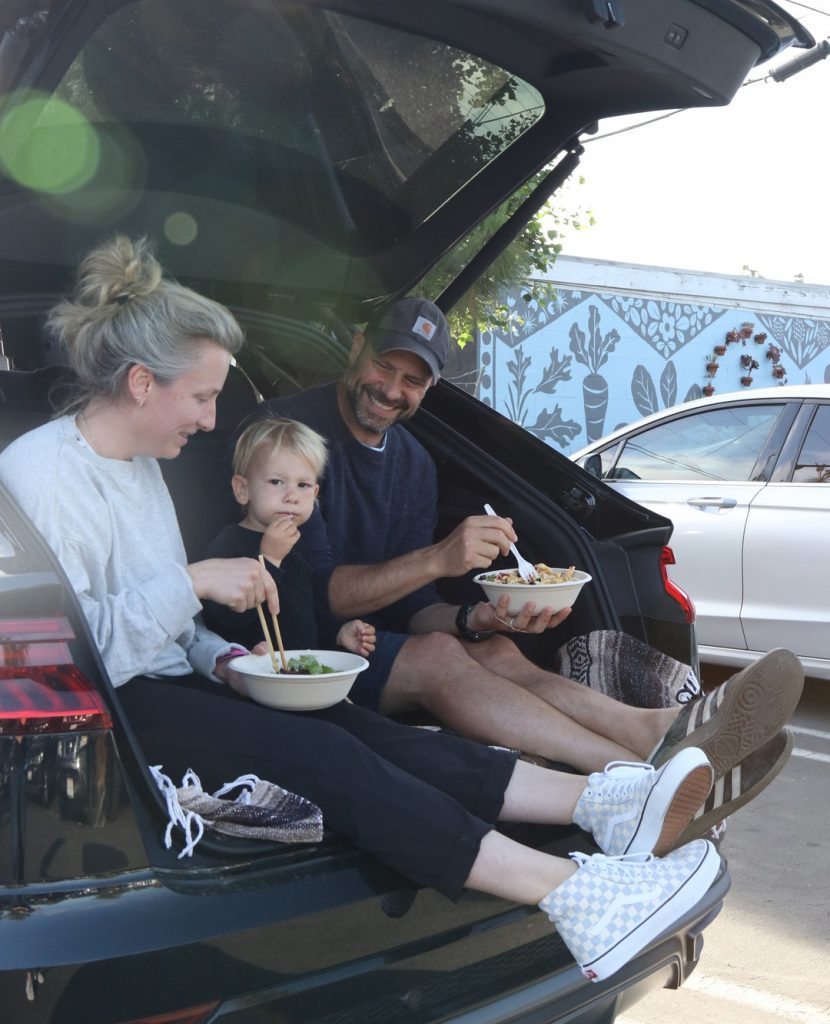 Concerts @ The Camp
One of our favorite innovations this year! Concerts @ The CAMP is a drive-in live concert series where you can listen to live music from the comfort and safety of your car. You can pick up meals from on site restaurants like Folks, Blackmarket Bakery and Old Vine Kitchen & Bar. Keep an eye on our calendar for future Concerts @ The CAMP.

Accolades

Taco Maria named one of LA Times 101 Best LA Restaurants 2020 for the second year in a row.
Water Grill named one of Brad A. Johnson's Best Seafood Restaurants in Orange County.
Crudo at The Hall: Global Eatery and Knife Pleat named as two of the Orange County's Best New Restaurants by Orange Coast Magazine.

View our full list of Costa Mesa restaurants that are open for takeout and delivery.

Posted in Food
Not sure what to cook for Thanksgiving? Treat yourself, and your family, with Thanksgiving dinner from one of Costa Mesa's great restaurants. Several favorites are open for dine in service, while others are offering amazing family-style menus for you to take home. If you're coming to Costa Mesa, take advantage of our holiday gift by staying 2 nights and getting a $100 South Coast Plaza gift card!

Update: Orange County has been moved to the Purple Tier. Indoor dining is no longer permitted. Please check with restaurants about their updated Thanksgiving dining options.
Café Sevilla
Celebrate Thanksgiving with a Spanish flair at Café Sevilla. Enjoy 3 courses for adults ($49.50) or 2 courses for kids 10 and under ($24.50). Choices include butternut squash soup or baby mixed winter greens, roasted turkey breast and Blackforest ham or duet of salmon and shrimp and, for dessert, pumpkin pie or chocolate and Licor 43 ganache tart. The full dinner menu is also available.

Water Grill
For the first time, Water Grill will be open Thanksgiving Day from 11:00am-8:00pm. The 3-course Thanksgiving menu begins with signature clam chowder or mixed greens, followed by Diestel Farms roasted turkey, cranberry relish, sourdough-apple stuffing, Yukon Gold mashed potatoes and gravy. Dessert is your choice of pumpkin cheesecake or caramel bread pudding. The Thanksgiving menu is $68 for adults and $25 for children 12 and under. The a la carte menu is also available. For reservations, call 949.208.7060.


Vaca and The Hall: Global Eatery
It's a Top Chef Thanksgiving with Amar Santana. Take home a whole roasted turkey, Yukon gold mashed potatoes and gravy, sausage cornbread stuffing stuffing, maple glazed yams with pomegranate, green beans with toasted almonds, cream of mushroom soup and a pecan pie tart. The Thanksgiving family feast serves 8-10 ($495) and can be preordered at Vaca or The Hall: Global Eatery by November 23.

The Capital Grille
Dine on slow-roasted turkey, French green beans, cranberry-pear chutney and Brioche stuffing, along with Sam's mashed potatoes to share ($45 for adults; $15 for children 12 and under) at The Capital Grille. The Thanksgiving menu, along with the full dinner menu, is available 11:30am-9:30pm on November 26. A family-style take home dinner ($125) for 4-6 people is also available for preorder, with pickup November 24-25.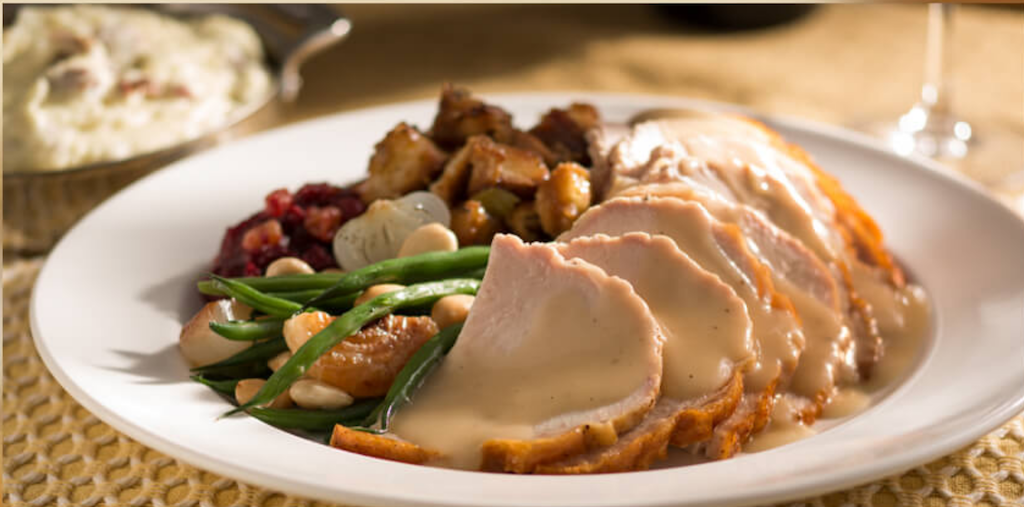 Silver Trumpet
Silver Trumpet Restaurant at Avenue of the Arts hotel is offering a sumptuous Thanksgiving buffet spread!
Seating available every 2 hours. Gourmet carving station, a la carte menu, sides, dessert and more. $45 per adult, $21 per child (12 & under). Tax and gratuity not included. For reservations, please call (714) 442-8593.
Seasons 52
The Thanksgiving plate at Seasons 52 ($25 for adults; $15 for children 12 and under) includes antibiotic-free roasted turkey and gravy, Yukon mashed potatoes, mashed butternut squash, French green beans, herb stuffing and cranberry relish. For dessert, enjoy a mini pumpkin pie. Seasons 52 is open from 10:00am-9:00pm on Thanksgiving. A family meal for 4-6 is available too, with a choice between field greens or Caesar salad and six mini indulgences ($150). The take home meal must be preordered by November 25.

Greenleaf Gourmet Chopshop
Don't want to deal with a whole turkey? Greenleaf Gourmet Chopshop is the way to go. The Thanksgiving Feast features slow roasted turkey breast with garlic and rosemary. Sides include whole grain stuffing, mashed potatoes, their popular roast "garlicky" broccolini, roasted cauliflower and arugula salad, biscuits with apple butter and pumpkin pie. It serves 6-8 people ($175). Greenleaf also offers individual Thanksgiving meals ($21). Preorder from now until November 24.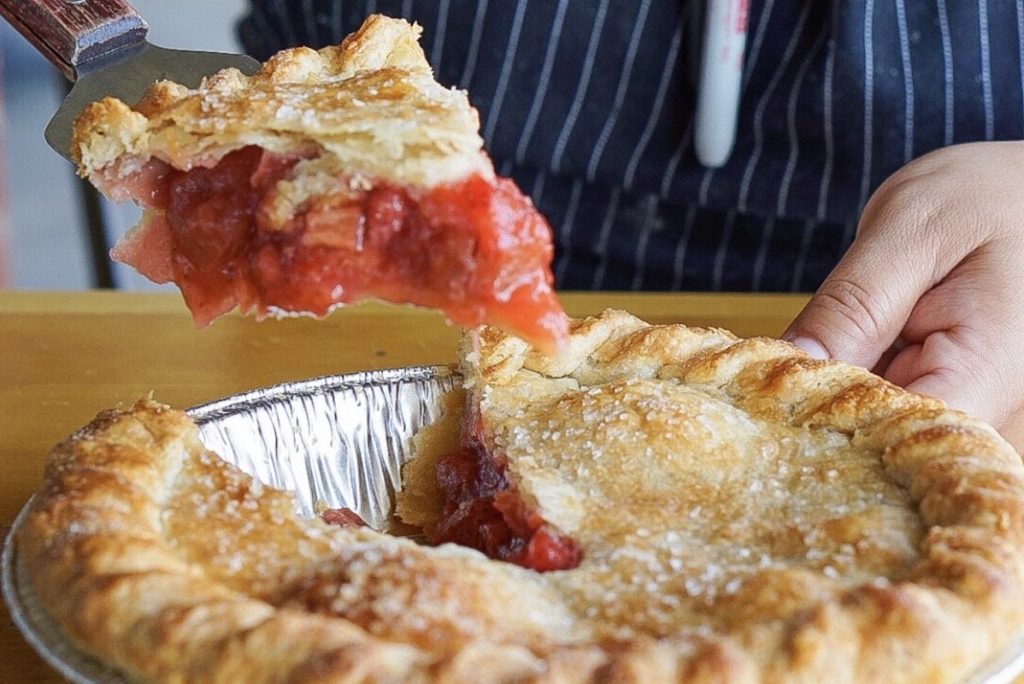 Toast Kitchen & Bakery
Make Thanksgiving dessert extra special with the Toast Kitchen & Bakery annual Pie and Pint Sale. From now until November 22, you can preorder a nine-inch pie and a pint of ice cream. The homemade pairs ($39) include taro blueberry pie with blueberry pie ice cream, chocolate banana cream pie with Thai tea ice cream, POG pie with strawberry shortcake ice cream, strawberry rhubarb pie with Sakura ice cream or apple pie with mulled wine ice cream. Orders are available for pickup on Wednesday, November 25 from 8:00am – 7:00pm.

Whether you want to stay home or get away, Costa Mesa restaurants have you covered this Thanksgiving. If you're planning on visiting, make sure to check out our holiday hotel deals. Be sure to ask about our QR code, located at the front desk, for the latest events.

Travel Costa Mesa wants your holidays to still be bright this year. We're going to Light Up Your Holidays with a $100 South Coast Plaza gift card when you stay 2 nights in the City of the Arts®! South Coast Plaza is the premier shopping destination on the West Coast. They're also dedicated to your health and safety. You can find something special from one of 250 boutiques, of course. However, we think a trip to South Coast Plaza isn't complete without trying, at least, one of their 30 restaurants. We're sharing some ideas for you to treat yourself to some amazing food.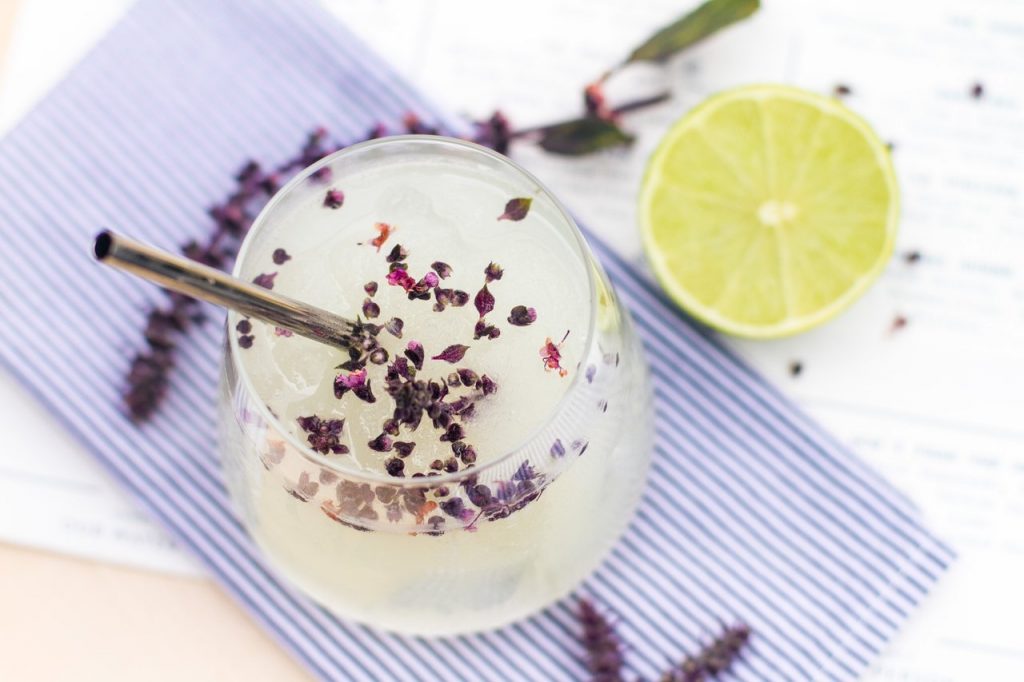 Tapas and Cocktails at Vaca

Since Vaca is located across the street, between Segerstrom Center for the Arts and The Westin South Coast Plaza, you may not realize that it is actually part of the South Coast Plaza restaurants. The Spanish-inspired cuisine, from Top Chef finalist Amar Santana, is a Costa Mesa favorite. We recommend going for tapas and cocktails for an authentic experience. You can't dine at Vaca without trying the Canellon de Pollo Ahumado ($18)–a smoked chicken cannelloni with foie gras sauce and a sherry reduction–and their signature Vaca Tonic ($13). Pair them with the Pan Con Tomate ($9) or the Ensalada de Remolacha ($13) with watercress, roasted beets, caña de cabra, saffron poached pears and a caramelized sherry-honey vinaigrette for an unforgettable meal.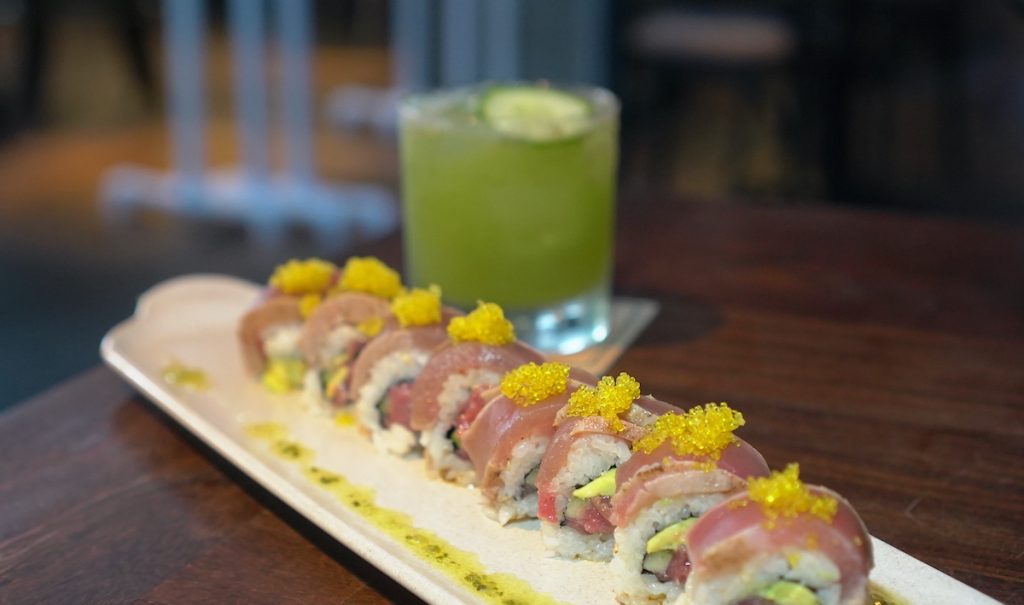 Sushi at Water Grill

Another adjacent South Coast Plaza restaurant, Water Grill is known for their extensive selection of fresh seafood. We think it's a great place to stop in for some unbelievably good sushi. The Trojan Roll includes wild bigeye tuna, wasabi vinaigrette, yuzu tobiko and traditional ponzu sauce ($20). Pair it with the Smoked Hamachi Nachos ($17)–with Japanese yellowtail, Asian pear, yucca chips and toasted marcona almonds–or the King Crab California Roll ($27)–with wild barents sea red king crab leg, avocado, fried leeks and brown butter nikiri. In the mood for a cocktail? The Bristol Street ($14.50) is vodka-based with fresh strawberry and lemon juice, infused with tarragon essence.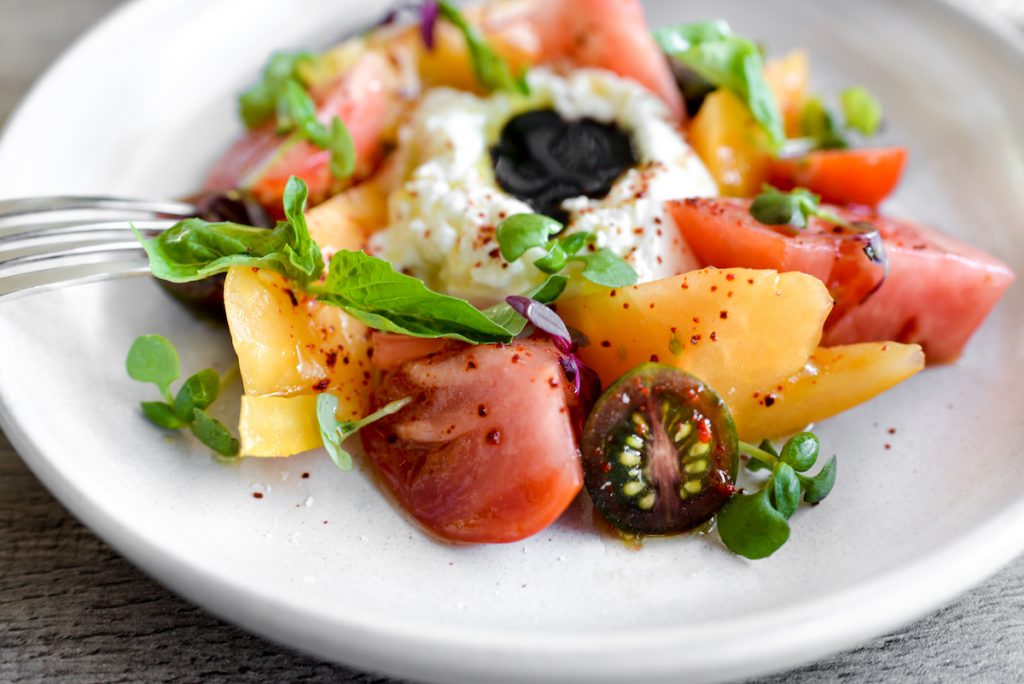 Lunch at Terrace by Mix Mix

One of our favorite options for lunch at South Coast Plaza is the Express Lunch Menu ($25) at Terrace by Mix Mix from chef Ross Pangilinan. The three-course meal changes daily, so it's a great opportunity to try a variety of dishes. Another popular option is their bone-marrow pizza ($19–with shallot marmalade, mornay sauce and red wine jus–and the marinated tomatoes ($9) with burrata, oregano, basil and sherry vinaigrette.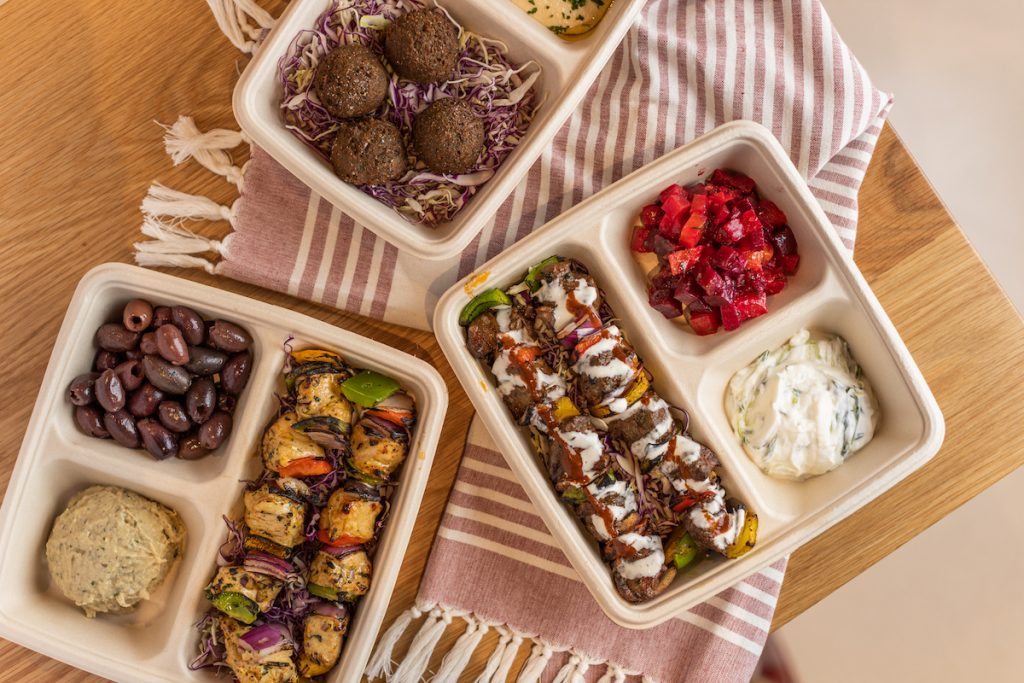 Breakfast or Lunch at The Hall: Global Eatery
The Hall: Global Eatery, also from chef Amar Santana, is inspired by European food halls. It includes a patisserie, a Mediterranean grill and poke. The patisserie serves coffee, pastries and sandwiches. If you're in the mood for the Mediterranean grill, we suggest trying the shawarma fries ($12) or the bowl ($11), which comes with your choice of starch, protein, five sides and sauce. Poke bowls ($14) also come with five sides, two scoops of protein, sauce, topping and a base of rice or salad.

Tasting Menu at Knife Pleat

If you want to indulge at one restaurant, it's hard to beat the tasting menu at Knife Pleat ($175) on November 6 and 13. Chef Tony Esnault's 6-course menu begins with vegetable consomme and foie gras, followed by pasta, fish and meat courses and dessert. You can view the entire menu here. The tasting menu dinners regularly sell out, so we recommend making reservations as early as possible.

Posted in Food