Visit Hola, Adios for Delicious Food in the Perfect People-Watching Coffee Shop
As we complete our February celebration of Black History Month, Travel Costa Mesa has partnered with a Black content creator to share stories of local Black-owned businesses and her own viewpoint of Costa Mesa and Orange County. Danielle is a social media influencer and writer who started a blog called Follow My Gut, about food experiences in LA and OC, and subsequently writing for Locale Magazine and other publications. Enjoy Danielle's guest post and stories this month sponsored by Travel Costa Mesa!
---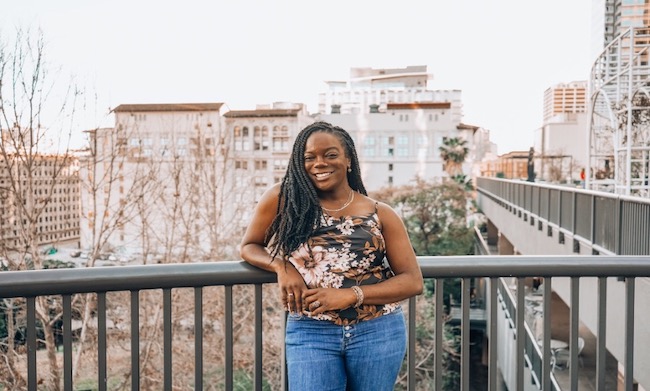 One of my favorite activities is to people watch.
I love to sit outside at a restaurant or a coffee shop with a delicious meal or drink in front of me. Whether I'm alone or with a friend, I enjoy people watching. The commentary within the act isn't to critique those walking by, but to make observations of lives other than my own. The chance to sit somewhere, eat something delicious, and imagine about the life of someone else – even if only for a few moments – is fun. I was able to do this recently on a visit to Hola, Adios in Costa Mesa.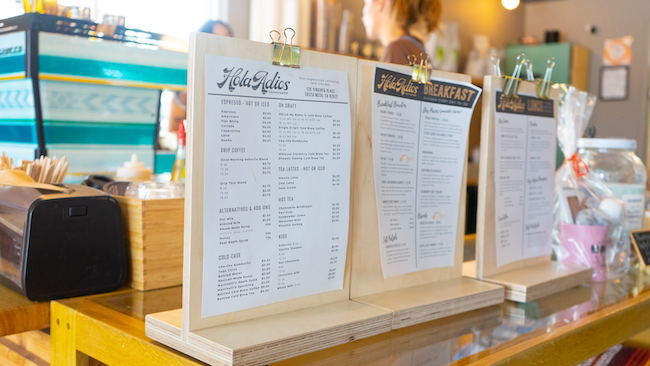 It was pretty easy to realize that Hola, Adios is the perfect location to people watch. The Virginia Place coffee shop is also an ideal stop to get work done, catch up with the homie, or simply have a solo meal. As I was there with a friend, I had the chance to get a firsthand look into the shop. From the moment I stepped inside, the shop felt inviting. It's due in part to the brightly colored walls, the warm accents of wood, and the smiling faces behind the counters. The other part of it, is the menu. It's the all-day breakfast options with well-made drinks that allow Hola, Adios to be the kind of place that makes you feel welcome and want to linger.
I lingered on my visit.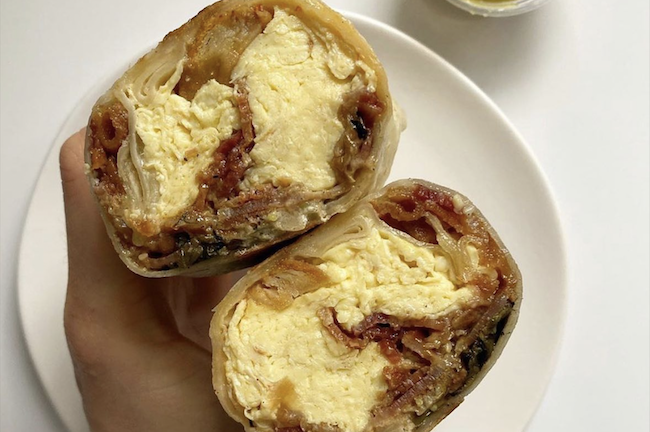 It was easy to do as I had the chance to people watch, and I had their "Basic Bi…scuit Sandwich" in hand. If I'm being honest with you, if I had their sandwich at my disposal I could have been anywhere. The sandwich takes Hola, Adios' in house baked biscuits and pairs it with egg, sharp cheese, and bacon. It's the simplest combination of ingredients that make a warm and hearty sandwich. It has the right amount of saltiness from the bacon, the delicious taste of the biscuits, and the ideal size to sit comfortably in hand that makes it a great item to order – especially when people watching. Hola Adios has a lovely sundries shop as well, with handmade goods and local art.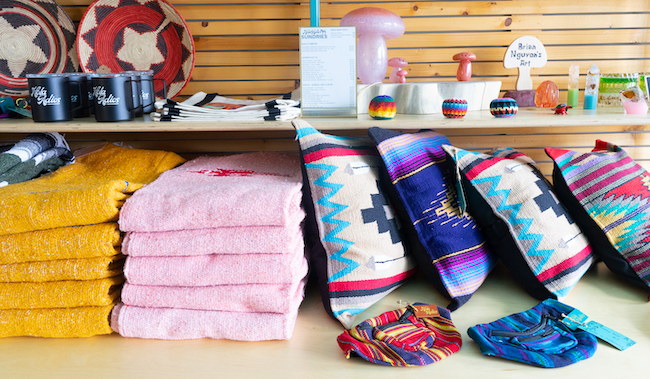 While the changes of the world have had an impact on the way we can be in a restaurant and spend time with one another, should you have the chance to slow down with the day and people watch, I highly suggest you do it at Hola, Adios. Unsure of what to get? Make it the biscuit sandwich, sit outside, and enjoy making delightful observations of the lives of people outside of yourself.
Contact Information
Name: Hola, Adios
Website: www.holaadioscoffeeshop.com
Address: 120 Virginia Pl unit 101, Costa Mesa, CA 92627
Phone: (949) 329-8987
Hours: Daily – 7:00am to 3:00pm
Email: info@holaadioscoffeeshop.com
Social: Instagram