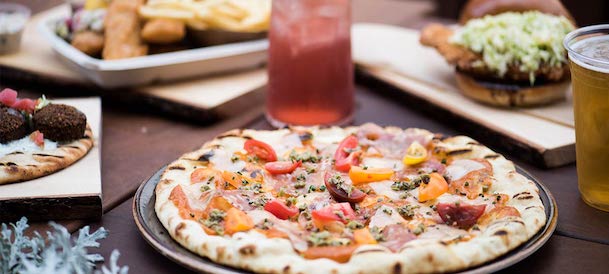 While it seems safe to assume that almost everyone can agree on the merits of a hearty pizza, choosing just the right one for a group can be a pretty precarious task. Everyone has his or her favorite pizzeria, crust thickness and cheese-to-sauce ratio, and who are we to disagree. So, in honor of National Pizza Day on February 9th, and to aid in the planning of your celebratory meals, we've compiled a list of some of the top pizza joints in Costa Mesa. You don't have to believe us, but we're pretty sure you won't regret trying any one of these Costa Mesa restaurants.
Ecco Pizzeria
If you want to feel like an Italian, head here. Ecco Pizzeria at The CAMP shopping center offers Neapolitan-style pizzas using fresh and locally sourced ingredients. Each of their pizzas is baked for less than two minutes in 800-degree heat, which is a feat only a true pizzaioli (pizza baker) can master. Ecco also strives to use Italian ingredients as much as possible, including its flour, Sicilian sea salt and imported San Marzano tomatoes.
2145 Pizza
Located on Costa Mesa's Westside, 2145 Pizza uses Japanese style dough for its seasonal menu. The 2145 menu includes classics like pepperoni or Margherita pizzas, but also those like the Blue Cheese Honey (gorgonzola, mascarpone, white cheddar, mozzarella and honey) and the Hanger Steak "Sandwich" (pickled shallots, arugula, and parmesan garlic bread). Patrons can dine al fresco on the restaurant's patio or in the open-air bar space converted from an old gas station.
Pitfire Artisan Pizza
Pitfire Artisan Pizza is a modern, non-traditional pizzeria dishing up thin-crust pies from a wood-burning oven. Pizzas range from standard Margherita to the Big Sur, which includes gulf shrimp, tomato, four cheese, mint and chiles, or the Honey Bear, made up of sausage, ricotta, honey, Calabrian chile and bee pollen. Bonus tip: Sneak back to Pie Society, Pitfire's bar with speak easy vibes, after dinner.
Pizzeria Ortica
Pizzeria Ortica uses a 300-year-old "Biga" starter from Italy to start its pizza dough, which is cooked in a wood-burning oven. The restaurant also features a well-rounded cocktail, wine and beer list in addition to whiskeys and scotches. Try this spot out before taking in a Broadway show at Segerstrom Center for the Arts (did someone say 'Hamilton'?) or after taking a stroll through the Costa Mesa Art Walk.
Arc Pizza House
Arc Pizza House is hidden within Arc Food & Libations at SOCO and The OC MIX. The Costa Mesa restaurant only offers eight pizzas, but each presents a unique experience. If you're looking to stick with the classics, opt for the Cheeeeseee Pizza with four different cheeses, or the House Pizza Pie with sausage, pepper and mushroom. If you're looking to step outside the box (or circle?) try the Roasted Duck Pizza with romesco, olive and goat cheese, or the Short Rib Pizza with blue cheese, fresno chiles and basil.