Now in its 19th year, South Coast Repertory's annual Pacific Playwrights Festival is one of the country's premier national showcases for new plays. Coming to Costa Mesa this year April 22-24, Each year's three-day festival attracts theatre professionals from across the nation, who are drawn by the chance to be the first to see some of the best new plays in the country. The Festival also serves as a reunion of sorts for those in the industry, encouraging time for sharing of ideas with colleagues and friends, old and new.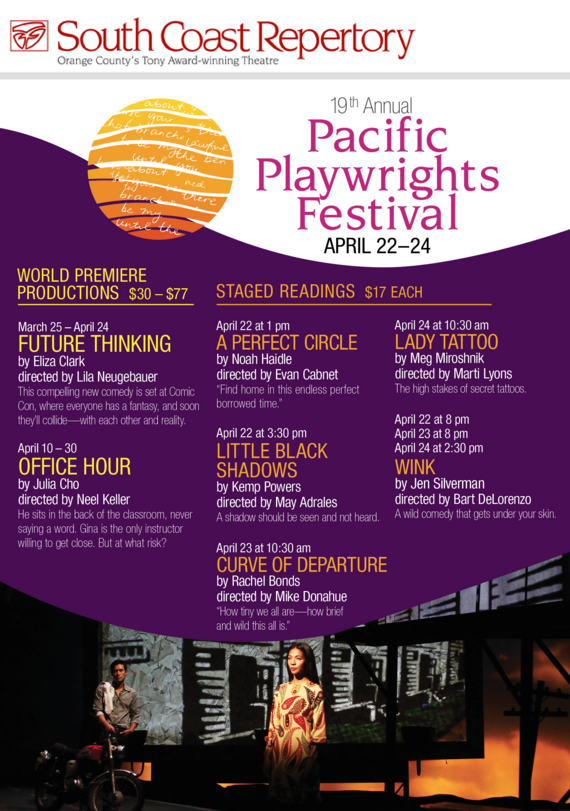 Each year's festival features ​five staged readings and two fully staged world premieres. Two shows are already playing now, The New York Times calls SCR "an incubator of major talent … South Coast has mounted an impressive list of acclaimed plays, long before the East Coast establishment got wind of them." This year's readings include A Perfect Circle, about a husband creating a garden for his dying wife, and Lady Tattoo, a turn-of-the-century piece about tattoo art in a world where womens' options are corseted.
SCR has already been getting rave reviews for Future Thinking, about a spoiled starlet's experience during ComicCon, and Office Hour, a look into the actions of a possibly violent student. Office Hour stars Sandra Oh from "Grey's Anatomy" fame, written by Julia Cho. Take a look at a YouTube clip of Office Hour.
Since 1998, the Festival has presented 123 total plays, many of which have become fixtures of American contemporary theatre. Here's tickets and more information about this amazing festival in the City of the Arts.