Each summer, Segerstrom Center for the Arts hosts free movie Mondays on the Arts Plaza.  Some of the most iconic and beloved films of all time are projected onto a large screen on the side of Segerstrom Hall.  Since its inception, Movie Mondays and Segerstrom Center for the Arts has been a popular Costa Mesa event, drawing hundreds, sometimes even thousands of movie fans to SCFTA.  This summer's lineup features five fun films.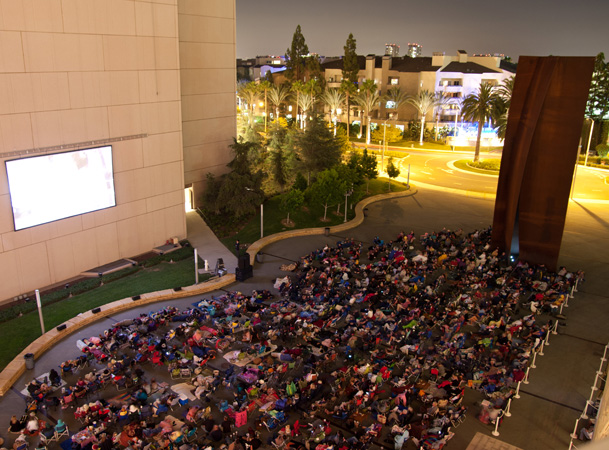 Segerstrom Center for the Arts encourages guests to bring chairs and blankets or anything to make your viewing experience better.  Guests can also bring their own food and drinks, but barbecues or any food preparation devices are not allowed.  Guests can also experience the award-winning cuisine from Patina Catering.  Each film will have a themed-menu with culinary creations inspired by the movie.
Movie Mondays kicks off on July 7 with The Little Colonel starring Shirley Temple.  This family friendly comedy takes place immediately after the Civil War and famously features the stair-case dance duet between Temple and Bill "Bojangles" Robinson.  Patina menu items for The Little Colonel include Shirley Temples with whipped cream and a cherry; banana spilt with vanilla and chocolate ice cream, chocolate sauce, macerated berries, whipped cream, nuts and a cherry; and American burgers and cheeseburgers with lettuce, tomato, red onion and pickle with thousand island dressing, mustard and mayo on the side.
On July 14, pre-teens, tweens and teens of the late '90s will enjoy a blast to the past with Spice World, the feature-film highlighting the pop group Spice Girls before their first live performance at Royal Albert Hall in London.  Fans of Posh Spice, Sporty Spice, Scary Spice, Ginger Spice and Baby Spice won't want to miss this! Spice World also features cameos from some of Britain's most famous musicians and actors. The Patina menu items for Spice World include bangers and mash with fried onions and gravy and sticky toffee pudding with whipped cream.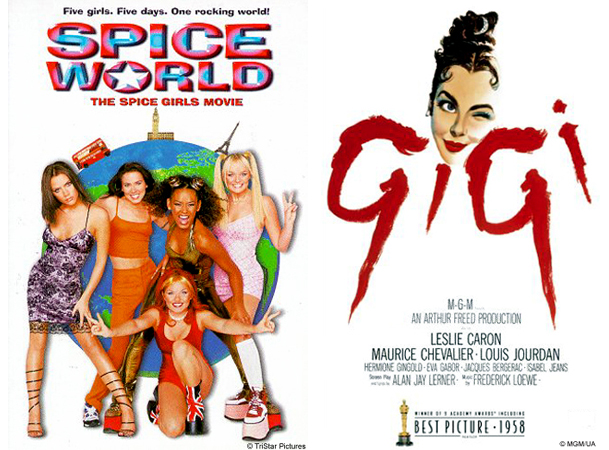 Gigi, which won several Oscars including Best Picture, will be screened on July 21.  This musical tells the story of Gigi, a young girl raised by two veteran Parisian courtesans to be the mistress of the wealthy and handsome young Gaston.  Gigi was filmed on location in Paris and has some of the most memorable musical sequences in film including the number "Thank God for Little Girls."  The Patina menu for Gigi will be a croque monsieur sandwich, grilled ham and gruyere on a parmesan brioche and crepes with Nutella, strawberries and vanilla ice cream.
Cabaret, this year's winner of the audience favorite fan poll, will be featured on July 28.  The film was originally a 1966 Broadway musical that uses the cabaret as a mirror image of German society sliding toward the Nazis.  The connection between entertainment and social history was a unique concept in film at the time.  Liza Minelli famously plays the lead role of Sally Bowles.  That role earned her an Oscar.  In total, Cabaret won 8 Oscar awards.  The Patina menu for Caberet will be grilled bratwurst on a pretzel bun with grilled onions and brown mustard, and Belgian waffles with stewed apples, vanilla ice cream and chocolate sauce.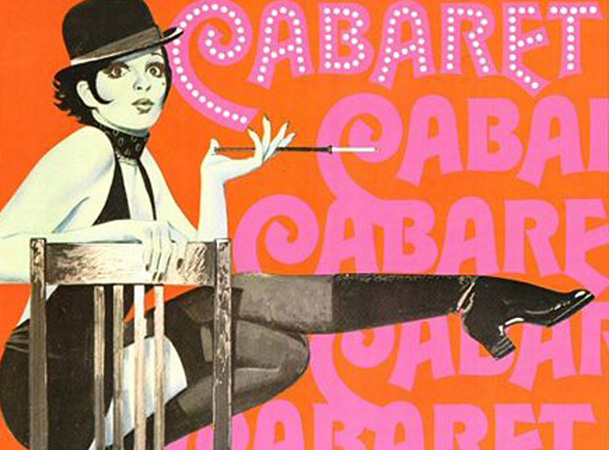 Movie Mondays concludes on August 4 with Sweet Charity.  Shirley MacLaine plays Charity Hope Valentine, who never stops looking for true love, but never seems to look for it in the right places.  Charity is unlucky in love and goes through a series of unfortunate circumstances with men.  When she thinks she has met the one, her checkered past comes back to haunt her when he walks out on her at their engagement party.  Despite all of this, Charity remains optimistic about her future.  The Patina menu for Sweet Charity features Coney Island-style hot dog with beef chili, onions and mustard; root beer floats; and banana split, vanilla and chocolate ice cream, chocolate sauce, macerated berries, whipped cream, nuts and cherry.
Arrive early for each film because the Arts Plaza tends to get crowded for Movie Mondays.  Contests will be held prior to each film screening starting at 7:30 pm and are open for all guests.  Prizes like show tickets, apparel, CD/DVDs and other great items will be awarded to winners.  All of the movies will start at dusk at 8 pm.  Remember to share your photos and Movie Mondays experience with Segerstrom Center for the Arts by using the hashtag #MMOC when posting on social media.