Costa Mesa's known for its wide variety of cuisine, and its international flavor is getting deeper this August. The world-famous xiao long bao dumpling house Din Tai Fung has opened a new location in South Coast Plaza, its first in Orange County and sixth in the United States. 
Din Tai Fung is a growing, family-owned restaurant chain based in Taiwan. In 1958 Ping Yi Yang started his own peanut oil company in Taipei, Taiwan. He named his new business "Din Tai Fung." "Din" after where he bought his cooking oils, at "Din Mei Oils" and "Tai Fung" for "Heng Tai Fung," a company where he'd just lost his job. Using his entire life savings, Ping Yi Yang hired a chef from a restaurant that had just shut down and that chef started to make xiao long bao for Din Tai Fung. The Yang family worked to perfect the soup dumpling recipe, and arguably has done just that. The New York Times named Din Tai Fung "one of the top 10 restaurants in the world" and its a sought-after dining experience for celebrities and international leaders.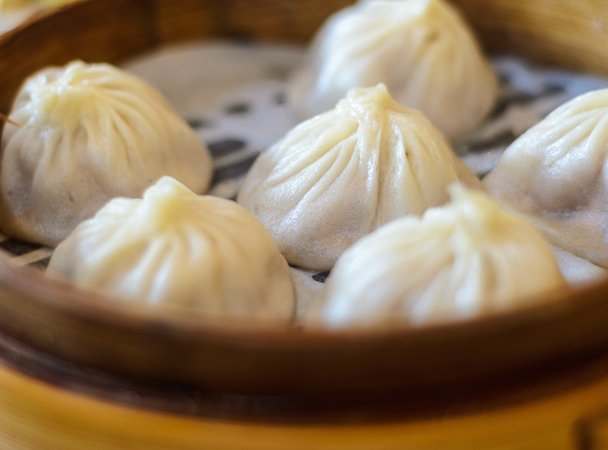 So what exactly does "xiao long bao" mean? Xiao long bao is a type of Chinese steamed bun, especially associated with Shanghai as a soup-style dumpling. The dumplings are steamed in xiaolong, the small bamboo baskets that give them their name. Xiao long bao are traditionally filled with pork, but now include other meats or seafood or vegetarian fillings. The characteristic soup-filled kind are created by wrapping solid meat aspic inside the skin alongside the meat filling. Heat from steaming then melts the gelatin-like aspic into soup. This is Din Tai Fung's specialty, though they also offer salads, noodles and fried rice dishes.
The company opened its first U.S. location in 2000 in Arcadia, less than 15 miles from downtown Los Angeles, a city known for its XLB culture. The dumpling house has 80 locations around the world – in Taiwan, Japan, China, Singapore, Indonesia, Korea, Malaysia, Australia, the U.S and Thailand. With only 5 locations in the United States (all on the West Coast), the arrival of Din Tai Fung in Orange County has been a much-heralded event.
With its huge complement of Chinese visitors each year, Din Tai Fung was the perfect addition to South Coast Plaza. The center has already developed a very welcoming environment for the Asian visitor. There's a language-assistance program, with mall and store employees speaking more than 40 languages and dialects. Maps and directions are printed in Korean, Japanese, and Chinese. South Coast Plaza was also the first shopping center in the nation to accept UnionPay, China's leading credit card.
The restaurant, renowned for its dumplings, will occupy a nearly 8,000-square-foot space in South Coast Plaza's Sears wing. It will feature an exhibition kitchen (found in all locations), 175 inside seats, 25 outside patio seats and a small bar, the only bar in any Din Tai Fung restaurant in the world.