Jerry's Wood-Fired Dogs opened this week at Marquee CM in Costa Mesa and adds to the vibrant food community in the City of the Arts.   Pretty much every type of cuisine is represented somewhere in Costa Mesa.  From vegetarian and vegan, to upscale and fine dining to casual eateries, you can find all types of fare in a variety of settings.
There seemed to be just one thing missing – a great place to get a hot dog!  With the addition of Jerry's, that problem is solved because you can satisfy your craving for hot dogs, sausages, brats and more.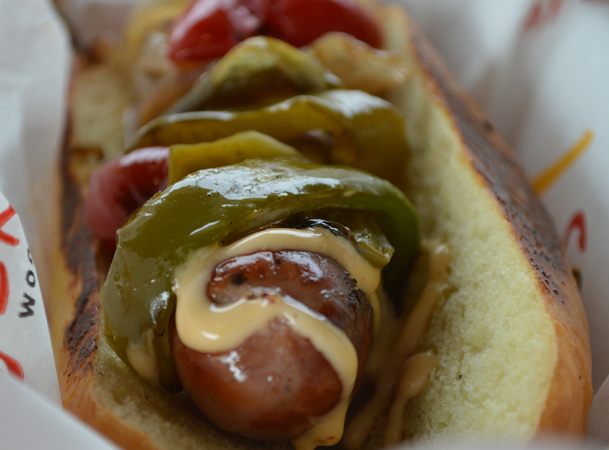 The Jerry's Wood-Fired Dogs menu boasts several different types of hotdogs like the signature beef dog, turkey dog and veggie dog as well as sausages including Kielbasa, Bavarian Bratwurst, Hot Links, Chicken Sausage and Italian Sausage.  You can choose from over 30 toppings to create your own dog, or choose a pre-made combination from the list of Jerry's Favorites.  All of the dogs and sausages are served on potato buns that are baked fresh daily.  My love of all things hotdog and sausage had me eagerly anticipating my first visit, and to get a good idea of what Jerry's had to offer, I decided to try a few different dogs.
I started with the Smokey Joe's Kielbasa, made with lean pork, pepper and other spices.  I added jalapenos and sport peppers, as well as mustard.  The kielbasa was delicious and had a slight kick.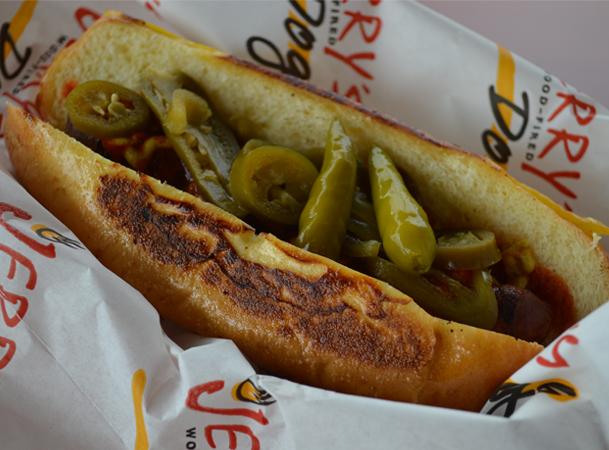 Up next was the Bavarian Bratwurst topped with mustard, grilled onion and grilled peppers.  The mild flavor of the bratwurst paired with the onion and peppers provided an excellent combination of flavor and texture.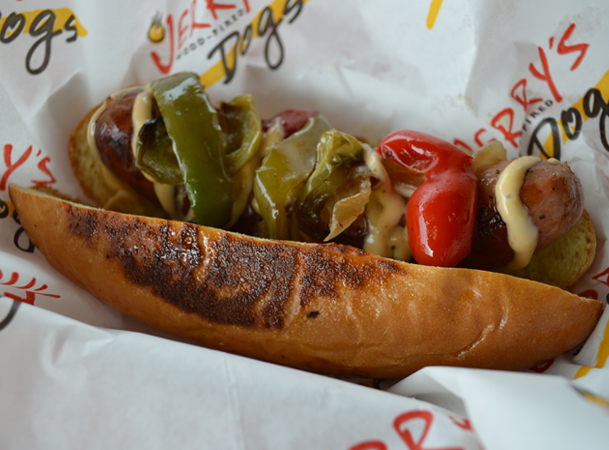 After choosing two original sausages, I left the rest of my lunch fate to some of Jerry's Favorites.  First up was the Reuben Dog with Jerry's Signature Dog topped with hot pastrami, Swiss cheese, sauerkraut and thousand island dressing.  Like the my two previous choices, it was hard to put it down!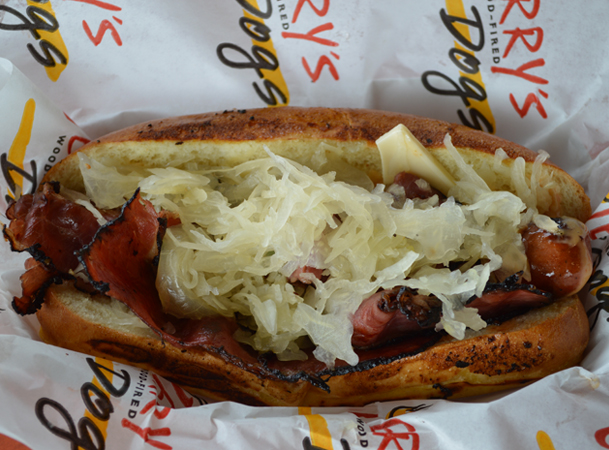 Just when I thought I was too full to eat another bite, the California Dog arrived.  I always give in when avocados are involved, so when I saw the Jerry's Signature Dog topped with honey mustard, grilled onions, grilled peppers, grilled mushrooms, tomato and avocado in front of me, I couldn't resist!  All of the toppings gave the dog a unique flavor.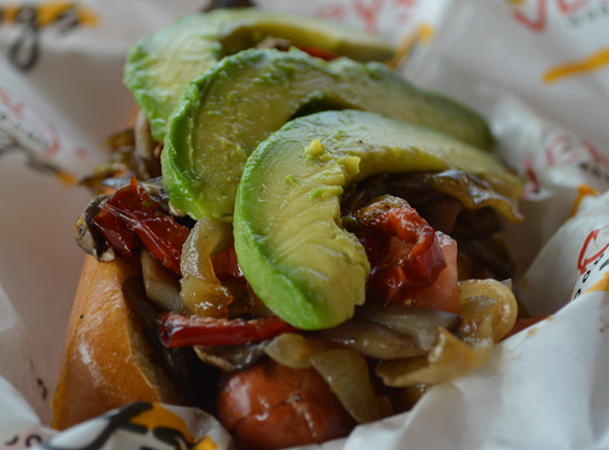 In between all of the hotdogs and sausages, I munched on the house potato chips that are made to order and served hot.  The potato chips are so delicious, it's hard to stop eating!  I strolled into Jerry's hungry and left full.  All of the dogs and chips were excellent.  The next time I'm in the mood for a hotdog, I'll definitely be going back.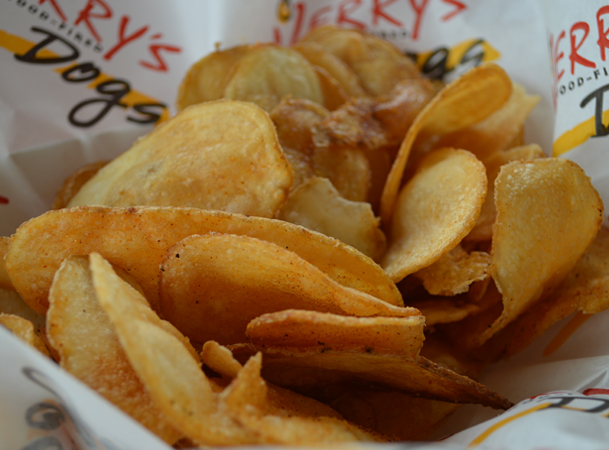 Check out the complete Jerry's Wood-Fired Dogs menu here.  If you like hotdogs, you should try it because there's just no comparison between one of those rubbery dogs you get at a baseball game to the grilled offerings at Jerry's.  Be sure to visit Jerry's Wood-Fired Dogs on Twitter and Facebook.  For other offerings, join the email club.  I was also told that the new location in Costa Mesa will be creating a special "Costa Mesa Dog" through a fan contest where the top suggestion will become a menu item, so keep checking back in!