Chef-owners Amelia and Florent Marneau of Marché Moderne at South Coast Plaza will celebrate the historic storming of the Bastille by serving Chef Marneau's much beloved Bouillabaisse Marseillaise for eight nights, from July 12-19.  Reservations are highly recommended as spots fill up fast for this once-a-year opportunity!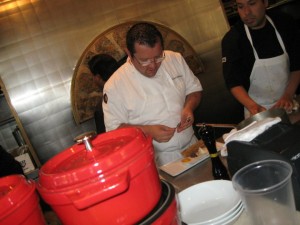 The traditional Provençal fish stew originating from the port city of Marseille will feature fish caught off the coast of Nice, Marseilles and Toulon and air-shipped to the restaurant for next-day delivery. Chef Marneau's version is made with rouget, Saint Pierre, dorade grise, rascasse and sèche, plus octopus, scallops, mussels, clams and shrimp. Seafood may change from day to day depending on the catch. The regional specialty contains fennel, potato and tomate rôti and is finished with an aromatic broth. Accompaniments served with the dish are rouille, croutons, basil-scented tomato tartare, fennel pollen emulsion, lemon-garlic emulsion and tapenade. The special is priced at $50 and is available at dinner only.
What makes bouillabaisse different from other fish soups is the selection of Provençal herbs and spices in the broth; the use of local Mediterranean fish; the way the fish are added one at a time, in a certain order, and brought to a boil; and the method of serving. Legendary chef Julia Child, who lived in Marseille for a year, wrote: "to me the telling flavor of bouillabaisse comes from two things: the Provençal soup base — garlic, onions, tomatoes, olive oil, fennel, saffron, thyme, bay and usually a bit of dried orange peel — and, of course, the fish — lean (non-oily), firm-fleshed, soft-fleshed and gelatinous, and shellfish."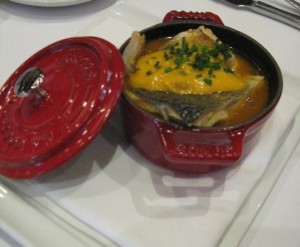 Chef Marneau flying in local fish makes it a truly authentic French dish all the way in Orange County, California!  Chef serves the bouillabaisse in small Le Creuset pots for a very special experience. It's even been featured in an article on the national website Huffington Post!
Marché Moderne is a contemporary French bistro that has been critically acclaimed since opening in spring of 2007. It is located at The Penthouse at South Coast Plaza. For reservations, please call 714.434.7900.