If Costa Mesa were a country, it would have placed 63rd overall in total medal count at the 2012 Olympic games in London.   That would have been good enough to beat 141 other countries.  Costa Mesa was well represented at the summer games with 5 athletes who attended school, currently reside or train in the city.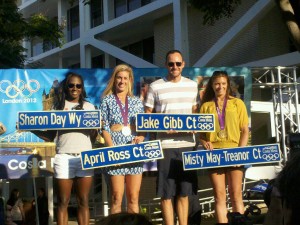 Olympians Misty May-Treanor and April Ross grew up in Costa Mesa.  Both athletes attended Newport Harbor High School and starred in volleyball.  Coincidentally, May-Treanor won a gold medal and Ross won a silver medal in London.
Sharon Day, a track and field star at Costa Mesa High School, competed in the heptathlon.  Jake Gibb, 5th place  finisher in beach volleyball in 2008 and 2012 grew up in Utah, but currently lives in Costa Mesa with his wife and young son.  Kyla Ross, 2012 Gymnastics Gold Medalist in the team competition resides in South Orange County, but trains at Gym-Max Academy of Gymnastics in Costa Mesa under head coaches Hao Quan Liang and Jenny Liang.
On Tuesday, September 4, the Olympians were honored outside of City Hall.  Each athlete received an official Costa Mesa street sign, official day and proclamation.
Estancia High School student Abigail Garcia sang the national anthem in front of the athletes, government officials, media and a crowd of Costa Mesa residents who were present to catch a glimpse of their Olympic heroes.
The first street sign and proclamation presentation went to Sharon Day.  Day's street is Sharon Day Way.  Her official day is September 12.  Day said that she was honored to receive the recognition from the city and its residents.
"I feel so blessed to be a part of this community," said Day.  "I appreciate all of your support."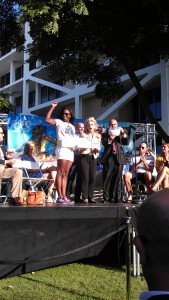 The Costa Mesa High School Cheerleaders showed their support for the Costa Mesa High School alum by cheering, "who are we yelling for – Sharon – Day!"
Next up was Jake Gibb, who was easily the tallest person present, towering head and shoulders above everyone else.   Mayor Pro Tem Righeimer was quick to adopt the two-time Olympian into the Estancia High School family.  After receiving his street sign, Jake Gibb Court, Gibb was presented with his official day, September 13.  Gibb wasted no time in explaining the proper celebrations for his day.
"No work first of all," he said.  "We all go to the beach!"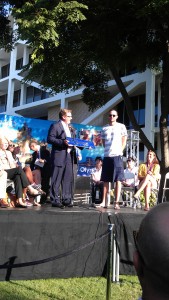 Gibb credited his wife and son as his inspiration for competing in the games.  He called out to his wife to hold their son up "Lion King style," so that everyone in the crowd could see him.   Gibb has lived in Costa Mesa for 10 years and commented on the support that he gets from the city.
Silver medalist April Ross was next to receive her accolades.  Her official day, September 14, was the perfect day for her because, as he explained, 14 is her lucky number.  When presented with her official street sign, Ross didn't wait to explain what she was going to do with it.
"I'm going to tape this over the street sign on my street," said Ross.  She also joked that she hoped she wouldn't get into trouble for covering the current sign, and that she would let Google know to change the street name on Google maps.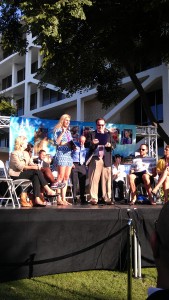 Ross credited her upbringing in Costa Mesa for her success as a collegiate All-American and as an Olympian.
"I'm super excited that I could bring home the silver medal to Costa Mesa," said Ross.
The next Olympian to receive her honors was Misty May-Treanor.  May-Treanor is one of the most popular and well-known Olympians and was part of the most dominant force in woman's beach volleyball history.  She is a 3-time gold medalist.  Misty May-Treanor Court is also the second street sign she has received from the city.  May-Treanor credited the city of Costa Mesa for their great support for the athletes.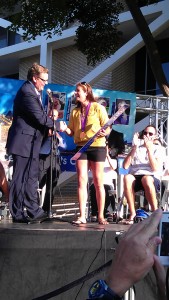 She also praised the youth sports programs that the city offers.  May-Treanor acknowledged that the youth sports programs were a major part of why she has been such a successful athlete, and also that her dad used to make her run up the hill by Estancia High School for conditioning.
May-Treanor recently retired from competition, but was confident that the woman's beach volleyball gold medal would be coming back to Costa Mesa.
"I wish I could get one in 2016, but April (Ross) will carry the reigns," said May-Treanor.
The last Olympian to be honored was Kyla Ross.  Although she was unable to attend, her two coaches accepted her awards and thanked the crowd for their support.
After all of the awards were presented the Olympians posed for photos on stage.  The gathering crowd swarmed the athletes to snap a few pictures.  After competing on a global stage, the mob of photo-happy fans didn't faze the athletes as they smiled for the cameras.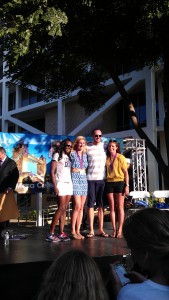 The athletes spent the next hour signing autographs and posing for individual pictures.  Every fan's request was honored and each athlete spent a couple of extra moments to answer questions or give advice to anyone who asked.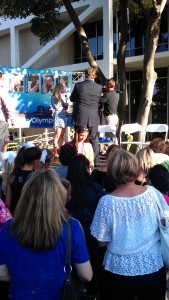 For young and old alike, a chance to meet the Olympic athletes was a thrill.  Who knows, maybe the next wave of Olympic heroes were in the crowd, getting inspiration from the current crop of stars.